In-short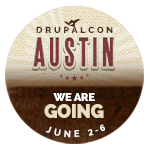 We are going!
Come and meet Lemberg at DrupalCon in Austin, TX, USA on 2-6 June, 2014.  
What is DrupalCon?

DrupalCon is an international event that brings together thousands of Drupal Community members, where all participants have unmatched learning, sharing and networking opportunities.

The gathering takes an important place in Drupal Community life. It is usually held in either Europe or North America. This year, however, the DrupalCon will gather all Drupal professionals and community leaders in Austin Convention Center, Texas, USA.  

 
Why you need to attend?
You'll have an opportunity to meet top Drupal developers, module maintainers, members of Drupal Association, potential business partners and coworkers.
70+ Drupal businesses, 4k Drupalista.
Come and learn. As keynote speakers for DrupalCon Austin were announced a project lead for Drupal, as well as the president of the Drupal Association Dries Buytaert, Executive Director of Outercurve Erynn Petersen, and Hugh Forrest that serves as the Director of the SXSW Interactive Festival.
130 educational Drupal sessions; 65 hours of BOF sessions; 3 keynote presentations.
Opportunities to contribute to the Community by taking part in code sprints.
Check out DrupalCon program for Austin for more information.
How can you attend?
There is only one right answer and that go and buy a ticket for DrupalCon!
What Lemberg has for Austin?

This year, Lemberg team will present beta version of native Drupal 8 iOS & Android software development kit (#Drupal SDK), that was specially developed for discussing within the Community on DrupalCon Austin. SDK for Windows Phone platform is coming soon.  
SDK`s will help to extend Drupal ecosystem and support paradigm of Drupal as a platform for content and commerce in a mobile first world.
All versions of SDK are absolutely free to use and are available for download at drupalsdk.com.
We are looking forward to community feedback during the BoF session: room: 8C - VLM | 3rd floor,time slot: Wednesday · 10:45-11:45.
Visit our Booth #504 when at the DrupalCon
...and stay connected!
@DrupalConNA