Website Discovery for LIA

About the client
Laser Institute of America (LIA) is an expert organization sharing its expertise in laser applications and safety through education, publications, conferences, and workshops. The LIA society promotes a collaborative environment for industry leaders and partners via continuously identifying solutions to professional challenges.
The challenge
LIA was looking for an engineering company to rebuild their website developed using Drupal 7 using an up-to-date version of Drupal. Laser Institute also aims to implement missing features and introduce specific changes to eliminate the inconveniences LIA's employees are facing.
Delivered value
To understand LIA's needs better and structure their requirements accordingly, we started with the discovery phase. LS gathered a team and gained insight into every detail of the project, defined features the client would love to implement, and received valuable input they had concerning UI/UX. 
The process
We reviewed the website during five workshop sessions each lasting 1.5-2 hours, and each member of our team offered some improvements on the spot.
LS team paid a lot of attention to the registration and purchase processes. One of the client's goals is to minimize the routine workload of LIA employees. For this, we'll transform the PDF forms into web forms to make sure users can fill in their information and register on their own. This way, we'll minimize the time LIA spends on client support. 
We also optimized the registration form — the user won't have to fill in all information LIA might potentially need in the future. Originally, the user will only fill in the minimum amount of information to create a user account, and whenever additional information is needed, LIA will request it from the user. 
The majority of the functionalities need to be rewritten to make sure they are compatible with Drupal 9. At first, we split the discovery into separate topics; however, later on, we decided that it would be more efficient to divide this phase by features, as each part of the website requires engagement of the whole team: a UI/UX designer, a business analyst, a project manager, and a Drupal architect. 
Another challenge of this project is the extensive functionality that needed to be classified and described. We drew a site map with wireframes showing how existing pages could be optimized. Our team also looked through each component to see whether they were compatible with the new version of Drupal. As a result, we discovered the majority of them weren't. Thus, we needed to use some alternatives or create modules from scratch. 
One of the complex tasks during the transition to a new version of Drupal is preserving the data. Migrating one type of database to a completely different structure is the largest and riskiest task of the project. The client's database has existed for 11 years and we need to migrate it in its entirety, preserving each order including the changes it had undergone throughout the years. 
We also analyzed the market to provide LIA with a selection of suitable CRMs to extend their Drupal functionality and improve usability for LIA employees. 
The client wants to proceed to the following Drupal development stages with Lemberg Solutions, so we're looking forward to our future accomplishments together. The next phase is UI/UX design, and the third phase is implementation.
Technologies
Drupal 9
PHP
MySQL
MariaDB
Nginx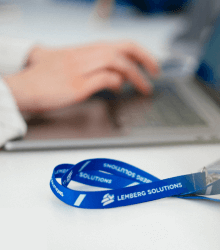 Interested in this case study?
Download the full case study in PDF to save it for later.