Cloud architecture design
Tap into our cloud infrastructure engineering services to design a future-proof cloud solution with the ultimate performance, scalability, and maintainability. Our cloud experts run cloud discovery to understand what computing capabilities match your business needs best to design, implement, and support the well-documented and layered architecture.
Design an app based on cloud services with business logic tailored to your project needs. Our engineering team uses JavaScript, Python, PHP, .NET, and other core technologies to create cloud apps of different complexity and functionality for customers across industries.
Achieve real-time data analytics, improved customer experience, scalability, and availability by integrating embedded solutions with cloud. IoT cloud integration provides ready-made backend, saving you lots of development time and budget. We use  MQTT and REST API to connect IoT systems with Azure or AWS services depending on your preferences and needs.
Get cloud engineering solutions with security built in deployment tools and the release pipeline by default. Such a cloud environment follows the best security practices according to its specific purpose and functionality. It allows you to meet data security standards in healthcare, automotive, industrial IoT, and other highly regulated fields.
Switch from on-premises to the cloud, create a hybrid infrastructure, or migrate between cloud providers depending on your business needs. We can recommend you a reasonable migration model and complete it using a suitable suite of AWS, Azure, Google Cloud, and additional tools.
Automate software delivery and minimize time to market without sacrificing product quality with our DevOps services. We'll employ CI/CD best practices to establish a collaborative environment where development lifecycles happen fast and mess-free.



Why Lemberg Solutions?
Experienced team
Lemberg Solutions hires cloud architects with over 10 years of experience to take on challenging tasks sharing our expertise. Our team includes engineers proficient in all core cloud technologies and tools from Google Cloud, AWS, and Azure stack to meet the needs of existing and potential clients.
Interdisciplinary expertise
Our company unites professionals with complementary skills and knowledge to handle complex projects that require specialized skills. Apart from experienced cloud engineers, we have talented DevOps specialists, data scientists, embedded developers, and other specialists who can collaborate to solve any tech challenge.
Focus on result
We start working on new projects as soon as everything is agreed upon to deliver within your deadlines. Our company believes that engineering services must always bring business benefits, so we offer the right cloud services to optimize the time, effort, and cost necessary to achieve the expected result.
ISO compliance
You can be sure that the solutions Lemberg Solutions delivers will benefit your business through more efficient operations and better services. Our team has gained ISO 9001 and ISO 27001 certifications, having arranged our security and quality assurance practices accordingly. We also comply with industry-specific standards like ISO 13485:2016 and ISO 26262 for healthcare and automotive projects, respectively.
Let's build something great together!
Reach out to Yuriy to discuss your business needs and learn more about cloud services at Lemberg Solutions.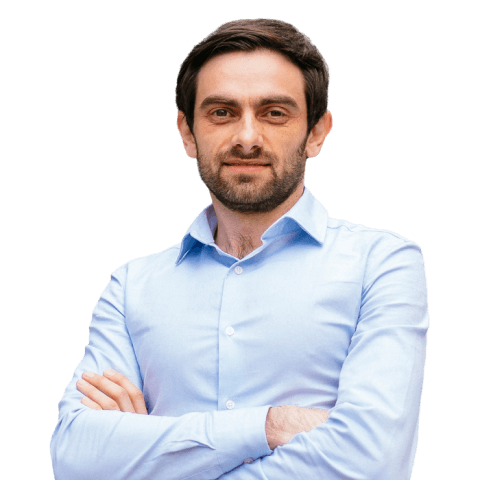 Yuriy Chen
Head of Cloud Engineering
The cloud solution architect with over 10 years of experience and dozens of projects completed. Yuriy has been working with AWS, Azure, Google Cloud services, creating API interfaces, backend apps, cloud service applications, and custom backend platforms.