Our cloud application development services
App architecture design
Lay a solid foundation for your app, engaging us to create an architecture with high security, availability, and performance. Our cloud application development company will analyze your requirements to choose the most suitable tech stack, design a monolith, microservice, or hybrid architecture, and implement it.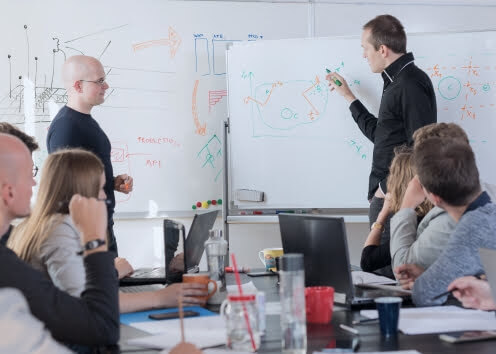 Back end & API development
Get help with an efficient and scalable back end to power your cloud-based apps. Being an essential part of application development in cloud computing, our back-end services include API development, business logic and infrastructure implementation, and database or third-party services integrations. We use model-view-controller, pub-sub, domain-driven development, event-driven development, and other best practices.
Cloud-native app development
Build, deploy, and manage applications specifically for the cloud to capitalize on the benefits of the cloud computing software delivery model. We apply the best development pipelines and top serverless computing services from cloud providers to develop apps cost-efficiently with automated updates, built-in disaster recovery options, and other benefits.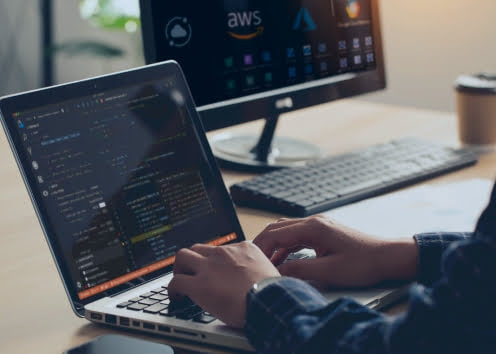 App modernization
Update your existing application using our cloud app development services to enhance its work and make it better adapted to your current business needs. Our cloud-based application development company can migrate a legacy back end to native cloud services, optimizing operational costs and giving you a competitive advantage over similar products dependable on physical resources. We also can pack your legacy apps' architecture into containers, improving its flexibility and efficiency.
Technologies we work with



Benefits of cloud-based applications for businesses
Cost efficiency
Cloud solutions are cheaper to develop and maintain than on-premise and hybrid applications. You don't need to keep expensive servers and develop app capabilities you would only utilize in the future. With a pay-per-use model, cloud computing providers charge you solely for the resources you use.
Faster time-to-market
Since cloud providers offer a wealth of services that facilitate app building and deployment, you can launch much faster. Besides, updating the app with new features once it goes live is easier, which makes you more agile and gives you a substantial competitive edge.
Increased business productivity
Shifting to cloud apps from on-premise solutions reduces the need for infrastructure maintenance and other routine engineering tasks. Thus, your tech staff can focus on more strategic goals that affect your business success, like further optimization and innovation.
Availability
An internet connection is all you need to use a cloud-based app regardless of the device type. Your employers and other end-users get uninterrupted access to the application, which boosts user satisfaction, ensures business continuity for your company, and expands a potential user audience.
Scalability
Using cloud services, you can scale up or down quickly as your business needs change. It's particularly valuable for startups or companies that expect quick growth as they can start from small and gradually grow without limitations.
Automated updates
Cloud service providers automatically update their products, so you won't need to waste time manually applying updates, patches, and security fixes. This brings you peace of mind regarding security and frees your engineers to work on other cloud-based application development tasks.
How we build our cloud apps
Why choose our cloud application development services?
Cost-efficient approaches
Knowing that every app development is a long-term investment, we build applications using cloud services that minimize efforts and costs. This way, our clients avoid overspending across the entire SDLC, particularly engineering and maintenance.
Certified partner
Lemberg Solutions has obtained core quality assurance and security certifications, including ISO/IEC 27001:2013, ISO 9001:2015, ISO 13485:2016, and achieved ISO 26262 compliance. We hire AWS-certified solutions architects and engineers with other cloud certifications.
High-level of automation
We follow advanced DevOps practices to automate software testing, integration, and deployment, speeding up app releases. This approach allows us to optimize the software development process, launch to market sooner, and facilitate updates.
Transparent development process
Our project managers build an open and transparent collaboration process with clearly specified sprints and deliverables. You get regular updates and complete control over critical decisions to manage the SDLC as much as you want.
Client-centric engagement
Lemberg Solutions offers several collaboration models to meet the business needs of any client. You can request solution discovery, ask for a team extension to grow your in-house team, or order end-to-end product development.
Cross-functional teams
We unite over 200 engineers working in different fields, from cloud computing to Android Automotive app development. Therefore, Lemberg Solutions can handle projects of any complexity for core industries, providing you with specialists who have complementary skills.
What our clients say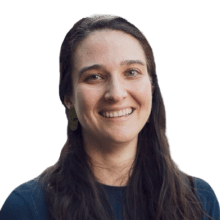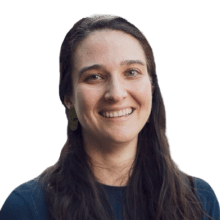 Working with Lemberg Solutions, it was evident that they are a reputable technology company with a strong focus on customer satisfaction. Their team is highly professional and committed to providing quality services to their clients.
While working with them on our apps, we were impressed with their responsiveness and willingness to understand our needs. Their team worked diligently to provide tailored solutions that met our requirements, and they were always available to address any concerns that arose.
Let's build something great together!
Reach out to Yuriy Chen to request consulting and learn more about cloud app development services at Lemberg Solutions.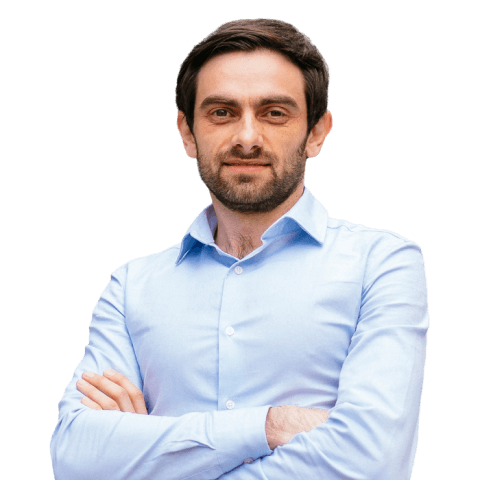 Yuriy Chen
Head of Cloud Engineering
Сloud solution architect with over 10 years of experience and dozens of projects completed. Yuriy manages the LS cloud engineering team that creates optimized cloud solutions to enhance business performance efficiency for our clients.