You need tech consulting if
You're looking for professional feedback on the technical feasibility of your new product idea and the best development approach to bring it to life.
You lack in-house expertise to introduce a new technology or process.
Your existing product is unstable and needs improvement.
You're switching tech vendors and need an independent assessment of the previous vendor's work.
Your company is growing and you want to scale up in the most efficient way.
Process
Discovery call
Leave your request using our contact form.
We'll follow up within 24 hours.
You'll share your business needs with our tech expert.
Research & analysis
Once we have all the necessary information, our technology advisory team will:
assess the technical feasibility of your idea or analyze your existing product,
detect pitfalls,
develop an improvement roadmap.
Presentation of results
We'll share:
the outcomes of our research,
the improvement roadmap.
Cooperation setup
We'll discuss:
the cooperation model that meets your needs,
the agreement between your company and LS,
the official start date.
Let's build something great together!
Get in touch with Lou to discuss your business needs and learn more about tech advisory services at Lemberg Solutions.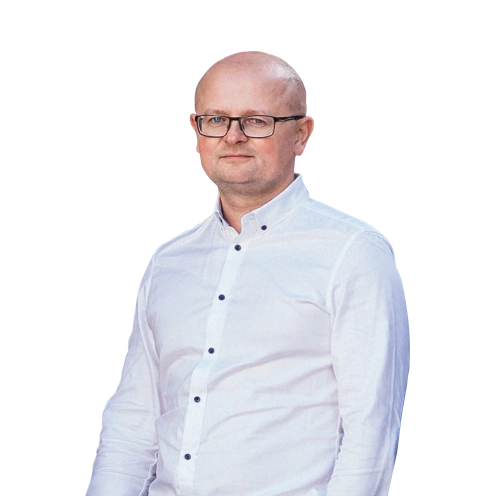 Lou Dutko
Chief Technology Officer
Lou Dutko is in charge of the technology strategy at Lemberg Solutions and leads our AI & DS team.
More about tech advisory at Lemberg Solutions
How Our Technology Advisory Services Can Benefit Your Business
Business and technology advisory services are what you choose to unlock your project's potential or give your business a second wind when staying in the market requires being ahead of the curve. With Lemberg Solutions on board, you will enlist the support of an experienced team, working in IoT, digital experiences, and artificial intelligence fields and having a broad knowledge of innovative technologies and effective solutions. 
Through a cooperative effort, our technical consulting services team will analyze the viability of your idea or existing product and give independent professional advice, saving your time and effort. Our engineers will provide you with practical recommendations helping to settle upon the best strategic approach for your case. You will get the hang of confusing parts in your project that can lead to unexpected and undesirable outcomes, receiving a clearer course of action.  
Technology consulting services at Lemberg Solutions also imply spotting potential pitfalls and receiving an all-embracing improvement plan. Our feedback will help you mitigate the risks and improve the final results. We are up to speed on innovations that will do a good turn if you want to reinvent your business.
Our Background
Having a 200-strong team of web and mobile developers, embedded engineers, designers, cloud specialists, QA engineers, business analysts, project managers, and business developers, 80% of them being middle and senior specialists, Lemberg Solutions provides technology advisory services in various industries, such as automotive, healthcare, industrial IoT, digital media, and more. Aside from technology advisory, we cover numerous embedded engineering, web and mobile app development, and data science projects, having over 300 clients from around the globe.