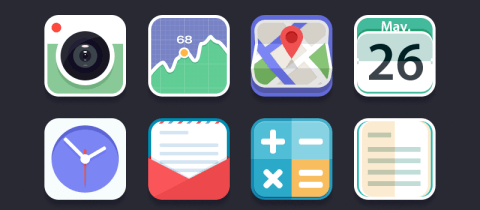 Article Purpose
This article was intended as a checklist that will save your time when you're struggling with features to add to your mobile app.
In this crib sheet of modern mobile trends, you will get familiarised with a typical list of features, and who knows, you may even take a fresh new look at your application concept.
This article will help you put together a brief (or a full concept outline) to send out to development agencies and get a quote, especially if you don't have clear-cut requirements yet.
And last but not least, the article will bring clarity by giving you sufficient background to rely on in discussion with your developer.
If you don't find answers to your questions in the article below, lads from Lemberg with vast experience in UX implementation will be all too happy to advise what is best practice (and what's not) for a solution or a particular platform.
Real-life Example
Based on the stream of mobile app quote requests Lemberg receive, one can single out and  highlight the most typical application building blocks.
Most often when you say "Please quote me for an application that shows user some specific locations around them", this is not what you ACTUALLY mean, or rather not ALL of it.
See, an app that just shows places near user's location would:
be too simplistic
only have one single feature (now, have you seen many popular one-screen apps?)
be quite straightforward to build
Not like there is anything wrong with such app as long as it fulfils its purpose, but that can't be all a user wants, could it?
It's most often the set of extra features ('goodies' that complement the core function of the app like the HP sauce complements your bacon sandwich) that make the app really appealing and super useful, and tempt the end user to download it.
For example, a simple 'locations around me' app like the one we are discussing would benefit immensely from additional features, or 'goodies', listed in the table below. For clarity, all features are tagged either 'mandatory' (those that are implied by the original request), additional 'important' features, or 'nice to have' goodies.
These are the typical building blocks for such app:
  
Area Map with Gas Station locations. Application shows gas stations around
Mandatory
List of Nearest Gas Stations. Application shows gas stations around.
Mandatory
Particular Gas Station Details. Application shows gas stations around
Mandatory
Sign In, Sign Up, Sign Out
Important
User Profile
Important
Favourites
Important
Recent
Important
Social Sharing.
Nice to Have
Settings
Nice to Have
About
Nice to Have
Terms&Conditions
Nice to Have
FAQs
Nice to Have
Contact Us
Nice to Have
However, depending on the purpose of the app, Important blocks may really be Nice To Have and vice versa, so this is very case-specific
Building Blocks
The list below provides brief overview of possible extra functionality a mobile application can have. Though the list may appear very general, it does not fail to identify functionality you might be after.
| | | | |
| --- | --- | --- | --- |
| | | | |
| Feature | Technology | Screen | Component |
Type
User Management
Sign In, Sign Up, Sign Out
Social sharing
Social Login (Facebook, Twitter, LinkedIn, etc) 
User Profile
Content Management. Generalized.
Data synchronization
Search
Offline Content
Data Backup
Search
Files Download/Upload
Payment
Reports
Interactive User Guide
Wizard
Content List. News Items, Goods, Video Files, Audio Files etc 
Category/Filter lists. List similar to News, Music, Politics, Sport etc
Content Details
Inbound Database
Content Management. Specific
 
Weather Forecast
Questionnaires
Recent Items
Calendar
Credit Cards Management
Chat
Favourite Items
Content with comments
News Item and list of comments under it with possibility to add new comment
Shopping  Cart
Integration with Native Apps for Particular OS
Integration with Contacts
Integration with Calendar
Integration with platform native media gallery
Inapp Purchase - Digital data (downloaded from side servers)
Inapp Purchase - Application functionality extensions (No additional data download)
Licensing service (Android only)
Multimedia
Camera Photo Capture
Camera Video Capture
Video/Audio Playback
Audio Recording
Background sound theme (Requires additional effort on android, easy-to-implement on iOS)
Integration with social networks
Load images from particular network
Image Editors
Image Filters
Audio Editor
Equalizer
Media Galleries (photo, video, panoramas)
3rd Party Libraries
Application Usage Analytics
Push Notifications
Advertisement
PDF File Generation
Crash Reporting
 
Barcode Scanner
Custom UI & View Navigation
 
Custom Widget
very generalized item that may identify UI element that is not platform native and has to be implemented. For instance: compass, PIN input etc
Charts
Tables
Image Tiling
SVG Viewers
OpenGL
 
Gesture Handling
Application themes
Location Services
Google Maps
Apple Maps
Custom Maps
for restricted areas like islands, office spaces etc
Positioning via GPS or Cellular Networks
Location Based Device Profiles
Aggregation of device's location change
Animated location changes on a map
 
Custom Speedometer
Compass
Address Selectors
3rd Party Device Connectivity
via Bluetooth
via WiFi
Messaging
XMPP
REST
SOAP
Summary
Using the above table, you can approximately identify features you would like to see in your mobile app.
The list is not complete and is constantly expanding so that you can have even more building blocks and goodies to choose from.
Feel free to use this ever-expanding list to put together the outline of YOUR APP. Remember, you do have to think over how you want each of these features to work in your app, as you will probably need to explain it to potential developers as a part of your vision of your app and its purpose.
About Lemberg
Lemberg is a UK mobile and web development company with strong client base in the UK, Europe, and the USA.
Starting from 2007, Lemberg has been helping leading design and marketing agencies, start-ups, innovative businesses deliver brilliant digital solutions for a number of the world's biggest brands.
Our goal is to go beyond clients' expectations: as a technology partner, we take the responsibility for implementing the most ambitious, creative and innovative ideas.