Visited Digital Shoreditch 2013, Future Brands day. Lots of interesting and sometimes controversial sessions on branding, advertising, social media impact spread over several rooms at Shoreditch Town Hall.
Bridging the Imagination Gap in Companion Screen Experiences
Marc Goodchild (Creative Director, SyncScreen) in a short 5 min session touched upon the development of companion screen and telling stories across 2 planes - TV and companion app. He hopes this will bring sense of awe to television, again, like it was at the beginning of TV era. In his opinion, companion apps harness the power of emotions and this opens wide possibilities to advertise and to turn viewers into consumers.
Beyond Advertising
Jon Mew (Director of Mobile, Internet Advertising Bureau UK) discussed the most innovative ways brands and individuals have created conversations using mobile and tablet devices. The obvious one is advertising - in 2012, mobile ads comprised 11.5% of all ads. As the less obvious example he mentioned Sainsbury's supermarket trial of a new service called Mobile Scan & Go that allows users to shop with their iPhone or Android phone, scan QR codes and pay at the till without unloading their trolley or bags. Another example of mobile-enabled conversation involving wide social themes is KidResque smartphone application that helps deal with child labour in Colombia. Using this app, one can geotag unindentified children working in Colombia streets.
Mobile's Digital Transformation
Chris Schauman, Global VP (Digital&Social Marketing and CRM), Nokia focused on how Media and Consumers have changed and so has Marketing. The pace of change is accelerating, putting more pressure on organizations and individuals.
He looked back at 210 years of data and noted the recent new media explosion which is unprecedented comparing to earlier history. This necessitates the agile way of working and willingness to re-learn new skills very quickly. In support of this he quoted Alvin Toffler - "The illiterate of the 21st century will not be those who cannot read and write, but those who cannot learn, unlearn, and relearn." In the fast-changing world video ads become critical, as they can tell rich stories making best use of available content and data transmission channels.
He bemoaned the lack of highly skilled digital marketers who know how to make more meaningful advertising out of available Big Data: "Data is the new oil. Information is power if it is shared". On one hand, that requires technical knowledge, or at least good understanding of technical trends that affect advertising, such as merging of .com (desktop) and .mobi (mobile) experience, or HTML5 responsive design that renders variable content columns depending on device resolution. On the other hand, the right attitude is even more important: "Business impact depends on: 35% ability 65% attitude".
Understanding the mobile format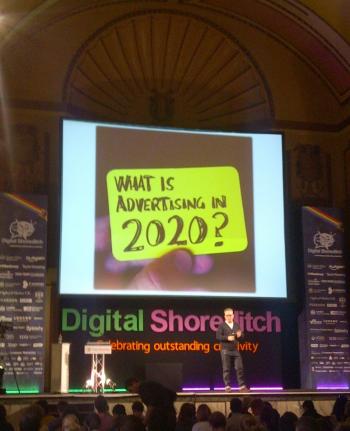 Scott Seaborn (Executive Creative Director, XS2) looked at  50,000 years of past history which he separated into two distinct periods using year 1972 as watershed based on the assertion that the period from 50,000 years ago until 1972 brought the same amount of changes as the period 1972-2012.
For popularity, he measured those 50000 years in terms of human lifetimes. Thus, mankind spent 800 lifetimes sheltering in caves, 75 lifetimes being able to communicate in writing, 6 lifetimes spreading printed word for masses, 3 lifetimes enjoying electric motor and home conveniences. 800th lifetime is characterised by enormous pace of change. This is very clear on the example of mobile technology: first ever mobile ("a brick") appeared in 1983, iPhone in 2008, Google Nexus in 2013. Modern iPhone contains more computational power than many mainframe computers of the 1970s.
The new technology allowed clever brands to connect with user in many ways superior to standard advertising. One example is Coca-Cola Zero "the Cleaner" app to hide private SMSs on the smartphone from prying eyes. Whether you think about it as entertaining or serious, users will hardly forget it (and Coca-Cola Zero, too). Some ideas are really cool like Teen Buzz that uses high-frequency tone around 17kHz to (ostensibly) hide beeps intended for teens from adult ears. Useful or not (many adults do hear HF sound), but the company-developer of TeenBuzz received heaps of attention.
He also touched on the evolution of format of media: TV -> mobile -> cloud. Television was a great invention of its time, and an important media channel. But it was one-way only and had 2-point format: screen and speaker. Migration from TV to mobile format created more opportunities for involvement of user: mobile has at least 5 points of interaction: microphone, speaker, screen, camera, vibro-bell. Mobile format also freed user from staying in a physical location.
The biggest current trends that will continue into future until 2020 are, in Scott Seaborn's opinion:
increasing use of mobile for dual-screening;
growing proportion of mobile-directed media advertising;
advertising will be increasingly contextual;
technology gets smaller and becomes (almost) symbiotic with human. Google glasses are a good example of moving in that direction;
migration from mobile format to "cloud" format where users will be linked less to a certain device. Think Google Docs, Dropbox or Office365.

Mark Earls (Herdmeister at HERD) reflected over future of advertising in 2020. Some of his interesting thoughts: advertising will carry targeted messages (as we can see in Google's highly customised ads); it will affect not just individuals, but everyone in and around your business; social objects you create between people will become more important; advertising will be genuinely useful in some way. He was not afraid to ask hard questions: "our heads have been turned by big data - but do we know how to make sense of that amount of information?"
Dan Broadwood (Strategist at Mother) discussed difference between familiar brands and anti-brands (anonymous). While brands are selfish, predictable, want to own, anti-brands are selfless, mysterious, surprising, want to share. Therefore anti-brands are brands of the future, and will make world a better place.