Content Writer/Editor (Leadership Role Opportunity)
Lemberg Solutions has an open Content Writer/Editor position with the prospect of being promoted to Content Writing Team Lead. We expect a candidate to have proven results in B2B marketing and good communication and management skills.
Please attach your portfolio when applying for this position (3–5 pieces of copy in English).
Location
Ukraine
Lviv; Lutsk; Rivne
Necessary skills and qualifications
С1 English level is a must (grammar, vocabulary, stylistics)
Strong writing and editing skills
Strong skills in interviewing tech experts and researching information to create a well-structured piece of content
4+ years of experience in content writing
2+ years of experience in writing for the IT industry (both engineering and business/sales topics)
General understanding of web, mobile, IoT, and data science development
Strong analytical skills (ability to collect and analyze information from a variety of sources)
Strong prioritization skills
Strong soft skills, an open mind, and an ability to give and receive feedback effectively
Responsibilities
Write and edit: case studies, blog articles, website pages, landing pages, ad copy, SEO copy, SMM texts, brand communications, presentations, speaker notes, etc.
Manage content on the company's website
Oversee content planning and management
Conduct meetings with stakeholders, tech experts, and sales managers to generate content ideas and collect all information necessary to create a new piece of content
Proofread and edit all types of copy (both for internal and external communications)
Work directly with designers, proofreaders, and marketing managers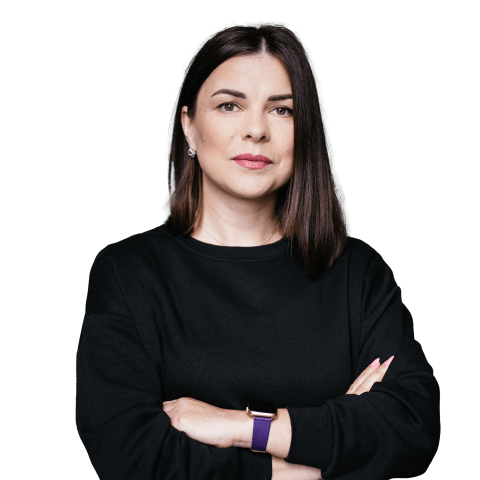 Kateryna Rybachok
Head of Recruitment