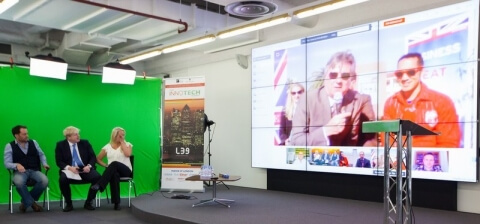 Recalling the InnoTech 2013 (London).
A recurring topic of InnoTech 2013 was a question whether London is a good place for startups, and how to improve its position comparing to the US and Canada.
Edmund Truell, investor and pension fund manager, criticised dispersed investment into startups as a British problem. He argued that in the US, Venture Funds invest 5.5 times more per startup. He eagerly ranted at the British "sell early, buy fast car" mentality and lack of business acumen, as well.
The panel of experts - Christer Holloman (Technology Feature Writer, Sky News), Marcus Stuttard (Head of AIM at London Stock Exchange), Mike Bracken (Executive Director, Digital for Government), Simon Clark (BVCA Chairman), David White (founder, Import.io) - discussed whether London is a good place for IPO, what London can  do to create an environment for a better IPO market, and they could not avoid the issue of the startup scene in London. Is London a good place for startups? There was some disagreement between experts, however most agreed on two negative factors in London:
high rent costs
high employee salaries
As one of the experts said, it's not a problem to launch start-up in London with 2-3 people, but growing it and scaling up is difficult. Staff for startups is a painful issue, since contractors are expensive, and generally, there is a lack of skilled full-time staff, especially in mobile development and UX/UI design.
The much-awaited jewel of the event was the Google hangout session during which Boris Johnson communicated with several venture capitalists, investors and top tech execs from the Silicon Valley in order to raise the profile of the UK tech scene. During conversation, US counterparts expressed their opinion that the UK is a more risk-averse environment than Canada or the US. However, it was also noted that it took Silicon Valley more than 50 years to become what it is now. Apart from the obvious advice - improve access to funding, strategic investment etc - American businessmen suggested UK public sectors and private companies should "buy British". Steve Schlenker, a Managing Partner at DN Capital, was not afraid of asking a blunt question: "Why did Summly sell to Yahoo instead of selling to the BBC? Because no one wants to pay £20 million to a 17 year old". "I would say you need to encourage companies in England to buy British."
Photo from the InnoTech website is used in this article.