Hello everyone, our company Lemberg Solutions has recently released an application called Recorder with Tags (updated name - Recordense) , which we want to present to you today.
So let's start with the idea
Recorder with Tags is a voice recorder. Undisputable fact that there's lot's of Android based recorders out there didn't stop us from development, as none of them had the functions that we were looking for. What we needed was the following. Since we're mobile software developers ourselves, and usually we develop for other companies, the conference calls and discussions with international stakeholders are a daily practice for us. And we've noted that we could use a log for those conversations. This should allow to listen to the conversation later on in a more comfortable ambiance and interpret everything more broadly. Also, it would be great not to have to listen to the whole conversation from the beginning till the end, but have the ability to tag the important fragments during the record. Moreover, we wanted to keep the app in Android's native style and as simple to use as possible for any user. Reviewing the applications available on Google Play, we were quite disappointed, as they were mostly low quality, and those with higher quality did not have the ability to tag the fragments. As a result, we decided to create a new voice recorder with tags.
Epitome
We've started all from scratch. In a week's time we had the interface drawn in pencil. There were quite a few options.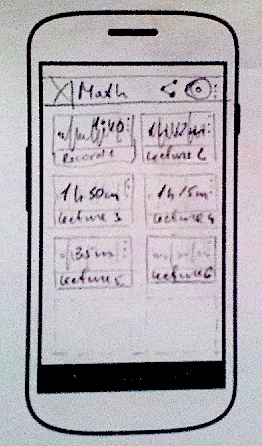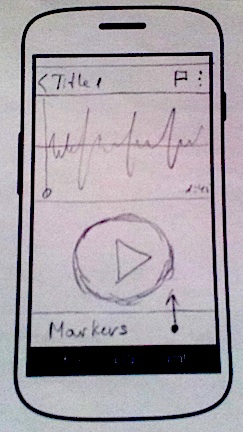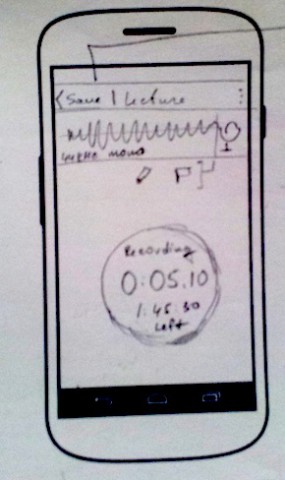 The next step was to create Axure mockup.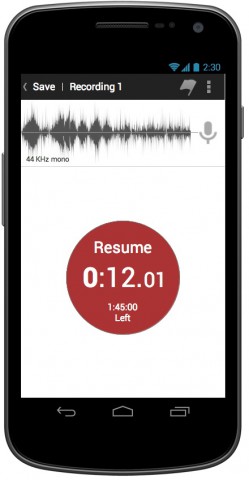 Later, the mockup was forwarded to the designer, he worked on it a bit and returned the final interface. Although we already had the development of the recorder in process.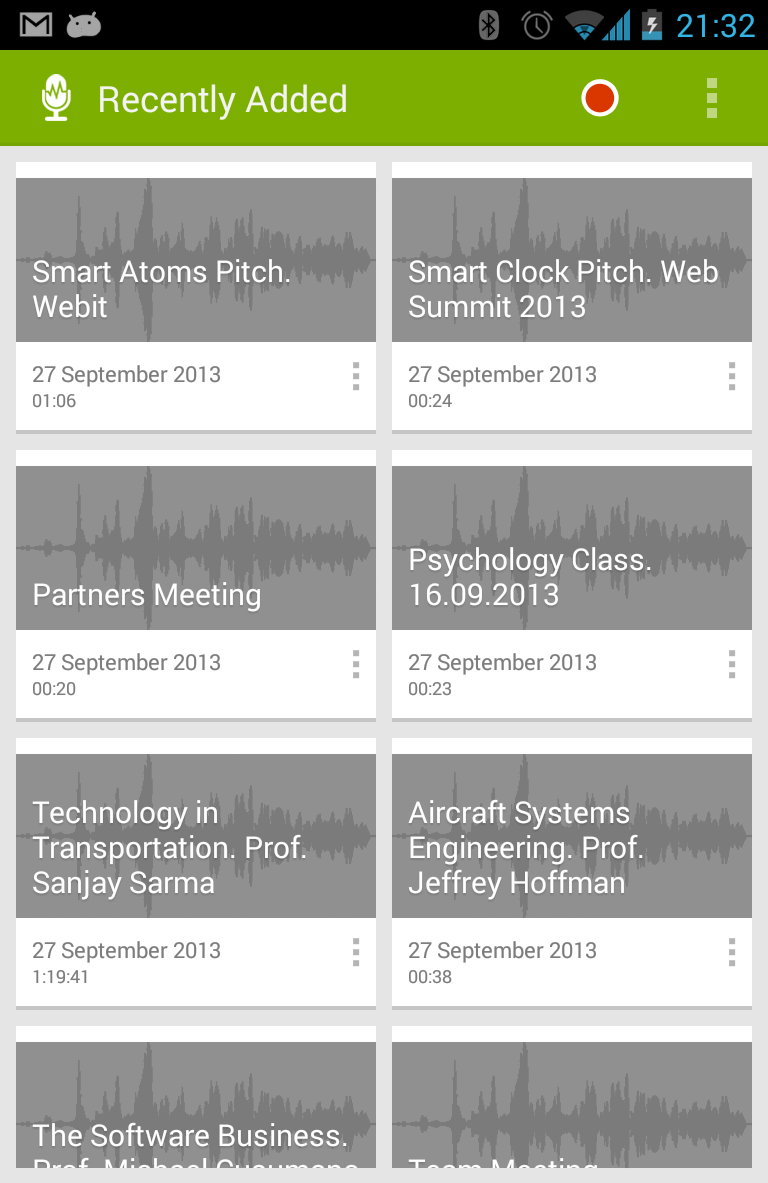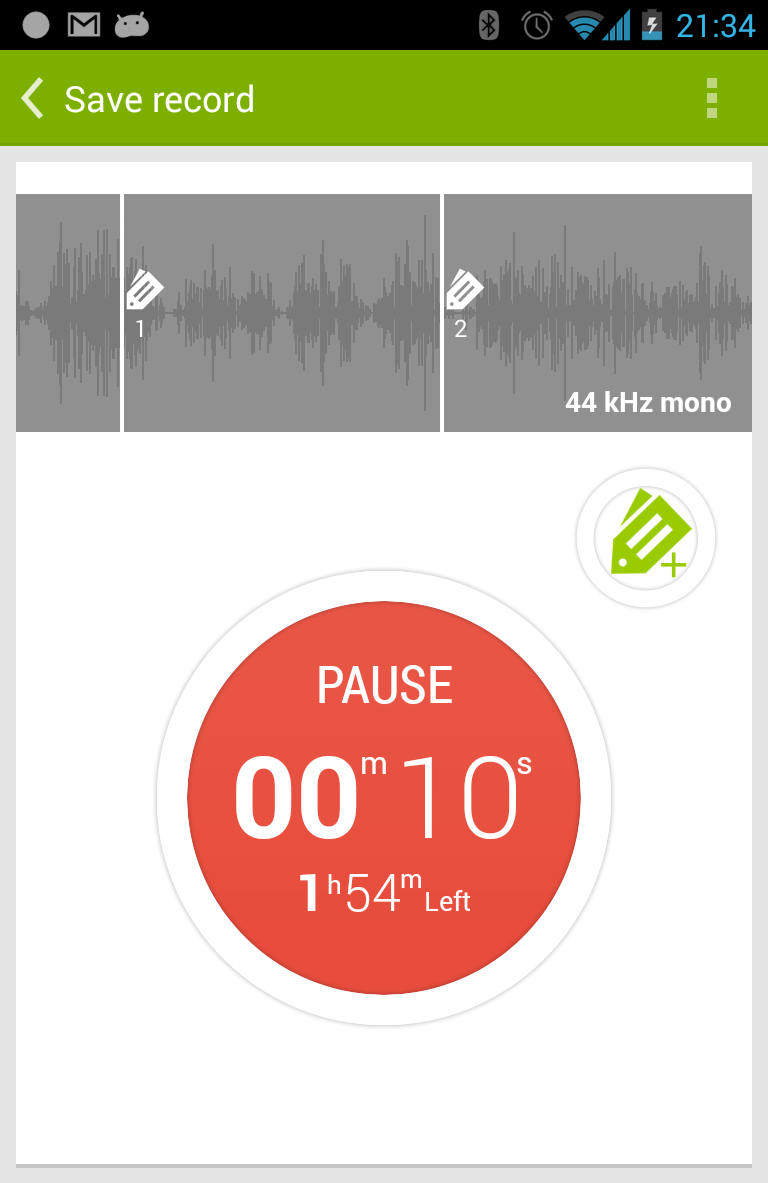 On every stage the designs was evolving - some things were changing, some things removed, some things added.
In two weeks we realised that development of the original idea will take too much time (over 3 months). The decision was taken to implement the minimal required set of functionality (MVP), that should only satisfy the initial requirements. We've limited the functionality to sound recording, tags addition and audio visualisation. In a month we had the app showing off on Google Play.
The next step was to implement some quite important functionality - ability to catalog audio recording. Color tags were enabled, ability to add star tag for quick search and records filtering. Also some minor improvements were made.
The most significant thing was to get rid of banner ads in the app, as we found it's efficiency is quite low. Having ads might be a good motivation to purchase a paid version, but at this point high quality of the product was our main goal.
Localisation
We find that localisation is a very important part of each app's lifecycle. Thus we had the following languages supported: Ukrainian, Russian, English, German, Korean and Japanese (dealing with the last two was the most fun). Ukrainian, Russian and English was done with our own resources. For the rest, we used a great localisation service – OneSky. After uploading the strings.xml, the screenshots and selecting the original and target languages, in about a day or two we got some great quality translations. Very satisfied!
Conclusions
As a conclusion, we'd like to share some statistics and market launch experience. It's been about two months since the app was deployed to Google Play. Since then, the app has been downloaded about 3000 times. The number of users who kept the app is about half of that.
See some charts:
total installs

current installs

As for the audience, we can see the following trends: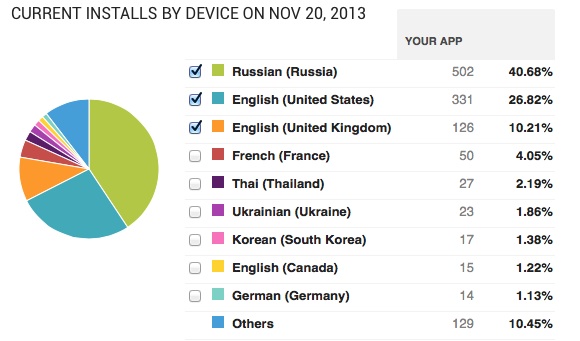 As we can see, about 40% of audience are Russian speaking people, so it makes more sense to target them.
Also, if you search using the keyword "Recorder", our app is found among the first 30 results.
As for the market rollout strategies - Always try to roll out as fast as you can. Don't do the whole functionality at once. You'd rather have a minimal working app, then a non-working evernote. We gained about a 1000 users between two big releases.
To get acquainted with our app you can try the light version on Google Play. If you like it, you may support the development by purchasing the full version. All requests and bug reports are welcome at [email protected] We'll really appreciate it.
Hope our experience will be helpful to some of you!