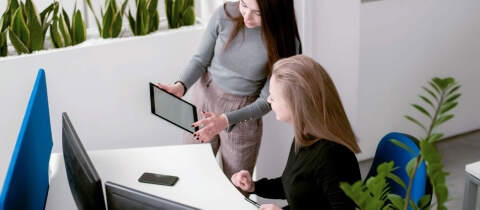 In this article, I'd like to share Lemberg Solutions' experience being a technology partner for agencies: digital, marketing, advertising, creative, branding, you name it. Over the course of 8 years, we've established strategic partnership with agencies of different calibre located across the USA, the UK and Europe.
Let's start from the beginning.
Why do digital agencies need a technology partner?
The main reasons for this are:
Lack of technical experience. Many creative agencies are finding it hard to keep up with technical know-how.
A different state of mind. Creative vs Coding.
It's the jack-of-all-trades-master-of-none thing. Being experts in creative/marketing is agencies' first and foremost purpose.
It's expensive to employ permanent tech staff if the work for them is on-and-off rather than full-time.
Working with freelancers or contractors is too risky. Not to mention that finding them takes time.
Agencies often get high-load periods (like before Christmas) when there are suddenly very many orders coming in, and not enough manpower to handle them.
Partnership benefits
If the reasons list has not convinced you yet that agency - tech vendor partnership is a win-win, here is a list of benefits an agency gets from this partnership:
Sales and pre-sales assistance. Submitting a price quote is the bare minimum a tech vendor can do for you. Apart from this, they can do a proof of concept, put together the process and planning documents, and even prepare a basic prototype if that's what it takes for you to win the client's favour.
Knowledge sharing. If you enquire about the tech vendor's opinion about your idea, and how they would approach it, and what the technical limitations are - they will throw some ideas and recommendations back at you, suggest how this can be done and what the implications of doing this are, and above all let you know what is possible and what may be tricky. In our experience, creative agencies often get innovative ideas (which is their definition basically) that need a technical expert opinion.
Flexibility and scalability. A tech vendor allows an agency to be flexible during high-load versus low-load periods: secure extra resources when you expect you will be needing them, and have the tech vendor working on other orders when you have little work coming their way.
Cost effectiveness. No need to hire full-time tech staff with different skill set in house for on-and-off development projects, no need to engage with freelancers for different types of projects.
Processes. A tech vendor has well-established process, from idea conception to project management and development, to testing and payment terms. Most of the time, one cannot expect this from individual freelancers or contractors.
Responsibility and support. For a tech vendor, just like any other well-established business, reputation and your testimonials are of high value. So you can rest assured that your project is in good hands and your supplier will not disappear mysteriously as soon as you've made that prepayment (yes, this has happened before to one of the agencies we are working with now).
IP security. Word of mouth is still a very powerful marketing tool, and since no tech vendor wants to become known for being indecent with customers, you can rest assured that they will stick to agreements and NDAs.
Success factors
Understanding each other's strategy
Mutual understanding and alignment of strategic vision brings long-term benefits to both agency and the tech vendor. It is important to understand our customer's vision of their business in the next year or two, e.g. services list, clients, project types, organisational structure, if they feel comfortable relying on a tech partner (if not - why?) or are looking to form an in house tech team, etc.
In return, we communicate our goals to our customers as well: which technologies and platforms we are planning to support, which business sectors we are planning to target, what type of services we plan to offer, what our short and long-term goals are in this partnership, and how we can be flexible to accommodate for our client's dynamic services evolution.
For a tech vendor, it seems that the way most creative agencies operate is chaotic and at times spontaneous, while software development agencies have quite the opposite approach really: planning and organisation goes first. Ideally, understanding each other's processes is key to success.
True partnership commitment
I agree with David Morissey when he said that 'The agencies that just look at a tech vendor as just another vendor are a mess'. It is true to assume that an agency can have a list of several potential suppliers for different types of projects, etc., and deserves to get a second opinion. But understanding the value that a particular tech vendor can bring and appreciating their work truly comes a long way!
David Ogilvy, the most renowned advertiser of our age, shared his view on agency-supplier relationship. His motto was to always be 'Honest in argument, honest with clients, honest with suppliers'. He realised that getting the best product from the supplier is key to his business, and one gets what one pays for, so his expert advice is to pay suppliers deservedly. A happy supplier will do great work, but if you push the price further down to the supplier's bottom margin (playing on their interest to get this job), you are treating your partner as just another tech vendor, which is a mess.
Planning
Poor planning means switching developers between projects, missed deadlines, etc. On each account, we maintain a detailed plan for the upcoming four weeks and a general plan for the following three months. (See more at "Our Approach").
This helps to ensure no deadlines are missed and no developers are reshuffled between projects, while maintaining a reasonable amount of flexibility.
Clearly defined roles and responsibilities
We bring it to the client's attention from the start that an Account Manager is their main contact point for new enquiries. A technically savvy Project Manager is appointed for a specific project and liaises with the customer throughout its duration. Because people matter, our customers can contact developers directly to solve any issues instantly.
Effective communication
You might be convinced that there is nothing like a good face to face conversation, but modern technologies are certainly getting very close to that. Alongside with good old phone calls, Lemberg have been liaising with customers through WebEx, Skype, Google Hangouts, you name it.
We also believe that good project management tools play an important part. For project tracking, we use Codebase (although found Jira, ConnectWise, or Harvest good alternatives) where we can host pre-release builds, discuss specific tasks, track time and share status updates such that the customer can see where we are in the process.
Whenever web conferencing is just too much, someone from our team can meet up with the client for a chat.
Try, improve, repeat
How can an agency and a tech vendor work well together? As long as there is not too much bureaucracy with numerous rules and limitations, we should be okay.
Given the different goals (creative vs. coding), some oversights early in the process are inevitable. In the ideal world, there would be no confusion or miscommunication between teams. In the real world, success is measured by how swiftly one is able to acknowledge, rectify and learn from ones mistakes. To do that, both the agency and its tech vendor should be open to discuss the issues that come up, without getting defensive or fingerpointing, but with constructive criticism and willingness above all to improve the process and avoid similar issues in future.
Trust
It takes time to earn trust. It is vital for this type of partnership.
It is important for an agency to have a tried and trusted tech vendor, and also to be sure the tech vendor know what they are doing. Binding our partnership with NDA or supplier agreement helps boost the agency's confidence in us.
On the other hand, earning the agency's trust and openness is essential for us. As a tech vendor, we like to know the rules of the game before we start playing it, and these are different for each agency or project. Our results depend greatly on the agency relaying clearly:
What the key priority for this project is (meeting a tight deadline? meeting their budget expectations? putting forward a list of developers' recommendations? delivering a scalable product to accommodate future extensions? proving technological feasibility of an idea? etc.)
What the process is (are they contacting other tech vendors for quotes? how and when would they decide who they will work with on the project?)
All these questions are true game changers. A case to prove the point: if the key criteria for a project is keeping the cost to a bare minimum, and some of the shortlisted tech vendors are based in India, it would be very difficult for us to compete with their price offer.
Summary
Every agency and tech vendor partnership is like marriage. It needs understanding each other's goals, true commitment, good vision of the future, clearly defined responsibilities, effective communication, constant self-improvement, and most of all, trust and openness to make it work.
If done right, both agency and tech vendor get brilliant results, are successful and happy. The outcome is many beautiful, award-winning products and many happy returning clients!