Let me share with you one of the two articles that unveils common mistakes typically present in most QA and iOS work flow. In this section, I will demonstrate the number of bugs I came across within my projects. For instance, four projects were full of minor mistakes and 30-40% of general time was spent on figuring out and further elimination of these bugs.  The following examples contain screenshots of the specific problems. The purpose of this article is to help iOS developers and QA testers showcase a list of common bugs, which in future must be avoided to make your projects more successful. Developers can find this article beneficial in a way that it helps to spot the bugs before QA's even see them, so it could be both preventive and time saving. If you are a QA tester, you could broaden your search spectrum and locate these common bugs faster. Let's take a closer look at these mistakes.
1. Input fields/forms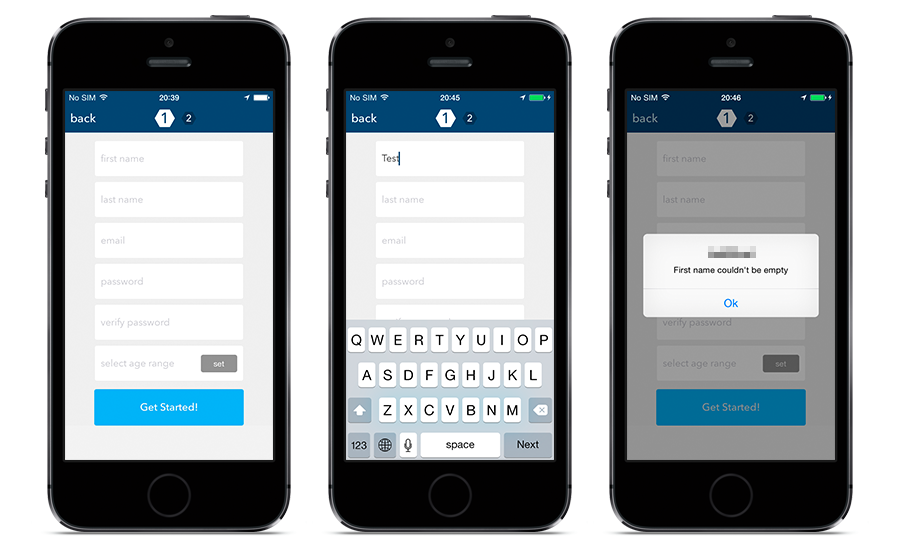 Expectations
If there are at least two sequentially input fields available, there is transition between fields by tapping Next button on the keyboard
After the last input field is filled, Next button is replaced with Done. Tap on Done button closes the keyboard
Validation for input fields
Limitation for entering characters
Left and right margins are the same
Cursor is visible
Typical Issues
Next button is missing, instead there is Done/ Return etc., which closes the keyboard or in the worst case doesn't perform any action at all
Validation is missing
Text in the input fields may come out  of the field borders, left and right margins may be different
Cursor is missing or is transparent
Limitation is missing
Transition to the next field is unavailable because Next button is disabled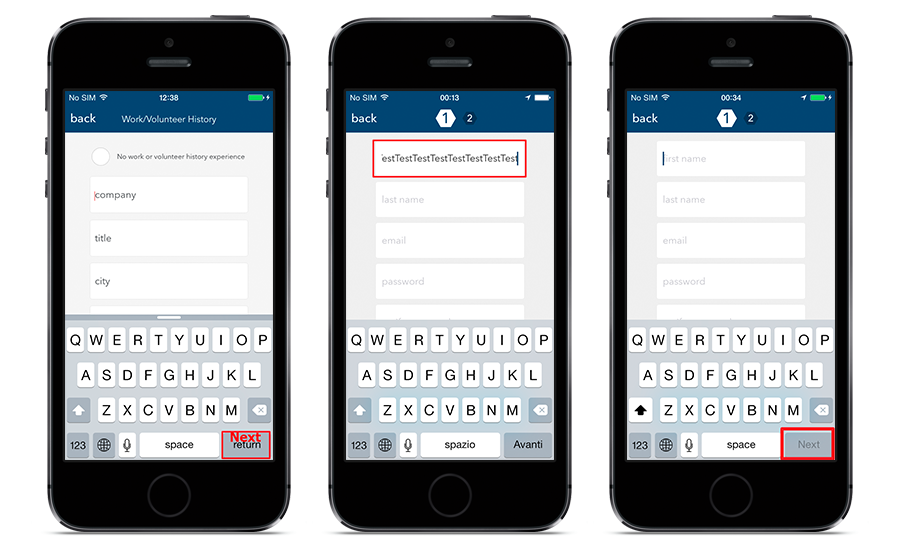 2. Field validation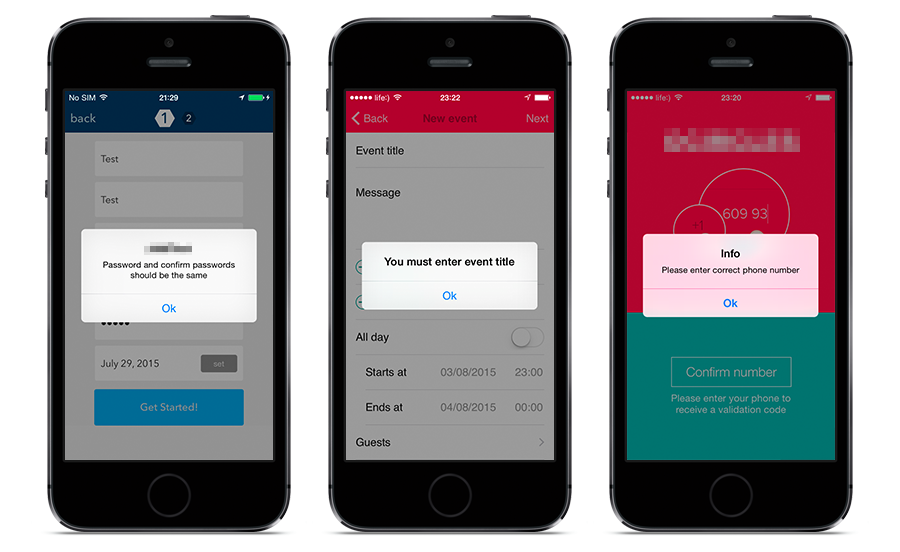 Expectations
Validation of all required fields/ checkboxes /drop-downs etc.
If validation failed, pop-up with the text displays, for example: "Field name can't be empty"
Correct order of validation: step by step - from the top to the bottom, from left to right, both on the client and server sides.
Typical Issues
Incorrect field validation order
Incorrect validation text (different for fields within the same form)
Error message from server side is ignored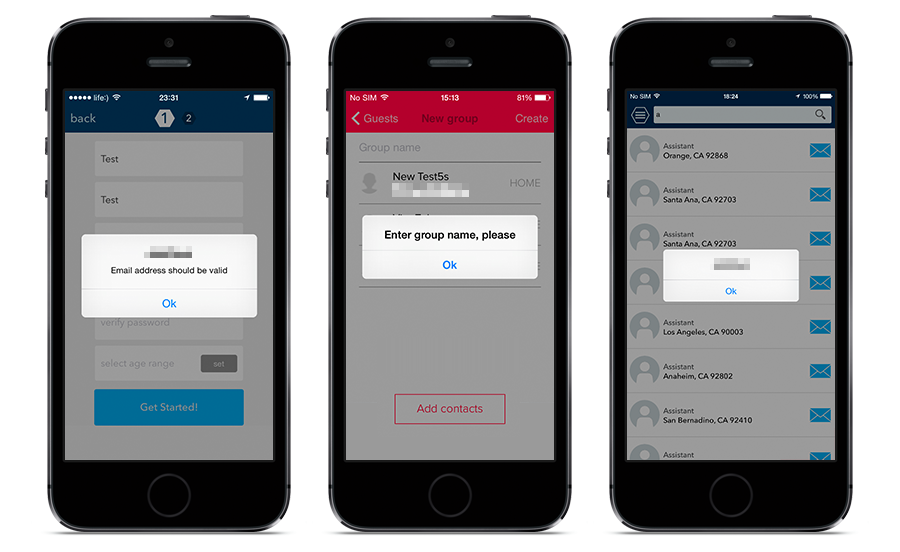 3. Keyboard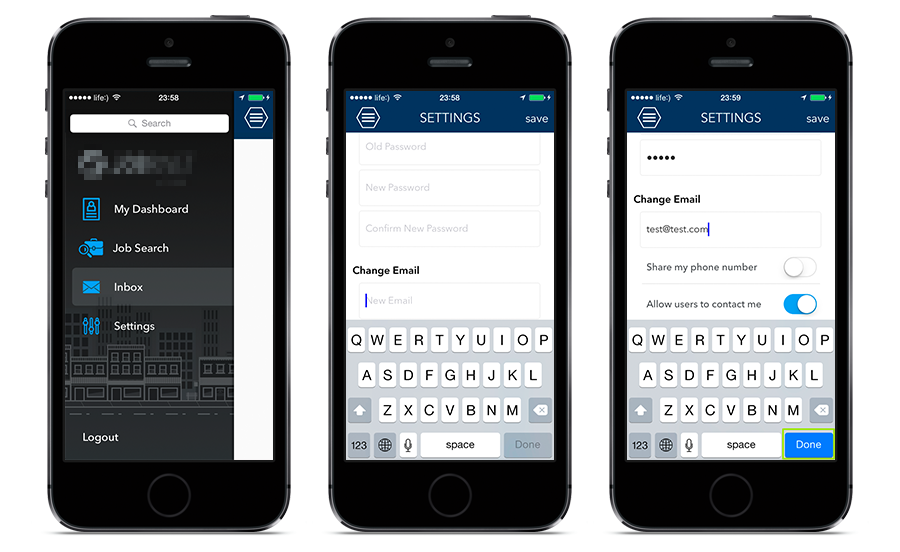 Expectations
Keyboard is hidden with:
Tap on Done button on the keyboard
Tap around the keyboard but within the screen
Opening sidebar (hamburger) menu
Moving to other screen
Opening date/ time picker
Keyboard doesn't overlap the input field which is active at the moment, there is autoscroll so active field stays above the keyboard
Typical Issues
Done button doesn't perform any action
Keyboard hides only after switch to other screen
Keyboard opens over sidebar menu
Input field is overlapped by the keyboard, autoscroll is missing
Keyboard and date/time picker stay opened simultaneously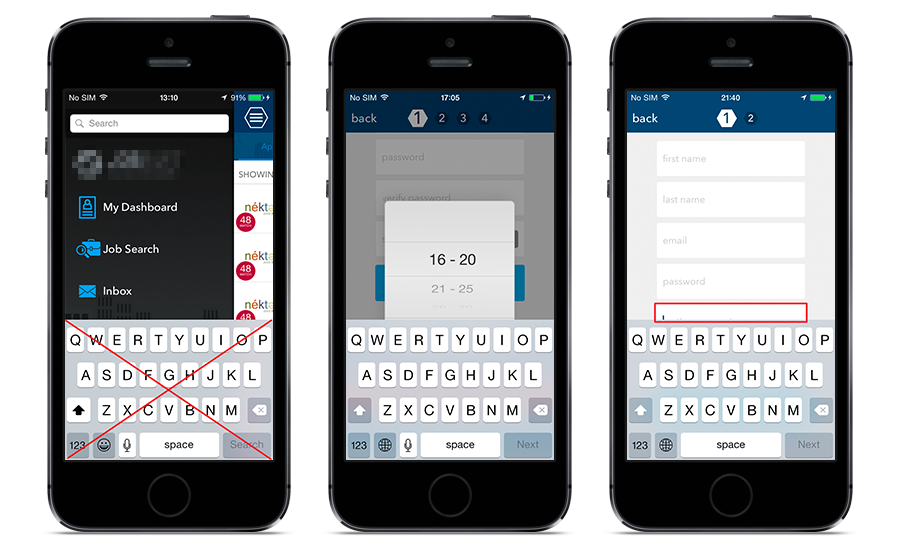 4. Search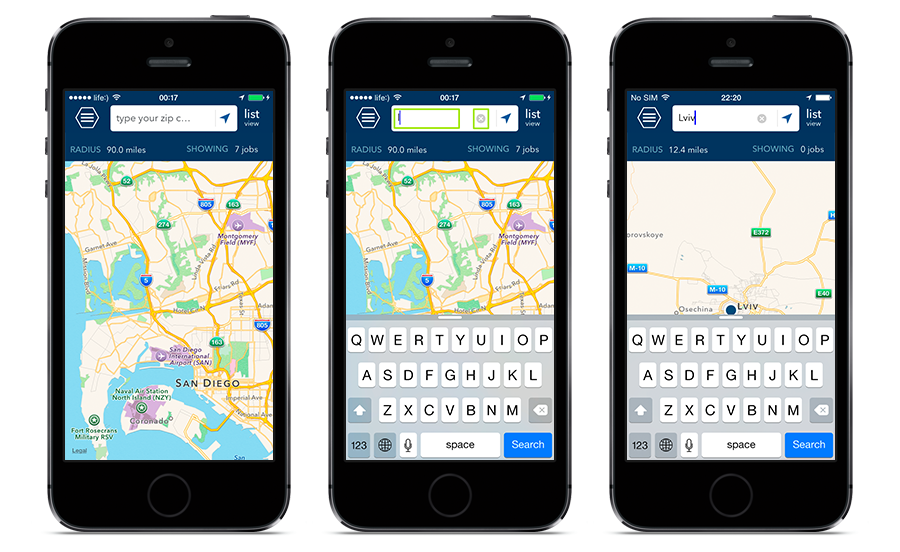 Expectations
Hint is available
Tap on input field opens keyboard
After 1st character is entered, hint disappears
After 1st character is entered, X button appears to clear entered data
X button disappears after entered content is cleared
No results message is displayed if search gave no results
Typical Issues
X button is missing
Hint is missing
Keyboard doesn't hide after tap on Search button and results are overlapped by
X button doesn't disappear after entered content is cleared
No results message is missing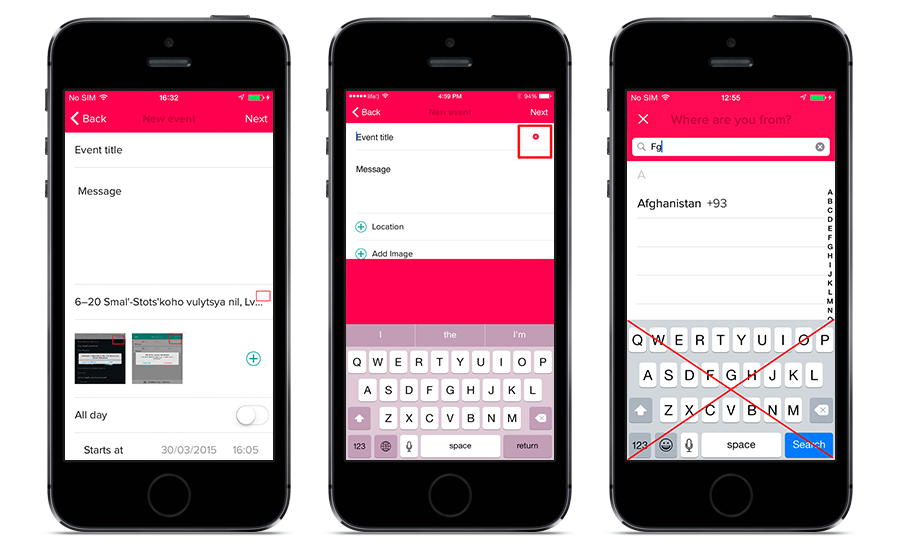 5. Camera/Gallery (Privacy)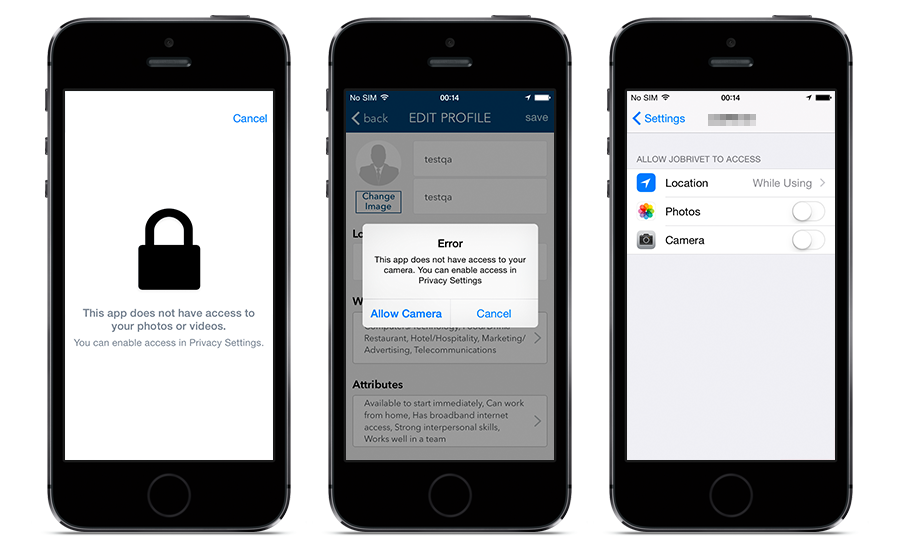 Expectations
If camera is disabled in Privacy settings, custom pop up with text "This app does not have access to your camera. You can enable access in Privacy Settings" is displayed. The same in case Gallery is disabled in Privacy Settings
Typical Issues
Black camera screen opens, buttons react on taps, and there is no explanation for users why camera screen is black
Application crashes after opening Camera/ Gallery, if Camera/ Gallery is enabled/ disabled in Privacy Settings
Black camera screen opens and displays custom inappropriate pop-up message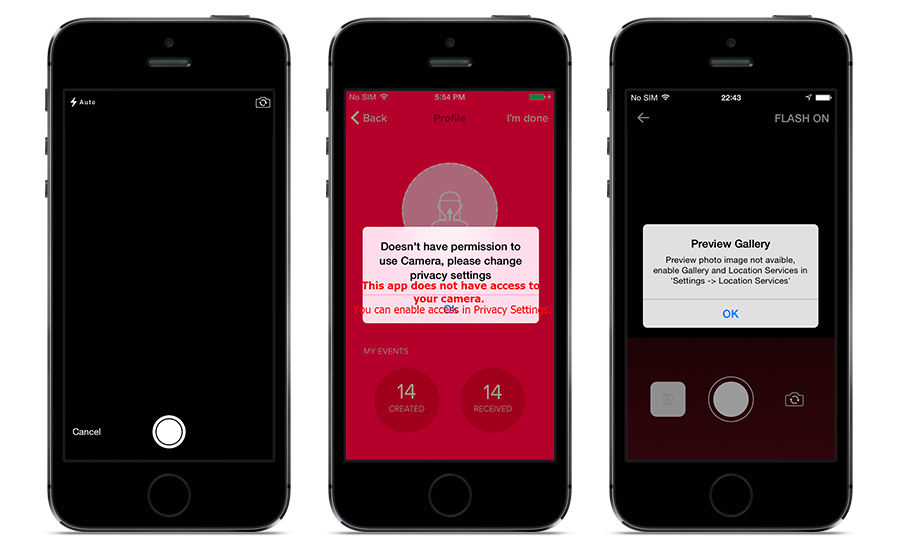 6. Date/Time pickers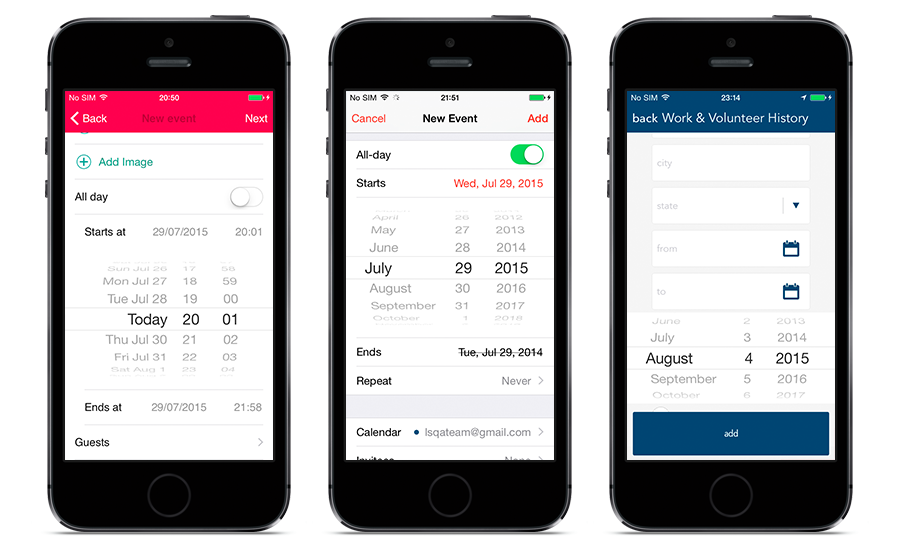 Expectations
When one date picker opens, the second (if it's opened) automatically closes
When only date should be available, time is removed
Picker placed at the bottom of the screen scrolls up after tap on it
Picker hides after tap on it
Picker hides after tap within the screen
Picker hides after tap on input field
Typical Issues
Several pickers open at the same time
Both date and time is displayed while only date should be visible
Picker placed at the bottom of the screen doesn't scroll up and only top part of it is visible
After tap on it picker overlaps input fields placed below
Picker doesn't hide after tap on it / input field / within the screen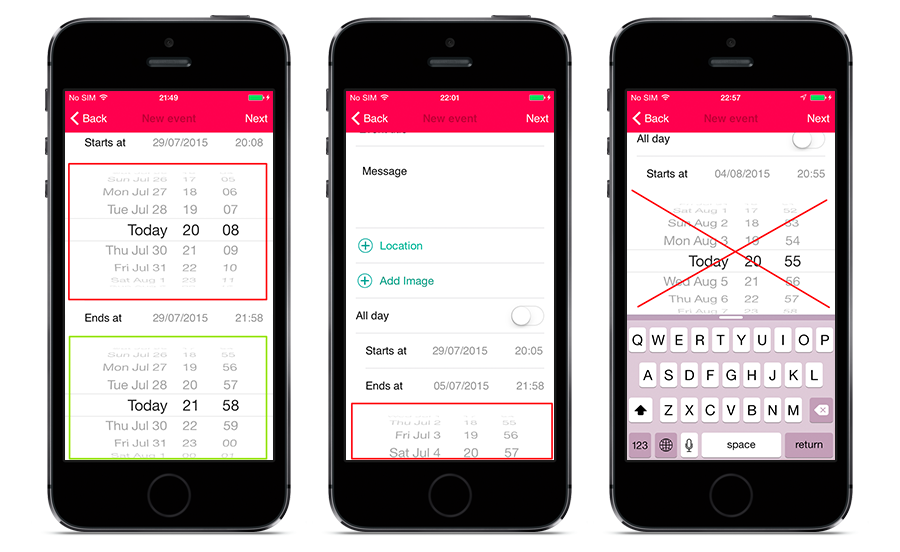 7. Selectors
Expectations
Selectors are displayed:
After tap on buttons User's selection is highlighted for few seconds
After item(s) from the list is (are) selected
After screen from sidebar menu is selected, the selector holds down, highlighting active screen from the menu
Typical Issues
Selectors are missing
Selectors don't disappear after switch to other screen
Ability to select several items simultaneously on the fields where it's not appropriate (sidebar menu opens while switching to the screen)
Selector obscures icon and button, making them not visible
Selector is present on input fields or UI elements, that don't contain transitions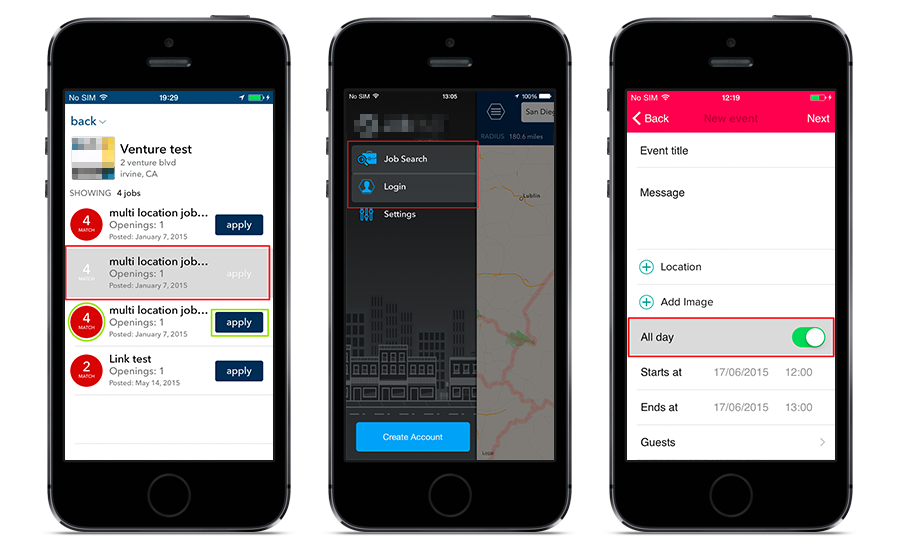 8. Buttons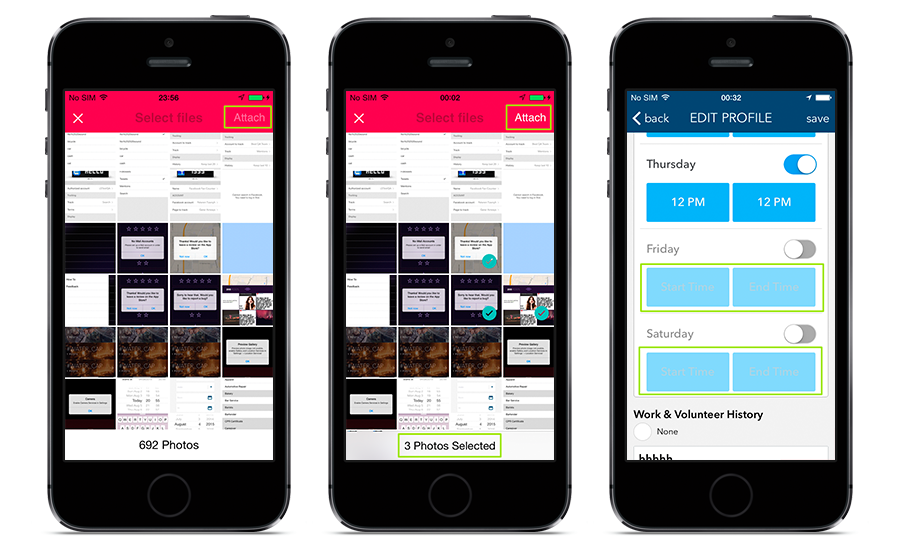 Expectations
If required parameters (fields, checkboxes, drop-downs) are not selected, then Done is disabled, or after tap on it custom pop up with text ("Field's name should not be empty") is displayed
Done button is enabled after required parameters are selected
Typical Issues
Buttons are not disabled
Validation is missing
Incorrect pop-up message
pop-up is missing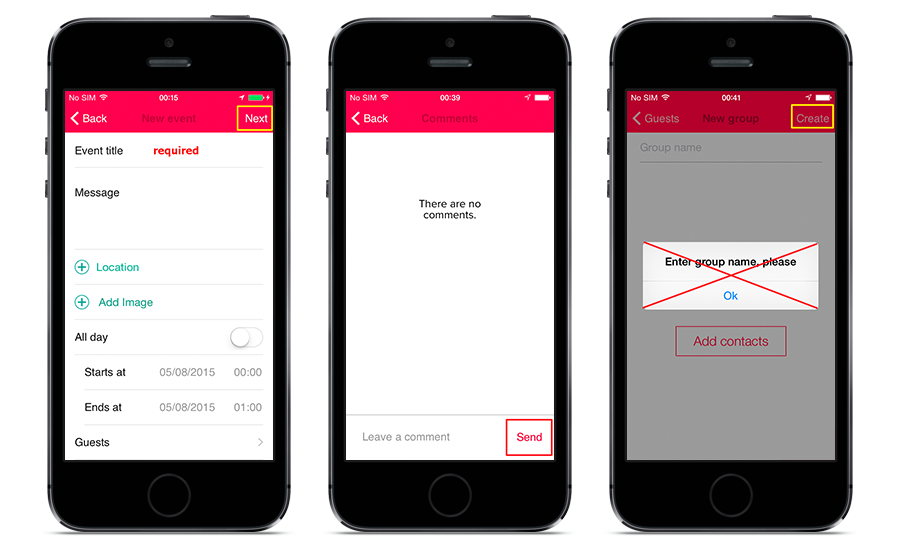 9. Time zone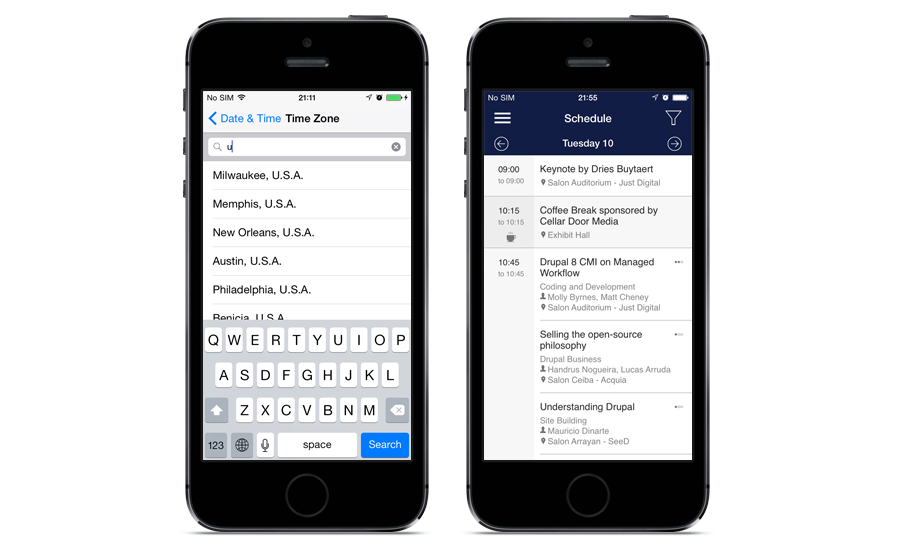 Expectations
Application works correctly with user's time zone (for pushes - difference between time zones is taken into account​; for schedule - week starts according to selected time zone)
Typical Issues
Pushes are delivered one day earlier or later
Event's schedule starts on Sunday instead of Monday - this frequently happens when difference between time zones is +/- 8 hours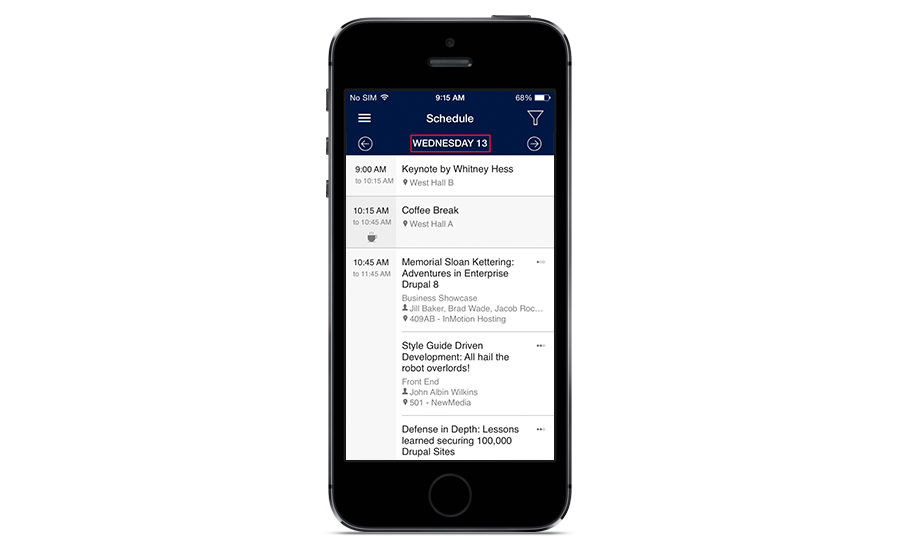 10. Scroll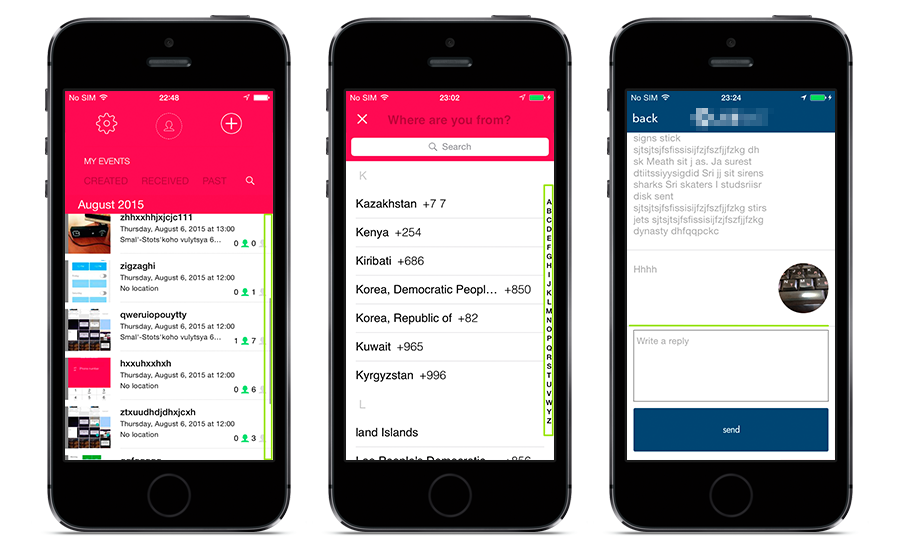 Expectations
Scrollbar is available on the list
When there are several tabs with lists, scroll is independent on each tab
Scroll position on the list preserves within one screen
Scrollbar resizes according to the list
Scrollbar is located on the right side from the content
If keyboard is opened, it's closes when scroll activates
Auto scroll up makes active field visible during filling in
Auto scroll up makes user's message posted on the page visible
Typical cases:
Scrollbar on the list is missing
When there are several tabs with lists, scrolls are connected
Scroll position on the list is not preserved, and user has to scroll to needed position again
Scrollbar is located over the content  
Scroll is enabled when keyboard is opened
Auto scroll up is missing, therefore, data being entered at the moment is not visible
Auto scroll up on the page is missing, therefore, user's message posted at the moment is not visible