The marketing experts of global brands admit that the year ahead is for mobile. Mobile is everywhere. A mobile phone is the first thing your customers look at in the morning. It is always under their fingertips. We believe you understand that very well, but are you using it to the full in your business?
This article is written specifically for the businesses that have ordering services in their day-to-day operations, such as dry cleaning business (this specific case will be used as a showcase in our post), a meal order & delivery business and, say, a waste collection business, but might be interesting as well for other serving companies as a use case & marketing inspiration.
So, what is in common between a dry cleaning business, a meal order & delivery business, and, say, a waste collection business?
That's simple: they will all benefit from a mobile tool that would optimise the ordering service process. In this article we aim to show you the simplest, but yet very effective mobile application that your business & customers will benefit from. That is ordering service application.
Top 7 benefits of the ordering service application
Having the ordering app for your business offers a range of benefits:
reduce operational costs. How much time do your employees spend on communication, for instance, and how effective is it?
enterprise mobility. Remote access to ordering data, communication on-the-go, on-field 24/7 sales tool, and many more for your business.
improving customer service. If your business relies on customers ordering a service, you most likely see problematic areas of your ordering process where having an app could make a positive difference.
brand visibility & recognition. Put your brand where your customer would see it, right there on their phone screen.
direct marketing channel. All the needed information is right there under your clients fingertips all the time. No need to search for contacts, address or prices.
Improve customer engagement. Just think how customer wants to engage with your brand and give it to them in the most efficient way. Imagine how your customers would like ordering their favourite pizza in let`s say 5 clicks, right on the go?
differentiate yourself from the competition. Be the first dry cleaning service in the neighbourhood with an ordering mobile app developed for your customers.
And that is what the simplest ordering application can do.
True, with the soaring statistics of mobile devices being used in our daily lives, why not go mobile? From the marketing point of view, it's one of the most efficient ways to increase your digital presence and get an edge over competition. From a business standpoint, an app can help you automate your business processes & increase your customers satisfaction.
How it works
Here is an example of the ordering application for dry cleaning business, picked among ones that were built here, at Lemberg. That is a good visual example of a simple, ready-made solution for such type of business.
Here is its workflow:
a user can select type of service he is interested in
specify quantity (The app will automatically calculate and show them the cost of their order)
select pickup/delivery address
check out
the app will then structure your order into an email, open the email app, and users will be prompted to click 'Send'.
There you have it, the order has been placed. It has been sent to your business's email and it took 5 clicks for your customer to do it.
In the case of this specific example, the app does not work with payments, that would be handled by your manager once he arrives at the specified location.
Let`s take a closer look at the application functionality
Let's have a look at the example here. Just a few screens of the app, each of them having a specific purpose and making your business much more organised.
The app offers a variety of options for customisation of each screen.
Pricing Configuration
To start the ordering process, users will be presented with service options, and prices. The services can be presented in several pricing configurations: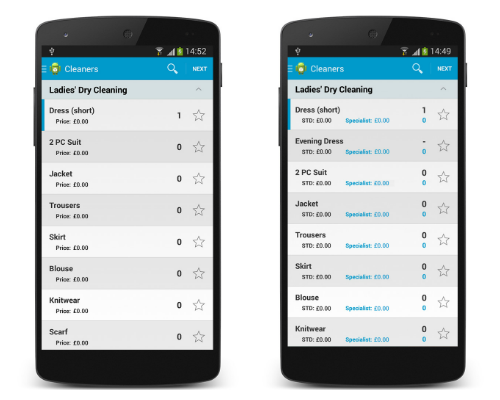 Standard
Standard & Premium
Address Management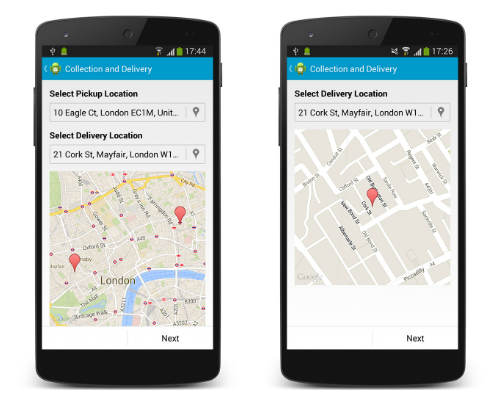 If you're in a waste collection business, apparently users will just enter a pickup address.
If your business is dry cleaning, it will need to be both pickup and delivery address, even if they match.
To order a meal, users will have only the delivery address to fill in.
What the app does, screen by screen
A price list with categories. Possibility to select categories.
A summary of user's selection.
Select quantity
Review your order, delete items if you've changed your mind.
Locations. Pick a location on the Map, or enter the address manually.
Orders History. You can clear the history if you wish.
Favorite items. Possibility to add/remove favorites.
Profile. View or edit User's data.
Checkout wizard. Locations and Orders summary.
Order email generated on checkout. Users are prompted to send it, the receiver email is prefilled with your business's.
Updating. On startup, the app connects to our server, checks for data updates, and auto updates if necessary.
Settings.
About.
Contact Us
To get you started
If you think your business & customers will benefit from an ordering service application like the one described above, there are two options to get started.
Develop an app tailored specifically for your business, by hiring app developers. In this case you'll have a possibility to create a completely unique solution for your specific needs by adding any possible functionality, like online payments, images, rewards system, push notifications etc.
Use a ready-made solution, like the one showcased above. You'll be able to choose your branded colour schema for the app and add your own content.
This is the input information you will be asked to provide:
Company information (the email you'd like to receives orders to)
Your list of services, and a price list for them
Subscribe to an app store account (optional, if you'd like to publish the app under your business name on app stores; otherwise, we'll publish it under Lemberg Solutions)
This option is a good fit if you would rather not create an expensive app and not invest additional costs into supporting complex server side solutions.
Instead of an Afterword
Surely you've heard people complain that they asked for a different service from what they were offered. Whether we would like to admit it or not, human error is a real thing: be it when you're making an appointment with the hairdresser's over the phone, ordering takeout, you name it. I was once stuck with a different hairdresser just because their names sounded similar over the phone.
The simple ordering app for your business will not only help you become more 'digital', but also automate the ordering process, decreasing the chance of human error.