Pet location tracking systems today are powerful tools, with a wide range of usage. Depending on their type, they can be used for location tracking, health monitoring, or both. In particular, the things that could be tracked are temperature, pulse, pet activity via accelerometer, location by GPS, or just notifications about your pet a leaving pre-determined area (geo-fence). An investment in one can ease your fear of pet loss, or getting your animal sick without you noticing. There are powerful devices that come with a hefty price tag, but there are also less expensive trackers on the market too that work quite well. For example, tiny radio trackers, which cost less than 40-30$  and have no GPS services (which must be paid for annually), no accelerometer or pulse identificators. All they can do is send a signal to you, when your pet is out of the geo-fence area. Of course, there are cheap trackers with a lot of functionality, like this, but they have their cons, like low battery life or general lack of quality. 
As a matter of fact, the technologies, which each device uses, may differ, depending on the functionality. In general, they could be split into 2 types. Radio Trackers, and GPS Trackers. Radio Trackers utilize a somewhat outdated technology and have been used for decades. These devices don't require a monthly subscription. Radio Trackers are commonly used for monitoring hunting dogs, and cover roughly the same distance of a Walkie Talkie's Range. It's important to note that the more you spend the greater your range will be (starting from 50-200 meters and ending at a whooping 20+ miles). These units can range from $200-$1000+ for the top of the line units.  
GPS Trackers are a cutting edge technology that allows you to pinpoint your pets' location in real time. You can see a history of locations reported by the device to see every place your pet went while you were away. Some of these GPS Trackers even give an alert when your pet leaves a geo-fence. In order to transmit the GPS location from almost anywhere and anytime use of cellular data and towers are required.  So the following would be classified as IoT and require a SIM card or cellular service of some kind. 
Down below is a brief description of such devices:

1. Whistle
One of the top trackers out there, which has such features as: two-way audio, pet training features (TBD), feeding recommendations, GPS, games, and more. The locator functionality is based on GPS technology and the Verizon network and works with any a phone or computer which has SMS capability, as it messages you through its app and then enables you to find your pet on a map. Works on any smartphone. In addition to logging activity, the Whistle alerts you when your dog leaves an established zone and tracks its location as long as it's in cell phone range. Some users of the Whistle noted that there is a lag between the time the dog leaves the Whistle Zone and when they received the alert, so it is not quite "real time". Price: $80, plus a monthly plan from $7.

One of the only pet wearables that works for both cats and dogs of any size, the PetPace is a comprehensive health monitor. Since your pets can't tell you if they're in pain, this gadget tracks vitals such as temperature, pulse, respiration, activity, calories and posture, notifying you of any abnormalities.The data can also be accessed by your vet to keep your animal chums in fine health. Has quite lot of cons: an expensive monthly or annual fee, the collar requires Gateway that must plug into a home router, a web-based dashboard is only for vets. Price: 150$, 14.95$ annual fee.

3. Fitbark
Instead of GPS, which usually tethers in a subscription service, the Fitbark uses an accelerometer to track your dog. Targets are set once you input your dog's weight and breed, with activity, or 'Bark Points' contributing towards a daily goal. In general, the pros are: easy-to-understand activity information, very light and unobtrusive, attaches to any collar/harness, long battery life, waterproof, web-based dashboard, social aspect helps compare canines. But it lacks Wi-Fi, so you must buy a base station for offsite monitoring. Price: 100$

The device logs health and activity levels each day, providing a better understanding of a dog's behavior, diet, exercise patterns and habits to help keep your pet in a top health condition. It allows canine guardians to keep track of trends and look for changes that could indicate pending problems. The dog's own personal portfolio is made available via a browser-based interface on an owner's PC or mobile device over 802.11b/g/n Wi-Fi. The price is quite high, reaching 299$, + 15$ membership fee. 

5. Marco Polo Pet Monitoring, Tracking, and Locating System
An interesting, yet simple, logical, and pretty well-endorsed tracking system is the Marco Polo System. It uses radio waves to monitor, track, and locate pets over 10 pounds.  Though the manufacturer doesn't recommend the Marco Polo for cats, cat owners report that the Marco Polo has been a life saver for their outdoor cats.  Dog owners stand strong behind the product as well. Comes with just one pet tag.
Battery life on the Marco Polo can last up to 90 days, although you may want to charge it more frequently.  There is no subscription service, no monthly fee, just the cost of the monitoring system, which is higher up front than the other systems in this article, but lower when the others' monthly fees are considered.  Price: 235$

The Link AKC won the CES 2017 best wearable electronic device award and it's been getting its fair share of thumbs up from dog owners who've purchased it.  As a locator, this gadget uses cellular and Bluetooth technology to track your dog when it's nearby, and the GPS technology when it gets out of the 'safe zones' you've drawn out.  It monitors your dog's whereabouts through its cell phone app. In these ways the Link AKC is similar to several other pet trackers on the market.
But the Link AKC is also an activity tracker, a goal setter for your dog's exercise plan, a place to store your dog's veterinary records, a remote clicker-type training device, and a scrapbook for 'together' moments with your pup. As the device has a night-light that you turn on and off from the app on your phone. A pleasant  feature is the temperature tracker that alerts you when the ambient temperature in your dog's environment is more or less than the limits you set. You have to subscribe for monthly cell phone services through Link AKC, which currently uses AT&T, so the Link AKC is only available where AT&T cellular has coverage.
About cons: pricey, bulky, bigger houses may require additional base stations. Also, ineffective temperature warnings in testing. Currently the price is 179$.
Down below is a small chart of the above listed trackers for better comparison: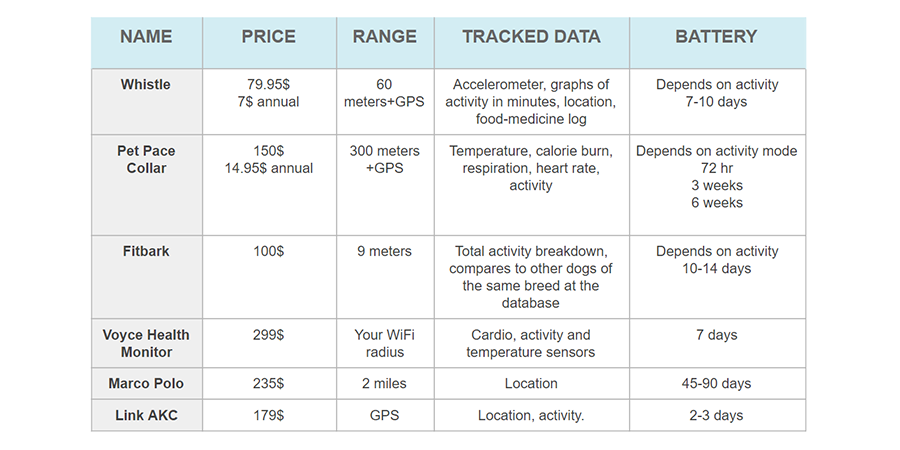 In my opinion, the best tracker would be the Pet Pace or Link AKC trackers, due to their functionality, price and overall quality of product. 
Pet owners often prefer trackers with the function of sharing data with other users, (like Fitbark), because this function allows them to communicate and compare their pet lifestyle with other people, who are animal lovers like them. It helps them to ease the fear, that their pet is in bad shape, or that they are doing something wrong with them. Also, at most, trackers are water resistant, but not waterproof. Knowing the activity rate of tamed animals, and places where they are strolling, this is a major problem, considering that most of them are not even water resistant.
Also, what really bothers people, is that trackers become a really expensive experience, with an annual GPS payment and their overall price. What users need is a cheap way to know the location and status of their beloved animals.
Most popular features of trackers are, respectfully: location and activity tracking. These are the cheapest and easiest to achieve functions of these trackers. Looking at the market, there are really few of them, which can provide a thorough analysis of pet health, like Voyce trackers, that have respiratory, heart rate, blood pressure, light and calorie sensors. In the end, it all depends on what specific functionality the user is looking for, and how much faith he has in his pet health. 
Hope you have found this article useful, don't forget to leave your comments below the article. If you have a project idea in mind but don't know where to start, we're always here to help you.