The first-in-a-long-time offline DrupalCon held in Prague was a much awaited event for all Drupalists in Europe. The Lemberg Solutions team couldn't miss it either, so we packed our laptops and rushed away.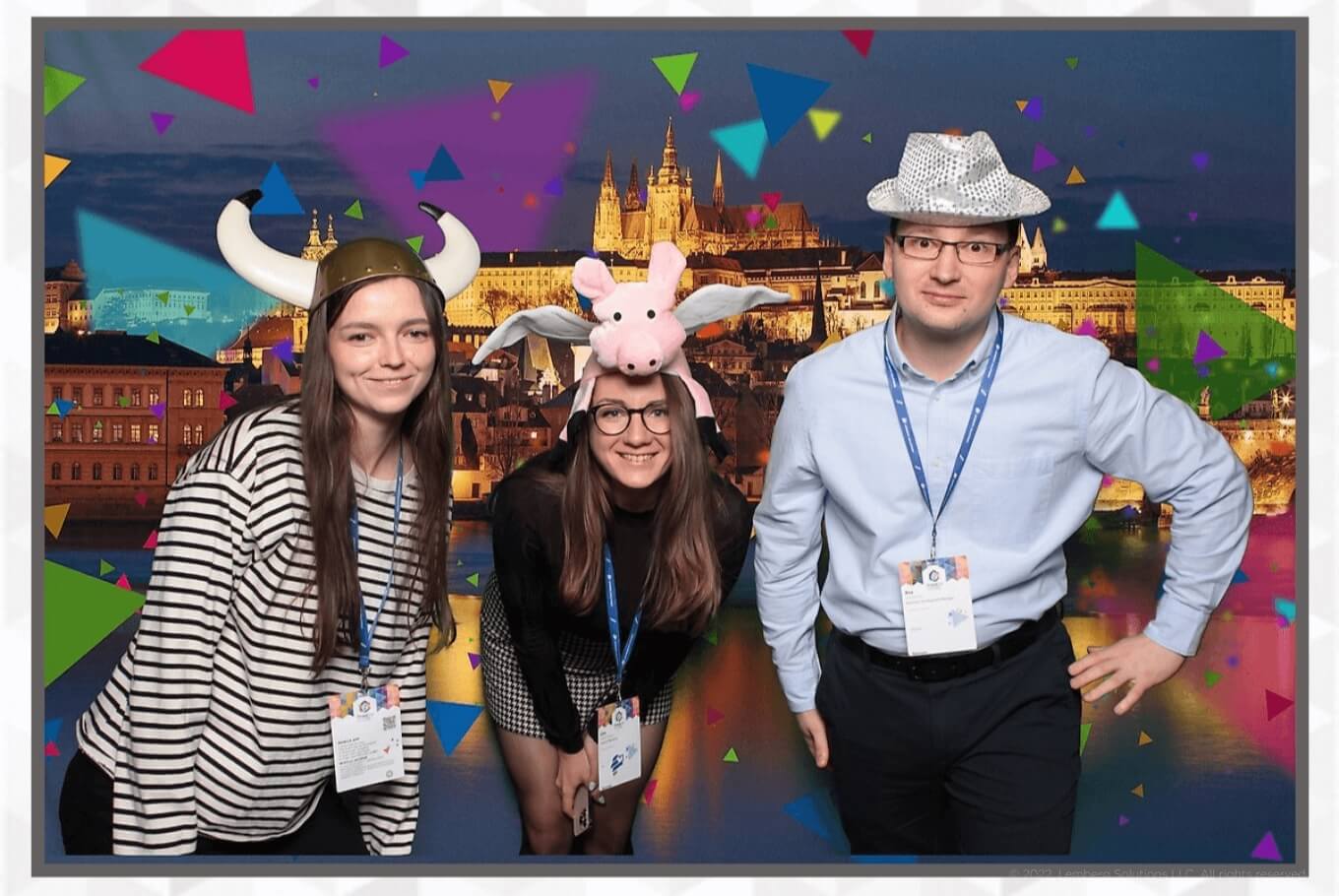 The conference met our high expectations, being full of professional speakers, appealing topics, competent opinions, and our old DruPals (long time no see). Thanks to DrupalCon, we had a chance to meet our clients Pronovix, Jobiqo, Centarro, Ny Media, Open Social, ADM, and Factorial. On top of that, we received multiple answers to the main question: what should we expect from Drupal in the future?
Without further ado, read our article by LS Drupal developer Mariia Denysiuk, and learn about new Drupal features (useful for developers and business owners), digital transformation practices, and digital agency growth myths.
#Driesnote Prague 2022
First, I want to recap Dries Buytaert's presentation on how Drupal develops and what to anticipate from it. Being the Drupal founder, Dries promotes privacy, flexibility, security, and self-expression. He believes that having your website built on Drupal, you get total control over your data that is safe not only in terms of unwanted tracking (which happens, for example, when users upload and share information via large social media platforms), but also when it comes to backup data storing. This CMS allows businesses to build their identity and become recognizable among millions of other web platforms. And with Drupal 10 you will get stable performance of Olivero and CKEditor5 as well as compatibility with PHP 8.2 and upgrade to Symfony 6. All in all, Drupal becomes easier to use. See below to know why.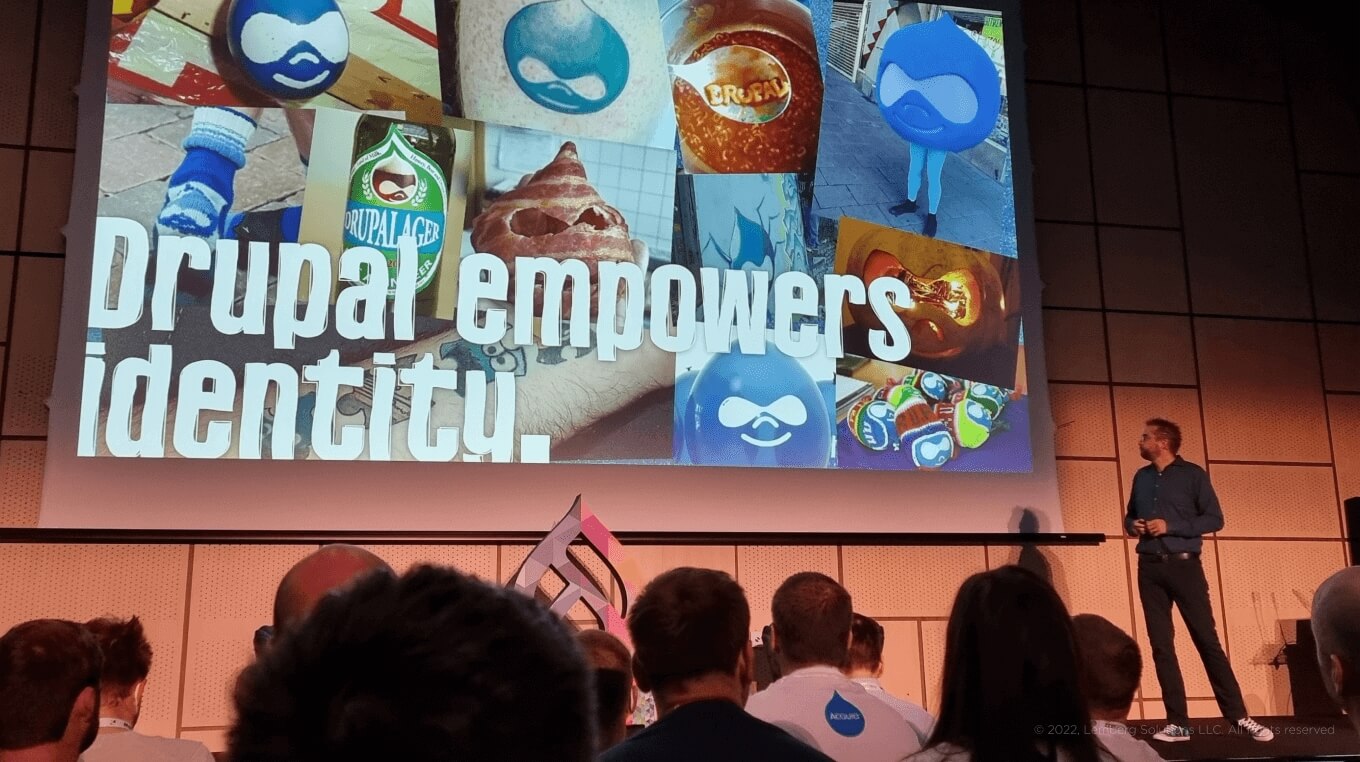 #Meet Project Browser module
If you are interested in creating and managing your website without hiring a development team, you should definitely pay attention to the Project Browser module. After installing the Project Browser (the same way as other modules), the directory of available contributed modules will be added. Any other module can be easily installed from this directory with just a few clicks. Finding new modules has never been easier.
#Advantages of CKEditor 5
Wiktor Walc, the CTO of CKEditor 5, explained what new features of CKEditor we are going to enjoy. Even though it is stable on Drupal 9.5.0, not all the modules are compatible with CKEditor 5 yet. Drupal community calls for developers who want to contribute to integrating new modules in the new version of CKEditor. We were presented with examples on how to create plugins for this version, export PDF files, and track changes. Moreover, the CKEditor team (with a collaboration with Drupal core team) has added support for arbitrary  HTML and styles dropdown. 
Good news for business owners! CKEditor 5 offers premium features, like simultaneous editing. No need to copy/paste from Google docs anymore. Now, modern editing experience is available within Drupal.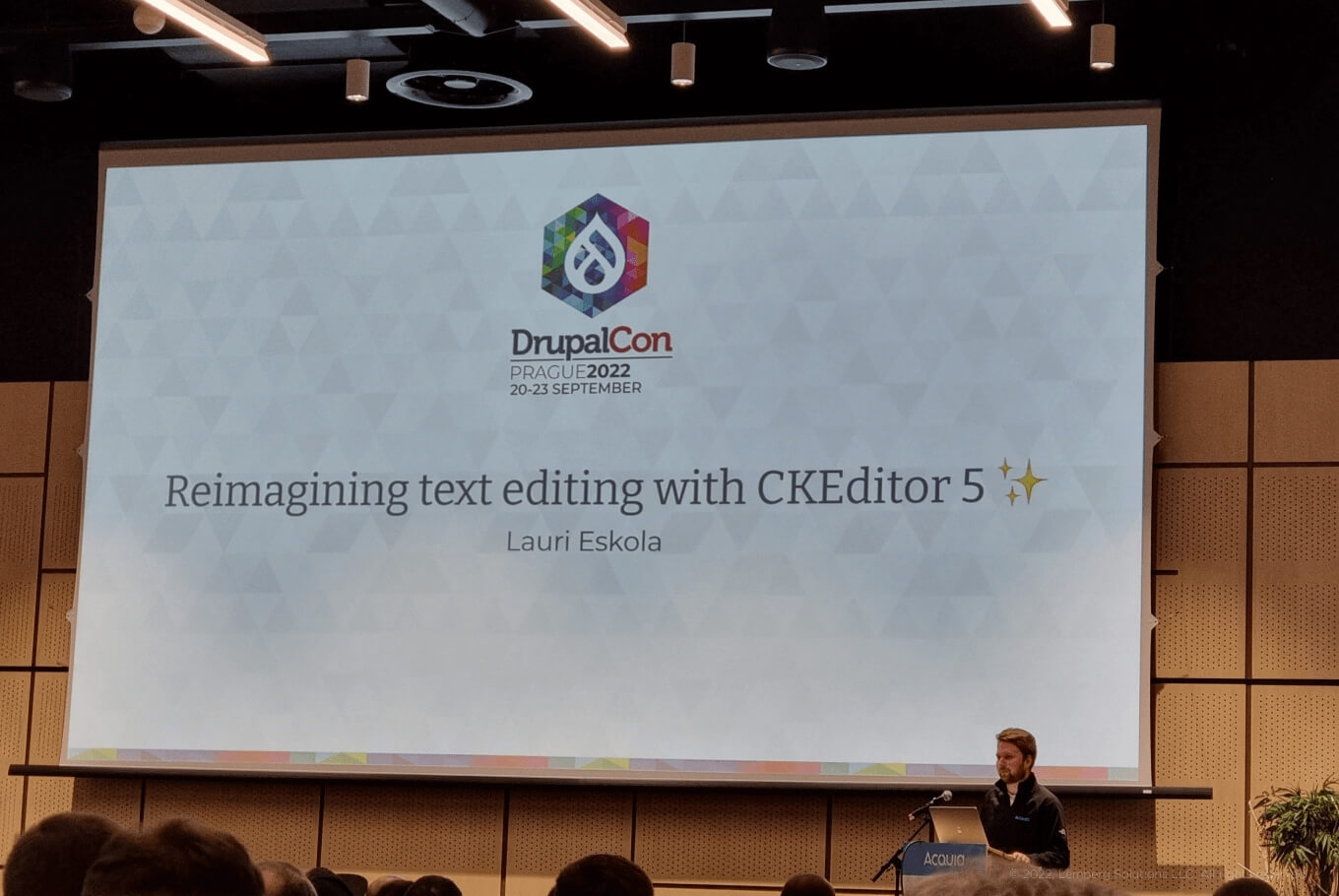 #Project update bot
Project update bot's mission is to streamline and speed up contributed projects upgrade to Drupal 10. Using Rector under the hood, the bot is able to produce patches fixing deprecations in the existing Drupal contrib projects. With the help of this bot (and, of course, a huge push from the Drupal community) more projects are already Drupal 10 compatible than a few years ago when the same process happened with the update to  Drupal 9.
#GitLab acceleration update
Fellow Drupallers know that it's quite a challenge to become a Drupal contributor. Manually uploading patch files, reviewing and updating/re-rolling them is a time-consuming process. This is why Drupal migrates to a GitLab-only workflow, including all pending patches and providing a possibility to get involved much easier. The ultimate goal is to enable any registered user to quickly fix and add new features to Drupal in the most frictionless way.
#Distributions & Recipes initiative
Presently, while setting up Drupal, the user is being asked to choose a specific installation profile (distribution) and is then stuck to it. The downside of such an approach is a risk of lacking support after several releases of the chosen distribution. The authors may stop updating the profile, meaning that it becomes outdated, and you will face several challenges when trying to remove it from your website. 
The Distributions and Recipes initiative aims to solve this problem, so meet flexible profile extensions via Drupal recipes. The Drupal community wants to automate the set up of Drupal modules using the Drupal recipe composer plugin. Join the initiative to allow for adding numerous Drupal recipes to the same website, facilitate updating, and improve discovery.
#Аutomatic Updates module
I was pretty excited to hear that the Automatic Updates module was integrated into Drupal. It allows for automated module and core updates. You don't need a support team to upgrade your website anymore. You can use this module to prepare your website for the Drupal 10 update. You can also get this module from the Project Browser and test the updates before deploying them.
#GitOps — a smooth way to environment configuration
Paul Gilzow, developer relations engineer at Platform.sh, elaborated on GitOps being a key to agility in development even if you have a restricted budget. GitOps combines DevOps and IaC's most appealing features and allows developers to process requests faster without neglecting the data security and quality of the end product. Configure your environment painlessly!
#Digital society: is it doable?
The conference participants were also excited to hear from the Estonian government representative about their implementation of digitalization. They shared Estonian experience of switching to a digital system, including the economical and healthcare fields. Such a system is especially practical for small towns lacking specific work sphere professionals. 
What are the principles necessary for digital society I learned from this keynote? 
Ensure sufficient Internet coverage in every corner of the country. 
Provide people with unique IDs.
Ensure secure data sharing infrastructure. 
Work on privacy and data ownership.
Be trustworthy to get the support of the citizens.
Implement a no-legacy policy.
Always make it engaging for your citizens.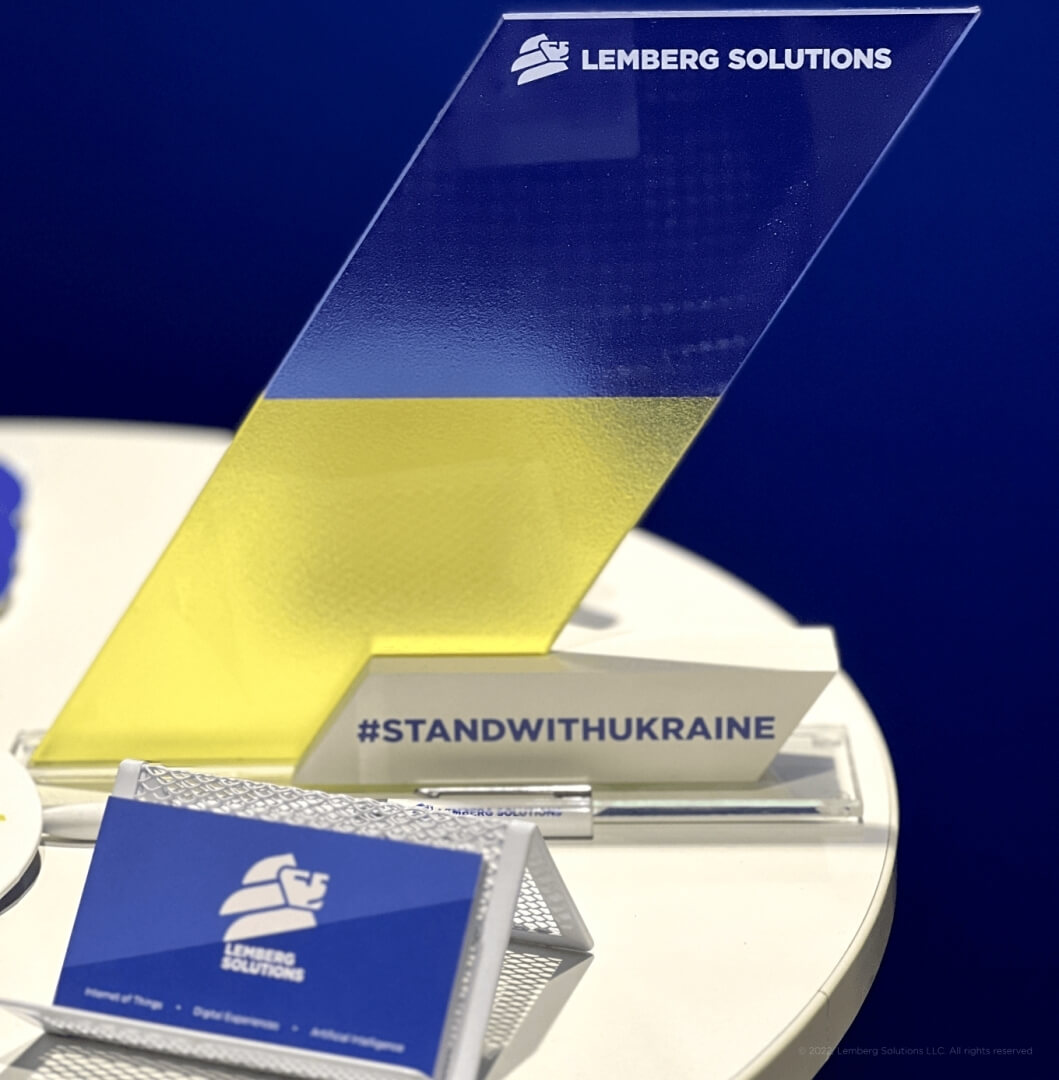 #Tips for scaling your business
Pavlína Louženská, founder of an educational and networking program for 30,000+ women and a Google for Startups lead mentor from the Czech Republic, shared her vision on digital agencies and which myths make them fail. There's a common belief that investing in recruitment isn't necessary to make your business a success. Luckily, this myth was debunked during this keynote session, and I'm happy to share it with you. 
Don't merely rely on the strength of your brand, you will gain much more with a team of professional recruiters and an effective recruitment strategy. Next, if you can't make it work on all social media platforms, better choose one and focus your attention on doing it right. Do you still believe that overcommunication will harm your workers? Actually, it works the other way around, so arrange 1:1 meetings with your employees, encourage daily feedback, and one more time — employ a great HR. 
To grow your business faster, pay attention to trendspotting reports (predicting future trends) and practice pre-mortem analysis. Organize brainstorming sessions and draw the most terrifying scenarios, like project failures. Engage your team in examining how to avoid unpleasant outcomes and take a working strategy as a preventive measure.
To conclude
The advantage of open-source products lies in their fast-evolving nature, and Drupal isn't an exception. Only the sky's the limit, so let's recap the main insights from DrupalCon. 
All roads lead to data security. People are concerned about their privacy, but those using Drupal can rest easy since using this CMS, you are the only one in control of your data. 
Enterprise users are not the only focus of Drupal. Now, small business owners will get numerous perks too, including the Project Browser module, CKEditor5, Project Update Bot, and Аutomatic updates, allowing them to maintain and improve the website by themselves and not requiring an extensive knowledge of Drupal. 
The Distributions & Recipes initiative was launched to facilitate the maintenance burden with existing Drupal profiles.
Drupal 10 upgrades to Symfony 6 and will be compatible with PHP 8.2, i.e. will support the latest and greatest tech. This time around  Drupal is not lagging behind, but rather is ahead of the game. Yay!
The more patches and features you contribute, the longer Drupal will be the best CMS! 
I can't wait to visit next year's DrupalCon to meet more professionals and learn about Drupal from them. Meanwhile, check what Drupal development services we offer at Lemberg Solutions, and don't hesitate to contact us to build your project or extend your team with our Drupal developers.