In the B2C business model, consumers typically take spontaneous buying decisions to fulfill their immediate needs, but the B2B buyer journey is usually longer and more complex. B2B buyers have more complicated requirements, completing the orders employs multiple stakeholders, and the value of transactions is generally very high. 
Not all of the ready-made eCommerce platforms have in their list the functionalities that will suit your B2B industry. To provide a personalized customer experience for your B2B sector, you might want to consider developing your own custom eCommerce website. 
So let's go through the article to know what are the best practices of B2B eCommerce platform development with Drupal Commerce.
Drupal Commerce 2.x
The eCommerce solution will be designed on Drupal 8 and a new version of Commerce 2.x. It will allow us to extend and split the key features with existing modules, contributed by the proactive Commerce community.
Built with customer experience as a first priority, Commerce 2.x is an advanced version that contains improved promotions UI, BOGO offers, and product category conditions.
Core functionalities of our B2B eCommerce marketplace
Here are 4 core features that will deliver the convenience in using any B2B eCommerce platform.
Registration does a world of good to both admins and its users. With registration, admins validate the company credentials, and users are able to get identified and therefore receive personal discounts and a structured hierarchy of their company where they can assign different departments and sub-departments.
This functionality is possible because of the core Drupal security system.
Product imports from multiple sources
Your B2B marketplace will cooperate with multiple vendors. Each vendor may store the data about products in different formats. 
To import all the formats, we can implement Drush commands for import products. Commands are triggered by cron on the server. Commands import products from files or do external API calls. All imported products are added to the queue and Drupal Commerce products entities are created via queue workers.
Complex hierarchy system of the accounts
As a B2B eCommerce owner you may not know in advance the exact number of department levels each company is going to have. 
Accordingly, it's needed to develop a system, which allows to have as many levels as possible. We have to enable the possibility to register employees with different roles for each level, like a department manager or an administrator. 
Using the Drupal taxonomy module, we develope a hierarchy system where new companies can be registered by a regular user and then approved by the website administrator. Generally, Drupal taxonomy is used to classify website content with tags, like blog posts. Individual taxonomy items are known as terms, and a set of these terms compiles a vocabulary. Since the terms in vocabulary may be organized in a hierarchy, we use this module for a hierarchical system of company accounts.
Each company received a personal page on the website, where the managers can see all the company departments and perform actions according to their role. Implementing an intuitive and convenient interface, we ensure easy applying of the necessary information about companies in a structured and clear manner.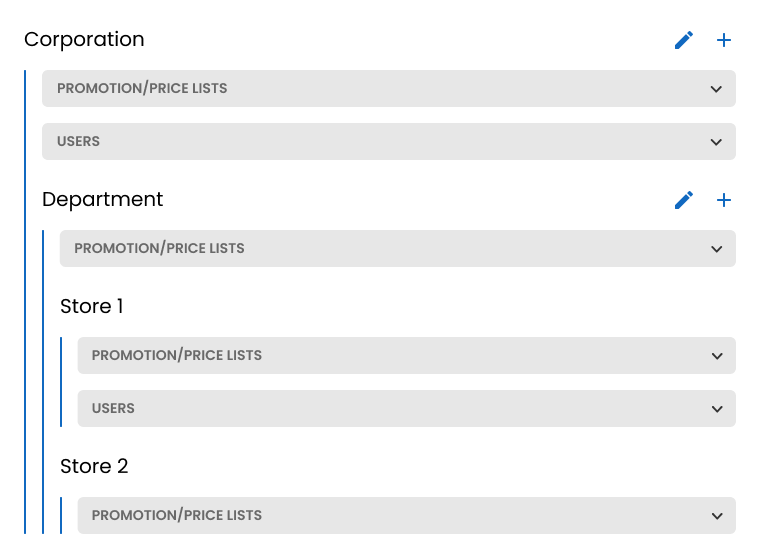 As far as the company user is divided into several sub-departments, the admin may want to provide a special discount for a separate company or its department. Using Drupal promotions and custom plugins, we make it possible to provide a discount for one company or all departments according to the specific rules.
Separate discounts can be applied to products and users. Admin can include or exclude separate groups of products, as well as set the discount in percentage, fixed amount, or percentage of the product prices.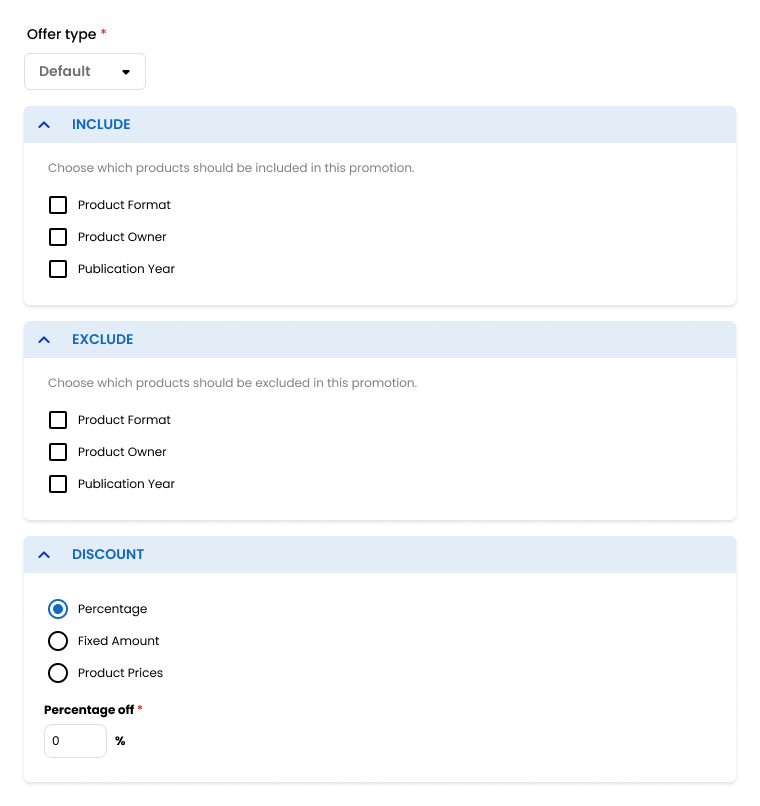 For a company, the admin can set a company ID and promotions will be applied for the given company only, e.g. all products getting 10% off.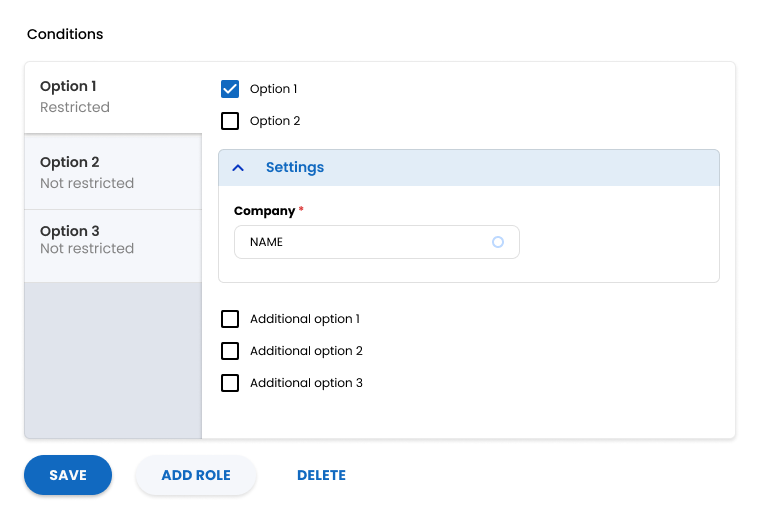 A custom plugin  may be also created for the sub-departments. Admin can apply separate promotions to the sub-departments of the same company, e.g. department A can obtain 10% off for all the items that cost more than $100, and department B will get 50% for the specific category of productss.
All of the discounts, as well as the number of coupons used by their company and its departments, are visible to a company manager.

Additional features to consider for your B2B eCommerce website
Thinking about customer relationships, you may need some additional features for your platform. 
Grouping your clients according to order volume and frequency, geographical location, and catalog selection, you will be able to set individual criteria for each group, such as pricing, minimum order specifications, promotions, as well as shipping and payment options.
Having an immense number of SKUs and specific product attributes, B2B eCommerce platforms require a more complex approach towards item search and site navigation. The solution to this issue is a wholesale ordering form that will enable adding all products at once.
Customers often know what they want and just need digital functionality to make this process simpler. A simple one-click reorder feature on your eCommerce site will provide a fast way to reorder products from a previous order or a saved list of items.
Minimum quantity of items
Selling goods and services at wholesale is possible due to the large scale of the transactions, therefore, a website should set a minimum quantity of items to dismiss orders with a low order quantity.
New partnership with Lemberg for B2B eCommerce platform development
When developing a B2B eCommerce platform, take into account features that are unique to this industry.
We, at Lemberg Solutions, leverage the whole range of B2B website development expertise. Our team has properly developed a complex hierarchy system, implemented the smart grouping of client companies with an individual account system, and applied rules for promotions and discounts.
The solution enabled our client to incorporate the entire value chain in a single web platform, connect all their stakeholders in one ecosystem, increase their operational efficiency and productivity, and boost their customers' loyalty.
Get your online B2B store up and running by teaming with Lemberg Solutions.