Since the majority of users search for services and products online, your website should catch their attention. That's when a great CMS like Drupal or WordPress will come in handy. With the right CMS, you will have an attractive website with a neatly organized and easy-to-navigate content structure.
In this article, we explore two common CMSs to choose for your future website. We will highlight their advantages and reveal which one will be the best for you in the Drupal vs WordPress competition. Keep it up!
What is a Content Management System (CMS)?
A content management system (CMS) is software that gives you an easy way to create and manage a web platform without extensive knowledge of programming languages or a background in computer science. CMS systems are accessible for content managers and creators, opening new opportunities for your projects and ideas, like design customization and flexibility for scaling. With a well-chosen CMS, you will get an effective web platform from scratch, customized to your needs.
Content management systems are convenient for content managers since they can immediately implement the changes and check how their modifications look from a user's perspective. The preview mode allows you to make different types of content unpublished until you are ready to make them publicly available.
All in all, a CMS helps to analyze and manage your content without time-consuming efforts and overhead expenses.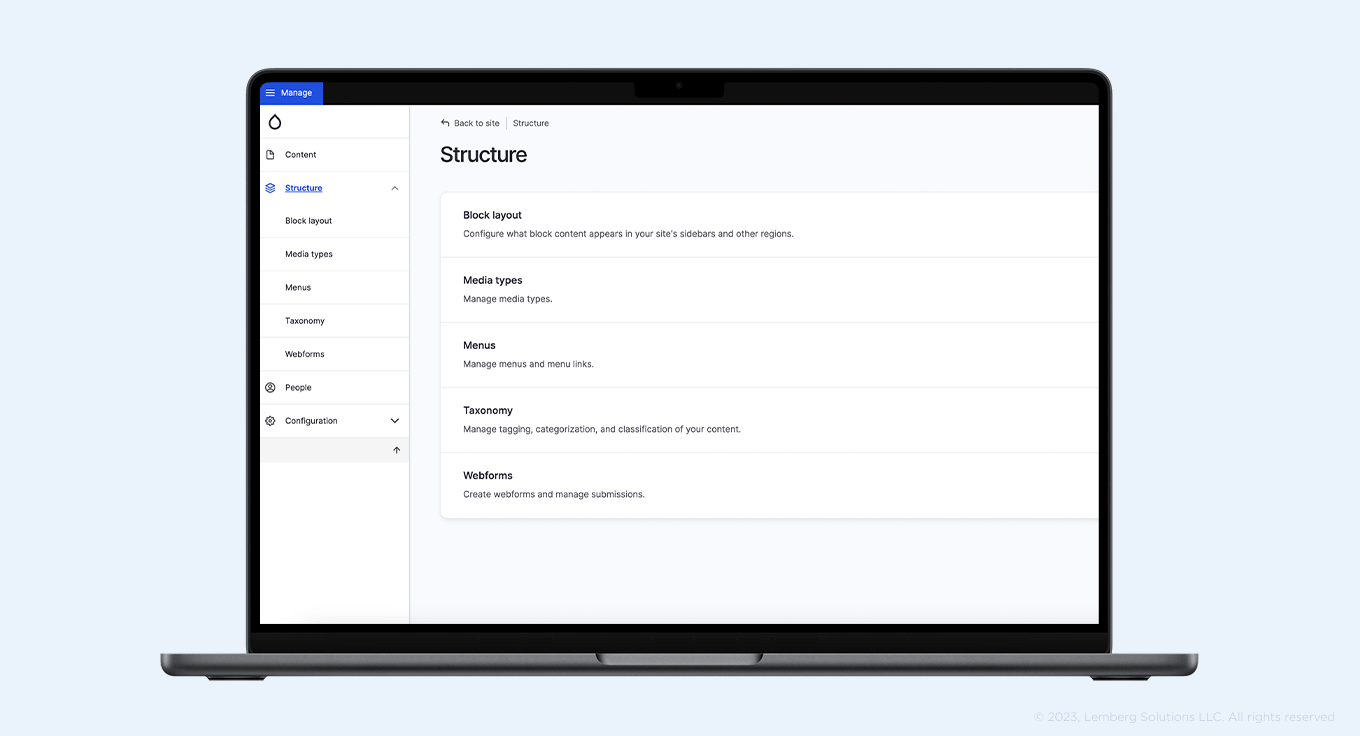 Drupal CMS
Why do you need a CMS?
Web developers create numerous modules and plugins that increase CMS functionality and make it more feature-rich. This makes CMSs a perfect choice for those who want to explore their possibilities with a web platform and are new in the business or for business owners striving to scale.
Overall, the reasons to adopt a CMS are the following:
CMSs optimize the development time, offering various custom plugins, modules, and design themes.
An efficient content management system allows you to join all the efforts since different departments of your company can use it simultaneously. While a marketing team takes care of content management, your development team can incorporate new website features. Besides, you can configure user roles within the website, ensuring that different teams won't interfere with each other's work causing interruptions in a website's performance.
A CMS helps incorporate modifications and updates fast, starting from redesigning your website to changing blog descriptions or images. Your content managers and design team can do it themselves. However, a complete redesign may require a development team.
Having a blog where you regularly post your company's news, offers, and useful articles helps create a comprehensive picture of your business and attract target clients. With the right blog architecture, you can generate traffic to your website and win long-term partnerships. Using a CMS is an essential step to successful blogging since such systems include an incorporated blogging functionality, which ensures an easy and quick start. Moreover, you will manage your blog through an intuitive dashboard with all the necessary tools and information.
The main advantages of Drupal And WordPress
Both CMSs have different advantages that help business owners and developers create high-quality websites. While Drupal offers more flexibility and customization options, WordPress has a great plugin ecosystem. Read more about each system below: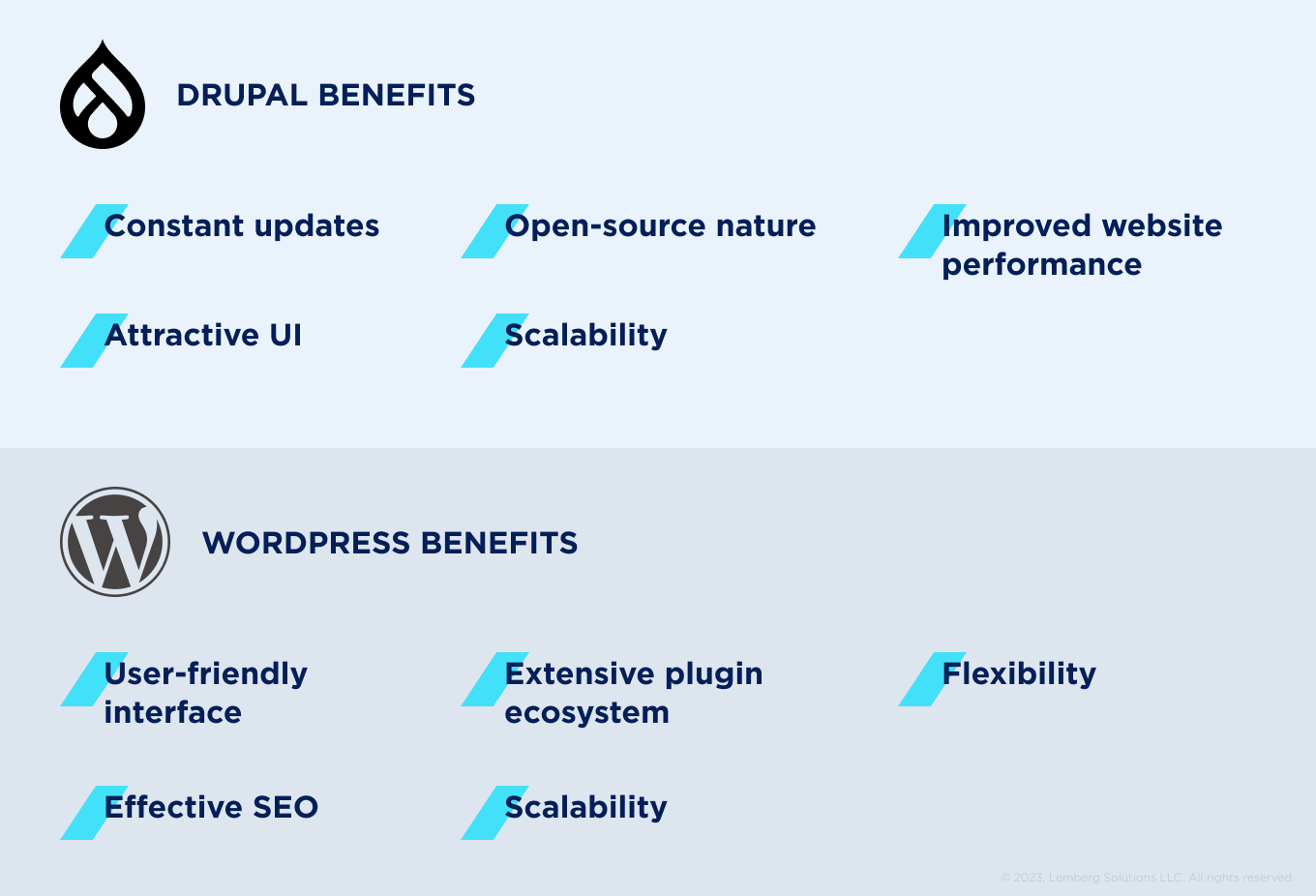 Drupal advantages
The Drupal CMS has become the best choice for many companies due to its numerous advantages that empower small business owners and large organizations. In this part, you will understand why choose Drupal over WordPress.
The open-source nature has been at the heart of Drupal CMS from the start. Drupal inspires a large community of developers and contributors who continuously collaborate to improve the platform. This collaborative spirit ensures the availability of an extensive library of Drupal themes, modules, and extensions, enabling business owners to tailor their websites to their unique requirements. Moreover, Drupal's open-source nature leads to cost-effectiveness since you don't need to pay any licensing fees. It makes Drupal an ideal choice for businesses with tight budgets.
The dedicated community behind Drupal works tirelessly to refine and enhance the CMS. Regular updates encompass security patches, bug fixes, and performance improvements. All these increase the stability and reliability of Drupal-powered websites. This commitment to keeping the platform up-to-date ensures users can benefit from the latest features and functionality.
Drupal's user-friendly interface enables even non-technical users to navigate the CMS effortlessly, allowing them to create, edit, and publish content without any difficulties. The customizable dashboard and organized workflows facilitate management tasks and save you valuable time and effort. With Drupal, you can focus on creating engaging content and delivering exceptional user experiences without figuring out complex technical details.
Scalability is a crucial benefit for businesses aiming for long-term growth. The robust architecture and flexibility of Drupal allow you to expand your website effortlessly as your requirements evolve. Drupal's modular approach enables software engineers to integrate additional features without compromising the overall system performance.
Improved website performance
Drupal reduces server load and enhances website performance thanks to efficient content delivery. The platform's optimized codebase and advanced performance-tuning options ensure fast page load and positive user experience.
Drupal CMS is a powerful and versatile solution that will boost your business. Its open-source nature and continuous updates make it a cost-effective and future-proof choice. With Drupal on board, you will unlock the full potential of your business by creating compelling online experiences that captivate your customers.
WordPress advantages
Another popular content management system, WordPress, empowers business owners to build and manage professional websites without significant complications and challenges. Let's review its benefits in more detail.
Even if your content managers have limited technical knowledge, they will easily navigate the platform built with WordPress. This CMS has an intuitive dashboard that simplifies content creation, organization, and customization. In the user-friendly editor, WordPress users can publish blog posts, add media, and update website content effortlessly. Besides, it ensures a seamless and efficient website management experience. With WordPress, users can focus on their core objectives without being overwhelmed by complex technical details.
Extensive plugin ecosystem
WordPress offers an extensive library of plugins, which are pre-built software modules that expand the functionality of a website. From contact forms and social media integration to SEO tools, WordPress plugins enable users to tailor their websites to their needs. The WordPress plugin architecture allows for easy plugin installation and activation, empowering business owners to customize their websites.
Whether you need a learning platform or a corporate website, WordPress CMS can satisfy your needs. The vast collection of customizable themes allows users to create visually appealing websites with ease. Additionally, WordPress offers a range of customization options, enabling you to modify layouts, colors, fonts, and more to match your brand identity and design preferences.
WordPress websites are inherently structured in a way that search engines can easily index the content, facilitating better visibility in search engine result pages. Furthermore, the availability of SEO plugins, such as Yoast SEO, empowers users to optimize their website's on-page elements and improve search engine optimization results.
Do you need engineering help to get started with Drupal and WordPress?
When deciding between Drupal or WordPress, business owners are usually concerned with the challenges they might face while building their web platform. Both CMSs are popular among digital platform creators for their simplicity. Read further to learn how to get started with Drupal and WordPress and how much engineering help you may need.
While there are many steps you can take yourself to make your website work, you will need engineering help at the beginning of the development process. Web developers can help you set up the website architecture, content structure, design, and certain plugin incorporation. You can receive support on front-end and back-end development as well as system integrations, like a chatbot or payment gateway.
To begin your website development journey, you need to decide on the main functionality of your future web platform. Develop full requirements set to make sure your website meets all your needs. This is also important for a web development team who will help you create a high-performing CMS.
Once your website is ready, you can handle it without help. Drupal and WordPress are not challenging CMSs to manage. You can control your content and design creation, modifications, improvements, and updates. You can also add modules that enhance your website's functionality. At this point of WordPress and Drupal comparison, they stay on the same level.
Important criteria to consider when evaluating and selecting a CMS
When selecting a CMS, consider the following key criteria: accessibility, customization options, SEO, user experience (UX) optimization, flexibility, information security, and content migration. Below, we will share more information about these criteria to help you understand how to choose the right CMS.
Ease of use
The simplicity of CMS ensures that your website can be accessed and used by different departments of your company. A perfect CMS should have clear navigation since your website should be easily used and understood by end users and employees.
Customization options
Website customization is essential for brand image, which helps create a unique online presence. If a CMS offers various customizable options, including themes, templates, layouts, and modules, allowing you to tailor your website's design and functionality to your specific requirements, this is the right choice for your business.
Search Engine Optimization (SEO)
A CMS should provide robust SEO features to improve your website's visibility and organic search rankings. Look for a CMS that allows you to optimize meta tags, URLs, headings, and alt text for images. Additionally, built-in SEO analysis tools and the ability to generate XML sitemaps facilitate SEO management. Choose a CMS that offers SEO tools to make your website climb the charts.
User Experience (UX) optimization
A proper UX design is paramount for engaging and retaining website visitors. Search for a CMS that provides intuitive navigation, a user-friendly interface, and a responsive design. By creating a responsive design for mobile devices and adding interactive features to your web platform, you contribute to a high customer retention rate.
Flexibility
Flexibility is essential when your business grows, and so does your website. A CMS should provide a flexible framework and architecture that ensure easy integration of third-party plugins and services as well as scalability to prepare for the future growth. Using different plugins, extensions, and modules increases CMS flexibility.
Information security
A suitable CMS prioritizes security, offering regular security updates, strong user authentication mechanisms, encrypted data transmission, and user permission management. A CMS should also protect against common security vulnerabilities, including SQL injections and cross-site scripting.
Content migration
If you already have a website, a simple content migration process will mitigate switching to a different CMS. A CMS that offers efficient content migration tools or services minimizes potential data loss or formatting issues. Look for compatibility with popular file formats and databases to simplify content migration.
Choosing the right CMS includes careful market analysis and evaluation of different platforms. By verifying whether a CMS of your choice falls within the listed criteria, you will avoid numerous pitfalls and issues with building your future website.

Drupal vs. WordPress compared
If you want a quick overview of Drupal versus WordPress pros and cons, the table below should help you. It compares these CMS systems in terms of scalability, Drupal vs. WordPress security, community support, and other characteristics.
| CMS | Drupal | WordPress |
| --- | --- | --- |
| Cost | Open-source | Open-source |
| Scalability | Higher scalability | Lower scalability. Used for less complex web platforms |
| Customization | Advanced customization plugins and modules | Fewer customization options |
| Support | Supporting community, regularly updating modules, and developing contributions | Large community, but less contributions |
| Security | Higher security, more suitable for enterprise-level websites | Weaker security |
| SEO tools | Drupal SEO Tools module unifying various Drupal SEO modules | Wide range of SEO plugins |
| User experience | Attractive UI | Attractive UI |
| Use cases | Community & social platforms, business & government CMSs, corporate & promotional websites, integrated enterprise solutions, ecommerce platforms, SaaS | Charitable websites, review websites, e-learning platforms |
Why Drupal is better than WordPress: benefits of migration
Even though WordPress is as popular as Drupal, it may be less effective in many cases. Here, we will elaborate why and in which cases Drupal is better than WordPress.
Enhanced functionality and scalability

Drupal offers a more scalable platform than WordPress, making it a desirable solution for complex sites with growth potential. Drupal's modular architecture allows for the smooth integration of advanced features and customization options, empowering businesses to create functional websites.
 
Greater flexibility and customization

Another difference between Drupal and WordPress is that Drupal ensures a higher level of flexibility, enabling businesses to create custom content types, taxonomies, and fields. With Drupal, you will easily define complex data structures and develop more comprehensive content organization.
 
Advanced user and access control

Drupal offers systematized user management options, allowing business owners to define user roles and permissions. This feature is especially beneficial for larger organizations that require fine-grained access control and permission settings for their website administrators, editors, and contributors.
 
Robust security

Drupal strongly focuses on security, providing regular security updates. Migrating to Drupal, you will receive a platform that can withstand security threats and vulnerabilities, safeguarding sensitive data and ensuring a secure online environment for their customers.
 
Better community support

Drupal has gathered a passionate and active community that contributes to the continuous development and improvement of the CMS. The availability of numerous contributed modules, themes, and resources ensures ongoing support and innovation for businesses that choose Drupal as their CMS.
If you need help developing a website, learn more about our Drupal commerce development services.
How to migrate from WordPress to Drupal?
Staying up to date means always searching for solutions that will improve your business. If you have an existing WordPress website and want to increase its performance and add new features, consider migrating from WordPress to Drupal. Here's how to do it.
First, conduct a content audit of your existing WordPress platform. Identify the content types, taxonomies, and custom fields you need to migrate to Drupal. Create a mapping plan to align the content structure of WordPress with Drupal's architecture. Next, set up the latest Drupal version on your desired server. Ensure that the necessary modules for content migration are installed and activated. These modules provide the tools necessary for content import from WordPress.
You will probably need Drupal engineers to help you with taxonomies, content types, and modules for migration. The developers will extract the content from your WordPress website using the appropriate migration tools and convert the extracted data into a Drupal-compatible format. This process involves mapping fields, adjusting content structure, and ensuring data integrity during migration.
Drupal offers a theming system, meaning that your Drupal team will recreate or adapt your WordPress theme for Drupal. Identify a Drupal theme that aligns with your design preferences, and developers will modify it to match your desired website appearance. They will also customize the theme files, stylesheets, and templates as needed.
If your existing website runs on plugins or custom functionalities, the team will identify Drupal modules or develop custom modules to replicate the desired features. Drupal's extensive module ecosystem provides a wide range of options for enhancing the functionality of your website.
Wrapup
Choosing a CMS is a strategic decision that requires market research and analysis of the available options. We've analyzed the two most popular CMSs, WordPress and Drupal, which are common choices for those striving to create a functional website in a short time. Even though both CMSs have numerous advantages, our specialists find Drupal a more effective option for business owners.
But if you already have a website built on WordPress, don't worry since it can be easily migrated to Drupal. Drupal CMS offers business owners enhanced website functionality, scalability, flexibility, and security. While the migration process requires careful planning and technical expertise, the benefits of transitioning to Drupal make it a worthwhile investment. With Drupal, you will have more competitive advantage and the ability to scale your platform while your business grows.
The good news is you don't need to migrate or build your Drupal website yourself. Our Drupal development team will take over this task and create a perfect website just like you want it to be. Don't hesitate to contact us and learn more about our Drupal services.

FAQs
How is Drupal different from WordPress?
Drupal is a CMS for more complex websites, including enterprise solutions. With Drupal, business owners will get a scalable content structure and multiple modules and plugins that expand the website's features and influence its performance. WordPress is more suitable for less complex web platforms with limited functionality.
What are the advantages of WordPress over Drupal?
While comparing Drupal versus WordPress, business owners usually need to mind their requirements and needs. If you look for a solution that is expected to support more content, customization, and scalability — Drupal is a perfect choice. However, if your website doesn't require much content and scalability for future growth, you can go with WordPress.
What are the similarities between Drupal and WordPress?
Drupal and WordPress are flexible CMSs that provide multiple options for custom design themes, content structuring, and SEO tools. Additionally, they have intuitive UIs, which makes them suitable even for inexperienced users.