As automotive software solutions become more sophisticated and multi-functional, there is a rising demand for qualified automotive engineers proficient with industry specifics, compliances, development standards, and innovative technologies. 
This article will present a general overview of automotive software development, popular solutions, and leading automotive software development companies in the market. It should help you choose a credible automotive development partner that will help you acquire digital transformation and fully meet your business and project demands. 
Automotive software development: overview, benefits, and solutions
The complexity of modern automotive software leads to an increasing demand for expert engineers in the area. The main purpose of automotive software is to enhance the overall vehicle performance, ensuring safety and broad functionality for its users.
Due to the growth of automotive software solutions, vehicles can now include a range of technological capabilities like AAOS infotainment systems, fleet management dashboards, ECUs for various functions, ADAS systems, and other features.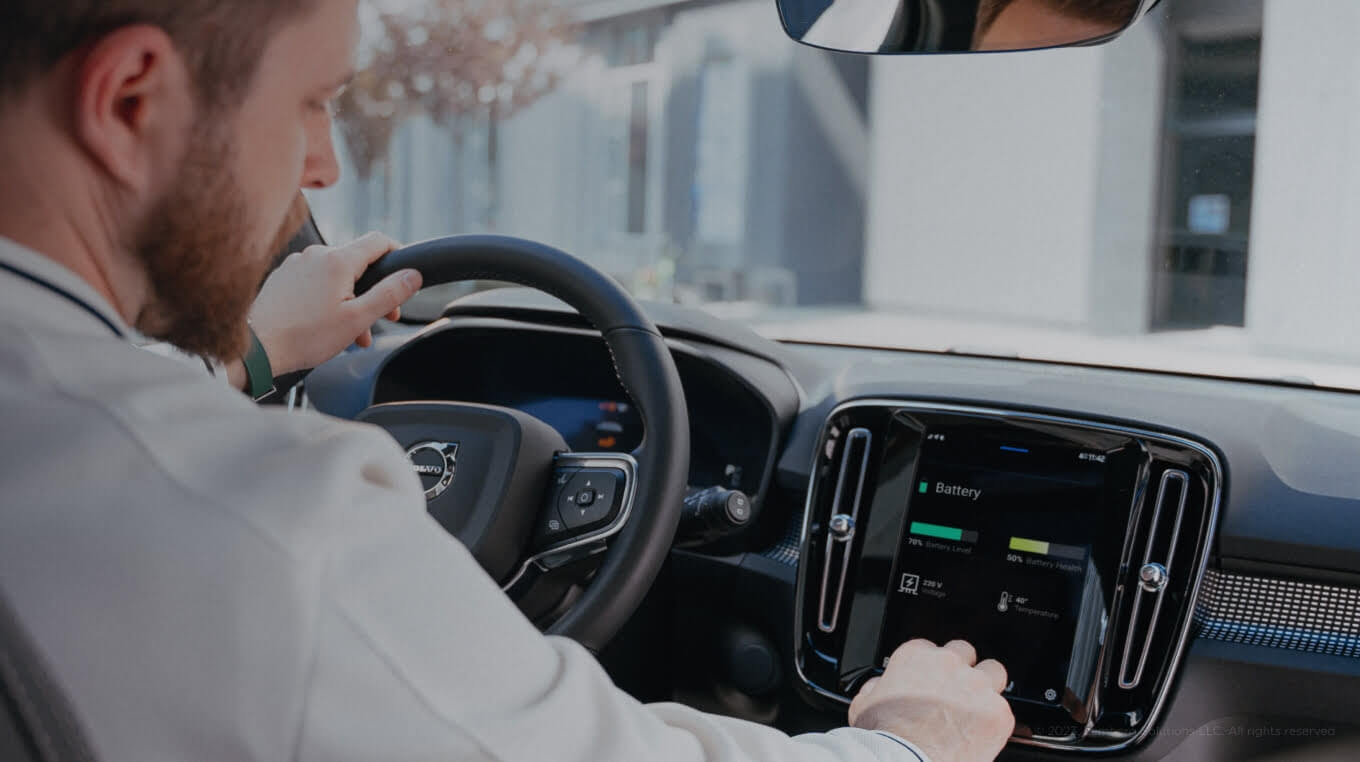 The automotive software types constantly evolve, meeting consumers' needs and expectations. The most common automotive software solutions include:
Advanced driver assistance systems (ADAS) - this software ensures driver's safety, providing features like autonomous driving, parking sensors, emergency braking, and others;
IoT telematics systems - these solutions help fleet managers collect the vehicle data like location, driver activity, and state of the engine and process this information in real-time to prevent critical situations on the route;
Autonomous driving software - this automotive software allows drivers to enable autonomous driving and only control the situation on the road while the car does the routine work;
AAOS apps - Android Automotive apps run on vehicles that support AAOS, providing drivers with enhanced user experience. There is a great variety of AAOS apps to implement into vehicle infotainment systems, like a messaging app, IoT AAOS app, navigation app, and other types for safe and convenient driving.
Automotive engineers will recommend the automotive solution and technological stack to meet your current business demands and build the solution that resolves the urgent issues and corresponds to your business operations' specifics. That's why it is essential to select potential automotive software companies to work with attentively to ensure the chosen team has a whole range of skills and knowledge to complete the project. 
When to hire an automotive software company
Further, we would like to outline when you should consider looking for an automotive software development partner for your project, depending on the type of cooperation you expect. Outsourcing development is a suitable option, whether you have an in-house team or not. This type of partnership gives you more freedom in choosing the software provider, the skill level of engineers that will work on your project, and the development methodology that fits your project best. 
Lack of in-house expertise
Typically, the gap in the knowledge and skills of your in-house developers occurs when the automotive project scales. For instance, you need to develop specific automotive software solutions or implement new features or technologies, but your development team has never done it before. These are two primary reasons to consider hiring developers externally to scale your in-house team or dedicate a project or a certain scope of work to an outsourcing development team. 
Lack of in-house developers
Another reason to look for additional engineers for your automotive project is the rapid scaling of the project scope. It commonly leads to a lack of in-house resources to fulfill the project needs and execute the tasks qualitatively and on time. So hiring outstaff developers from your automotive development partner is a quick solution to proceed with the development, meeting the project timeline and reducing time to market. 
Outsourcing development companies commonly offer flexible cooperation models. They can supply your internal team with the required number of skilled engineers and then scale or narrow this number according to the ongoing project requirements. 
Automotive software development from scratch
The last reason you may need to search for an automotive development vendor is to build automotive software from scratch to modernize the driving experience for your customers and outrun competitors in the market. We recommend choosing the software house whose automotive expertise covers your project needs and whose automotive developers keep growing their engineering knowledge and skills to keep up with the latest tech updates. 
To ensure the credibility of the chosen company, you can use the tech consulting service. Thus, the development team commits to checking the software idea feasibility, building the project roadmap, and providing recommendations on the required technologies, specialists, and project documentation.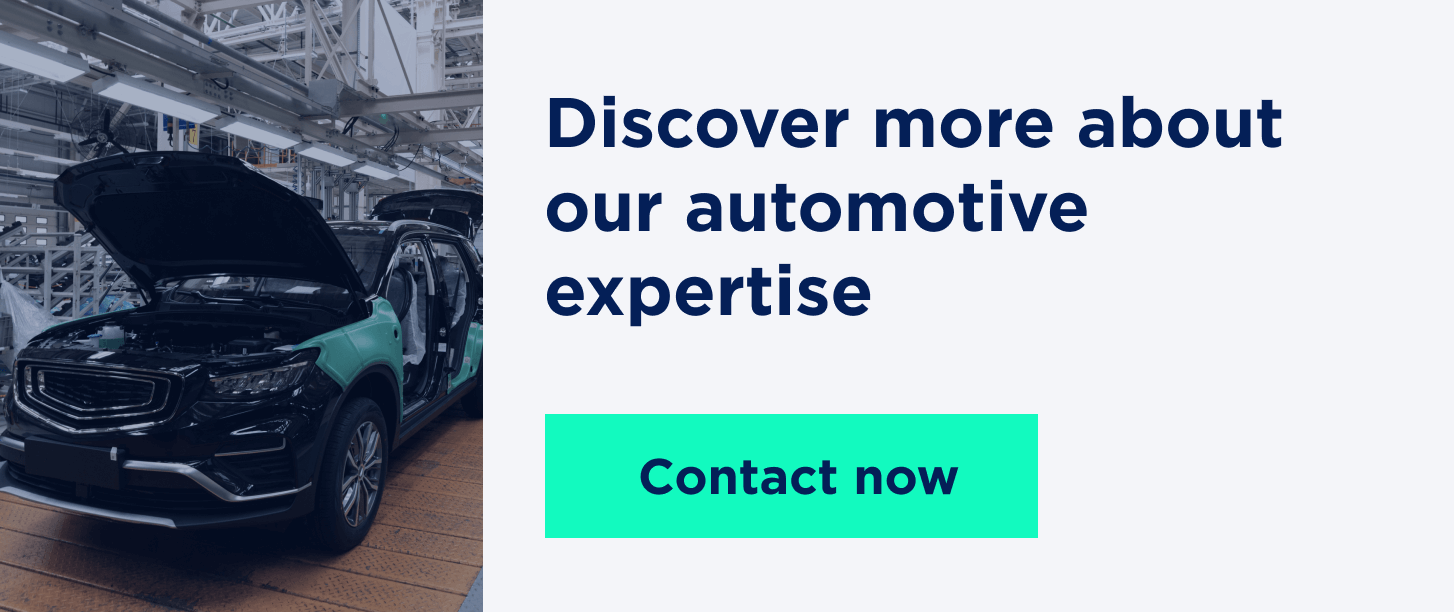 Top 10 automotive software development companies
We prepared the compilation of the top automotive engineering services companies that offer diverse engineering services and automotive solutions, despite working in the same industry. 
Lemberg Solutions

Lemberg Solutions is a long-standing credible development partner based in Eastern Europe that gained vast expertise and experience in automotive software development. The company also has an office in Hamburg, Germany, to serve German clients conveniently.

The LS expert engineers provide full-cycle automotive engineering services, assisting you from software idea validation to delivering a competitive embedded product ready to enter the global market. The Lemberg Solutions team complies with top quality and functional safety standards, including ASPICE, ISO-9001, ISO-26262, and ISO-27001. Such compliance means its software engineers follow high data security standards and automotive software development practices. 

A significant benefit of partnering with this engineering team is the hardware lab, where LS developers can create and test the products in a professionally equipped environment using oscilloscopes, testers, lab PSUs, soldering stations, and a microscope. They also use popular dev kits, evaluation boards, single-board computers, and an FDM 3D printer for mechanical prototype enclosures. The Lemberg Solutions team has successfully built and delivered fleet management platforms, automotive middleware solutions, battery management systems, and IoT platforms.

In addition, Lemberg Solutions offer flexible conditions of cooperation, allowing you to choose the desirable cooperation scenario and project development methodology, ensuring stable and regular communication with the team. 

Codete

Codete is a Polish software development company specializing in various industries, particularly healthcare, transportation & logistics, fintech, advertising & marketing, and automotive. With a team of 300+ engineers, they keep working on expanding automotive expertise and industry clients, delivering a full range of development services. You can rely on the Codete development team for your product idea feasibility check, product development, and post-delivery maintenance. They can join your project in any phase and proceed with its development. 

Codete cooperates with businesses of different sizes and requests, from startups to large enterprises, delivering a full range of development services. Today, Codete has more than 120 completed projects in its account and keeps working on a portfolio scale in the automotive industry. 
 
Concise Software

Concise Software is one of the popular European software houses that has been on the market since 2011.  Its engineers build and deliver automotive software to help clients adopt cutting-edge technologies, seamless customer experience, and high business process efficiency. 

Concise Software assists automotive supply and manufacturing companies with digital transformation by developing and integrating innovative automotive software products within their business operations, considering individual project requirements. Currently, the range of automotive engineering services includes custom automotive software development & testing, data analytics, UI/UX automotive system design, cloud, and DevOps, AI, and ML. 
 
Intersog

Intersog is a software development company based in Chicago, with a team of about 250 skilled engineers worldwide. The company focuses on healthcare, ecommerce, finance, energy, and automotive industries. 

Presently, the range of automotive engineering services and completed projects is not wide, but Intersog does best to scale the expertise and experience in the industry. They focus on developing and delivering ecommerce solutions for vehicle manufacturers that will assist businesses with managing financial data, sales, suppliers, deliveries, and other business operations. 

Also, Intersog engineers can help build B2B and B2C vehicle tracking solutions to control routing, speeds, stops, etc., and automotive predictive maintenance systems for vehicle breakage prediction and prevention. 
 
TekRevol

TekRevol is a relatively young company in the global software development market that aims to help businesses adopt innovative technologies, enabling them to scale faster and more efficiently. Based in Texas, the company expands its market opportunities by opening new offices in other US states, Europe, and Asia.

By this day, the TekRevol team has successfully completed software projects in various industries, including ecommerce, healthcare, real estate, automotive, and other directions. In the automotive field, they primarily focus on building SaaS-based automotive solutions to enable small and large automotive companies to acquire digital transformation. In addition, digital automotive solutions provide enhanced real-time data accessibility and management, improving internal operational efficiency and evolving clients' automotive businesses. 
 
HQSoftware

HQSoftware is a long-standing European software development company that entered the market in 2001 with offices in Europe and the USA. For over 20 years, the company has grown vast expertise in various technologies and industries, like finance, e-learning, agriculture, automotive, healthcare, and others. They have focused on growing IoT expertise for the last 11 years, meeting the market demand. 

The HQSoftware team developed automotive IoT expertise and offers a broad specter of automotive development services, particularly fleet management software for vehicle management and route optimization, in-vehicle infotainment systems, data analytics platforms, and safety driver assistants. Since their services combine software and hardware development, this company can create a robust embedded system from scratch. 
 
Ester Digital

The Ester Digital software design and development company started its activity in 2015 with headquarters in Estonia. The company mainly designs and develops business websites for vehicle dealers or improves the existing solutions to make them competitive and catchy for potential consumers. They believe that business website design is half of the success in the automotive area. 

Ester Digital can lead its clients through the full range of website development flow, from brand position to robust business website development, delivery, and maintenance. Also, the development company can assist with upgrading the existing solution, creating new design elements, and integrating it with new features like car listings, an ecommerce platform, test drive booking, and other functions according to the project needs. 
 
Arobs

Since 1998, Arobs company has grown a team of skilled engineers in Romania and keeps scaling in Europe and Asia. This software vendor specializes in two main directions - developing ready-made software products for sale and building custom software solutions tailor-made to the business needs of their clients. 

With vast experience developing solutions for the automotive industry, Arobs provides mechanical design, device prototyping, software, and hardware development. The engineers can create infotainment systems, wireless chargers,  ECUs, and other automotive solutions. Arobs' automotive expertise is impressive as they follow ASPICE and AUTOSAR standards in automotive product development, ensuring high code quality and system data security measures. 
 
Promwad

Promwad is another credible software development company headquartered in Eastern Europe that has been on the market since 2004. This development partner helps businesses in different industries simplify the digitization process and adopt innovative technologies to boost business growth, keep up to date with competitors, and improve internal operational efficiency.  

Promwad offers ASPICE-compliant automotive software engineering with a team ready to build and deliver automotive software solutions like electrical vehicle charging systems, battery management systems, face tracking apps, etc. 
 
TietoEVRY

TietoEVRY is a global software development company with representative offices in many parts of the world, particularly Europe and Asia. The TietoEVRY team has more than 24.000 skilled professionals in various industries, like banking, energy, education, and automotive. 

This development agency primarily works with Scandinavian companies, delivering many automotive projects. TietoEVRY engineers can build automotive cloud solutions, digital cockpits, Androids Automotive OS apps, and other solutions for specific business requirements. Different cooperation models exist, whether the client needs to extend its internal team or requires a full development team to build automotive software from scratch.
| Company | Founded | Locations | Number of employees | Expertise |
| --- | --- | --- | --- | --- |
| Lemberg Solutions | 2008 | Germany, Ukraine | 200+ | AUTOSAR engineering, Android Automotive, ASPICE, Embedded Linux, Embedded AI |
| Codete | 2010 | Poland, Germany | 250+ | AR app development, ML algorithm development |
| Concise Software | 2011 | Poland, Germany, USA | 50+  | E-mobility software development, automotive ecommerce, connected vehicles |
| Intersog | 2005 | Ukraine, USA | 50+ | Supply chain solutions, car system firmware development |
| TekRevol | 2018 | Israel, Qatar, USA | 250+ | Automotive SaaS-based apps |
| HQSoftware | 2001 | Estonia, Georgia, USA | 50+ | Embedded development, hardware prototyping |
| Ester Digital | 2015 | Estonia, Germany, UK, USA | 10+ | Website design for car dealerships, automotive website development |
| Arobs | 1998 | Romania, UK, Moldova, Germany | 1000+ | Embedded development, hardware prototyping & engineering |
| Promwad | 2004 | Poland, Germany, Lithuania | 50+ | ASPICE, e-vehicle charging systems, embedded AI |
| TietoEVRY | 2015 | Scandinavia, UK, USA | 10+ | ADAS systems, Android Automotive |
How to choose credible automotive software companies for your project
The automobile software companies we included here are leading software development services vendors, which complicates the choice of a reliable automotive software partner. Hence, we outline the primary factors to explore and consider when looking for a potential automotive software development company for your project. 
Automotive expertise
A general list of completed projects software companies post on their websites will not tell you much about the depth of their industry expertise. That's why you should go to the automotive industry page to explore the automotive solutions this vendor can build from scratch, development services, cooperation scenarios, engineers' certifications, and partnerships.
Commonly, outsourcing software partners provide two main options of cooperation - team extension to fulfill the engineering needs of your in-house development team for some time and a dedicated development team who will work on your project and part of the project from discovery to launch. The chosen cooperation scenario will influence your communication frequency, project management, engagement level, project documentation, timeline, and budget. 
Portfolio 
Next, check the portfolio with the solutions the software team delivered, testimonials, and detailed development process. Go to the case studies block on the website and dedicate more attention to the automotive projects, but we also recommend exploring all recent case studies to form a general opinion on whether the team can complete your project successfully. 
Exploration of the company's portfolio shows you the common development flow applied for automotive projects, available types of cooperation, provided project documentation and roadmap, used software development methodologies, and various skilled engineers. Surely, each project requires an individual approach and has unique needs, but you will get an overall impression of the potential software partner that will simplify your choice. 
Tech talent pool
The number of skilled automotive engineers a potential software provider has played a significant role when choosing a software development partner. The team setup doesn't have to take much time, ensuring a quick launch to market. Besides, you must ensure the team can scale if the project requirements change. Your potential software partner must be able to hire specialists required for your project in the short term to meet all project requirements quickly. 
A great benefit of partnering with an external software development company is quick access to CVs with recent and relevant information about the engineering experience of each specialist. You can choose who will work on your project, scale or cut the development team size, adjusting the process to your ongoing requirements. 
Public reviews from clients
Clutch is considered a credible source of information about software companies worldwide, their range and quality of services, technology stack, hourly rates, and average project budget. Most software development companies have accounts on Clutch with verified clients' reviews and detailed feedback on multiple projects. 
Note that even though you can filter the companies by the automotive industry, not all of them actually have enough expertise and experience with automotive projects. That's why we recommend exploring the business website, including its service and expertise pages, certifications, and Clutch reviews, which typically undergo a complex verification process. Some companies can also offer you to contact past clients to discuss their cooperation experience. 
To wrap it all
Expertise and successfully completed projects are the primary things you must consider when choosing one of the top automotive engineering services companies. If you are a non-technical specialist, the research and selection process might take longer. Choosing a tech partner should be easier if you already have in-house engineering expertise and know what you need.
Nevertheless, you must dedicate enough time to looking for a credible development partner and exploring their expertise, market reputation, and tech stack.
At Lemberg Solutions, we often start the cooperation by offering tech consulting so that you can discuss your product idea, validate it and get a project roadmap to decide whether our development team provides high-level engineering skills and is on the same page with your company. 
Feel free to contact our experts to learn more about our automotive expertise, recent projects, the types of solutions we can build for your business, and other cooperation details you are curious about.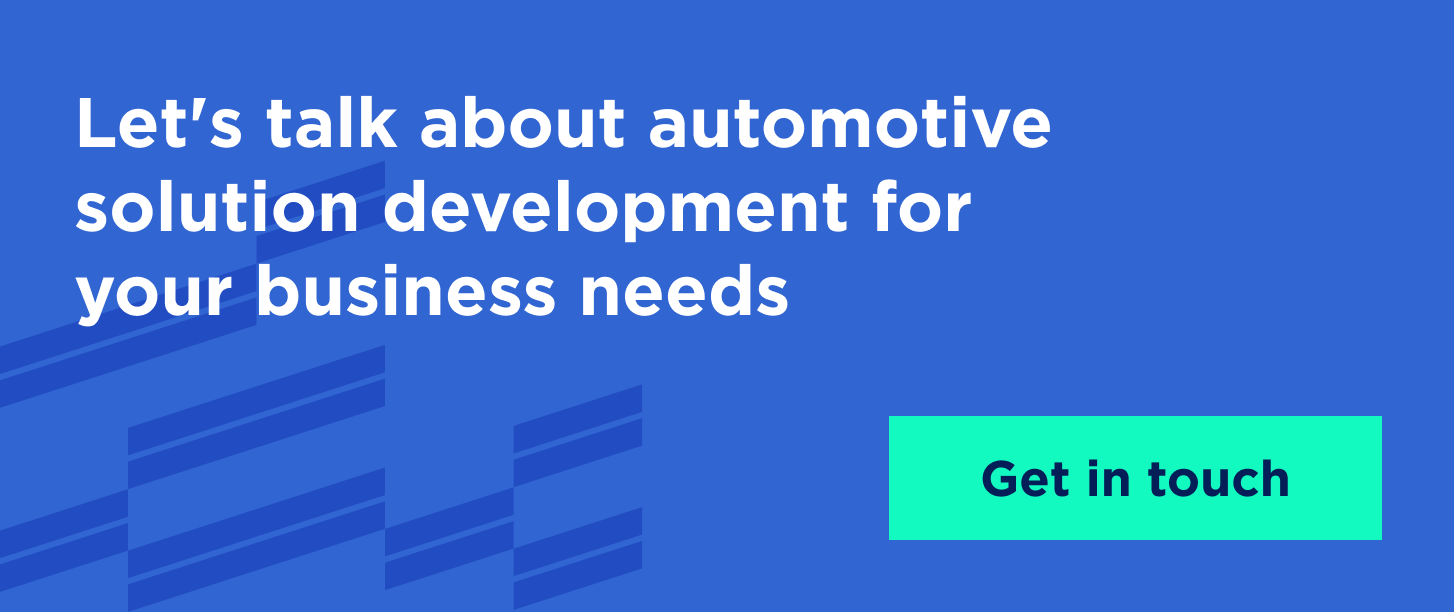 FAQs
When do you need to hire an automotive development company? 
You should hire an automotive development company in two main cases: you want to upgrade the existing solution with new features or want to innovate your products with digital solutions and modern technologies by building automotive software from scratch.
How important is choosing the best automotive development company?
The success of your automotive projects and product quality entirely depends on your chosen software development partner. Ensuring their expertise and reliability in the market is pivotal before signing the cooperation contract.  
Which companies are currently in the top automotive engineering services companies?
Despite the number of automotive software development companies that keeps growing, we can define the top 3 of them. These companies are Lemberg Solutions, Ester Digital, and Arobs, which have succeeded in gaining vast experience in the automotive industry.