Your website requires thorough maintenance and support to continue working the way you want it to. To keep your website up and running, you'll need to cover the website maintenance basics: regular codebase checkups, uptime monitoring, updates, bug fixes, and data backups.
One way to approach this is to hire a competent website maintenance team. You can either get the original developers to maintain your website, hire an inhouse web maintenance team, or outsource the task to a remote team. Either option is valid if you can trust the team to provide the website maintenance services you need.
Website maintenance services your team should cover
The website maintenance basics:
Monitor uptime to know right away when something is wrong.
Test website functionality to ensure that everything works as it's supposed to.
Update modules and packages to prevent security and workability issues.
Fix bugs and issues to create a better experience for your audience.
Perform backups to avoid losing valuable data.
Monitor uptime
Uptime monitoring is a vital part of website maintenance that should be enabled at all times. It helps you see when and where the website is available around the world and notifies you when it isn't.
From the many different website performance monitoring SaaS, Lemberg chooses Pingdom.
Pingdom — Lemberg's website performance monitoring SaaS of choice.
Pingdom is a great service that allows you to not only monitor website uptime but also provide a better, smoother user experience with synthetic interaction testing and faster page loading.
Test website functionality
Testing naturally comes after monitoring; it's a way to ensure that a website not only is available but works well on the codebase level. Each website would need a personalized testing routine tailored to its complexity and the technologies it was built with.
For example, you should test Drupal websites at least once a month after the core security updates. This way, you can be absolutely sure that there are no major vulnerabilities to the website codebase.
Update modules and packages
You need to regularly update the modules and packages that constitute your website to prevent security breaches and unexpected behaviors.
Different modules and packages are updated at different times, which means that your team would need to be on a constant lookout for these new updates. If done right, this will help you maintain a smooth and secure website experience for your audience.
Fix bugs and issues
Take care of bugs and issues whenever they pop up to have a solid user experience. Your audience will not enjoy if there are bugs and inconveniences all over the website and will likely not want to use it at all.
Perform backups
Back up your website regularly to ensure that you never lose crucial data. Even though it's likely that you'll never need to restore the entire website, you always want to be able to.
How to get a website maintenance team right for you
You want a website maintenance team that is honest and quick, signs a service-level agreement (SLA), and offers you more than one contact point.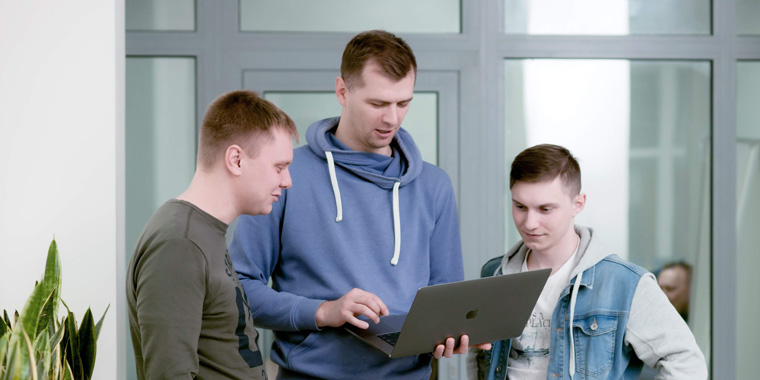 Sign an SLA for safety and clarity
A service-level agreement outlines what services you will be receiving under what conditions. It's a legal guarantee for your safety; after signing an SLA, you can always know how the support team is supposed to react to the issues with your website and what should happen if they don't.
Choose a team that replies to you quickly
Note the difference between response speed — the time it takes for the support team to get back to you — and resolution speed — the time it takes to solve your problems. Response speed should always be under 24 hours and even less than that for critical issues. Resolution speed, on the other hand, will likely be different depending on the issue.
It's highly important that your support team be transparent about issue complexity and resolution speed. This will help you plan your actions accordingly (notifying customers, providing complimentary discounts, etc.)
Establish more than one contact point
A typical support team consists of a project manager, one or two engineers, and a quality assurance specialist. The project manager should be your main contact point, but you should also be able to contact engineers and QAs in case you need to.
Clear communication is vital for issue escalation. If you cannot get in touch or agree with a specific person from your maintenance team, there should always be someone else you can talk to. This will increase your chances of getting heard, ensuring the resolution of whatever problem you have.
Request regular activity reports
Your website maintenance team should provide regular reports, which might include the number of issues addressed with a list of response and resolution times, website up- and downtimes, and any other valuable data that you might need. This will help you have a better picture of the website, making it easier to plan for new features and updates.
Benefit from website maintenance services by Lemberg
Find the website maintenance team you're looking for at Lemberg.
You can choose either baseline maintenance, on-demand support packages, or both to cover your website's maintenance and support:
Baseline maintenance. Baseline maintenance covers security updates, server monitoring, and system recovery assistance. It will let you rest assured that your website is alive and well at all times. Depending on your needs and location, we can extend working hours to ensure quicker response and resolution.

On-demand support packages. On-demand support packages cover everything beyond Baseline support. This includes adding new features, changing page design, and making any other changes to the website codebase. You can purchase 20-, 40- or 80-hour packages of on-demand support from Lemberg. We will then estimate your requests and use the time from your package to complete them.
Lemberg has over a decade of expertise and experience developing and maintaining websites and other web products. If you'd like to know more about what website maintenance services we can provide for you, just send us a quick message.