Many SMEs outsource projects when scaling their companies. In this short article, you will learn why they do that, what IoT solution providers they choose and why, as well as ways to make your vendor qualification process and management of external teams a smooth experience.
Looking for AI or IoT solution providers and outsourcing software development is something many SMEs choose to do when scaling their companies, and for good reasons. There are many perks to having an external partner, ranging from extensive R&D, AI, embedded development services, and IoT development expertise to high levels of flexibility and smart budgeting options. Having spent over a decade in the IT business environment, our Lemberg team has gained extensive knowledge and understanding of what SMEs need when it comes to outsourcing projects. Here are some of our most exclusive insights on external partnerships, outsourcing to Ukraine or other Eastern European countries, and ways to make such partnerships run like a Swiss watch.

What business challenges trigger SMEs to explore outsourcing opportunities in Ukraine? 
Reaching out to external experts from abroad or even overseas has been growing increasingly popular in recent years, particularly due to the pandemic limitations. To understand why more and more companies choose to outsource their IoT development services, let's consider a classic scenario where it would be beneficial for an SME to look for IoT solution providers. 
Suppose you are running an SME and at a certain point the products or services you deliver grow dependent on your software more than they ever did before. With every new management meeting, you get more innovation-focused questions to address. After all, beating the competition and cornering the market are not the easiest undertaking: it takes breaking ideas and unconventional solutions. On top of that, the tension is rising, and product and marketing teams are relentlessly pushing the engineering team to deliver more and better. However, the latter is having trouble keeping up with all the demands either due to lack of capacity or particular expertise in IoT or AI-related projects. And this is where all of your innovation-targeted plans and agile strategies run into a brick wall. 
In such a situation, SMEs typically try to tackle the problem either by expanding their team and taking some time to train new recruits internally or by looking for local/outsourced solution providers with relevant experience. Considering that the first option tends to be a massive time and effort investment, the second option — partnering with an external company — is, for many, a more reasonable solution. Although it might sometimes be easier to team up with local partners for language and location proximity-related reasons, they are not always able to offer the much-needed niche expertise, flexibility, and cost, which is what you usually get with foreign IoT solution providers. 
What makes Ukraine a popular option for IoT development outsourcing?
When it comes to outsourcing projects to Eastern European countries, the most popular location choices usually include Ukraine, Romania, Poland, and the Czech Republic. IT experts coming from these countries share similar pan-European culture, mentality, speak and write good English, and, most importantly, offer a wide tech stack coverage and strong IoT development experience. Whether it's good or bad news, choosing a partner from one of these countries is not the easiest task as most of them have an impressive experience record and reliable customer reviews. 
Here is our take on what makes Ukraine a great destination for outsourcing software development: 
Ukraine is what they call a rising star in the IT services industry. According to the 2019 Kearney Global Services Location Index, the country takes an honorable place in the top 20 list. In fact, the IT sector generates 4% of Ukrainian GDP, and this number is 5 times bigger than it was only 5 years ago. In a matter of a few years, it is expected to reach 10%. 
The country offers good engineering education. It took Ukraine 30 years to build leading tech schools, but they now give a Bachelor's degree in IT development to 25 000 graduates on a yearly basis. 
There is considerable market demand. As a rule, Ukrainian IT companies aim at hiring 30 000–50 000 IT specialists every year. Considering the growing demand, the local talent pool is expected to grow by 23% by 2024. 
Ukraine has a great human resource potential. At present, it is estimated that there are almost 200 000 IT specialists in Ukraine. And that number is growing. While in the 90s many tech talents were leaving the country for better opportunities, many of them now choose to stay in their homeland because of the rising standard of living, great career prospects, and friendly tax models (especially compared to those in the USA and the EU).
The country makes an attractive R&D destination. Having considered the reasonable costs and rising talent pool, tech giants like Google, Amazon, Oracle, and Samsung have opened offices in Ukraine. 
While the IT service takes the biggest market share, there are also lots of product startups emerging in Ukraine. Grammarly, GitLab, People.ai, and Petcube are among the most successful ones. 
How to find the best outsourcing partner?
If Ukraine is your country of choice for outsourcing software and hardware development and you need to narrow your list of options down to only the most reliable outsourcing partners, the following criteria will help you make the best decision:
Company's capabilities, scalability, and flexibility of cooperation models 
Delivery process, risk and quality management
Legal contracts and company structure setup 
Company's security policy and standards (ISO/IEC)
Compliances (GDPR, DPA)
How to collaborate with an external team?
The next stage in outsourcing software, provided you already have a specific company in mind, is about deciding what kind of partnership matches your business needs. As a rule, you get to choose between two options. Option A — a short-term project-based partnership, option B — long-term cooperation where you get your very own dedicated team. To embrace that better safe than sorry approach, it is best to try both of them, making a smooth transition from option A to option B. Here is why. 
With option A, you usually scope out a 1 or 2-month long PoC project to see how well your partner team can engage with you. The IoT solution providers can then dive into the product domain and demonstrate their ability to design tech solutions while walking you through the available options. Upon project completion and delivery, you'll be able to see if the offered quality meets your standards and expectations and if it does, you can go on to embrace option B. In fact, your ultimate long-term goal should be to build a dedicated team. That is why it is best to discuss the process of setting up and scaling such a team early on.  
With a dedicated team, you can take care of long-term projects and have full control over the team's workload. Bluntly put, it is like increasing the number of your stuff for a specific period of time to efficiently manage your scaling process. 
Here are some experience-based tips on how to make long-term cooperation with IoT solution providers work: 
Pay attention to both hard and soft skills in the people you interview for your teams. While tech skills are without a doubt important, there's going to be a lot of personal interaction and involvement too. 
Communicate your team scaling plans as early as possible. Great talents are always busy with work and it takes time to pull them out from their existing projects or to hire new team members.
If possible, plan on-site trips for your external partner. Your external team should meet with your product/engineering team in person or vice versa. This helps to build the necessary bond and keep the team motivated.
Get a seasoned project manager to plan out the process. Based on their expertise, industry experience, and individual organizational skills, your project manager will define the efficiency and velocity of the whole team. Be sure to find a qualified specialist in time to avoid potential chaos and manage your projects and teams effectively.
Nurture your relationship with the remote development team just like you do with the in-house team. Communicate your corporate values, initiate "online dinners" with your remote team, celebrate milestones and order presents (like sets of craft beer) when you reach an important milestone, send personal Christmas cards, etc. All these small things will strengthen your relationship.
Why choose Lemberg for outsourcing?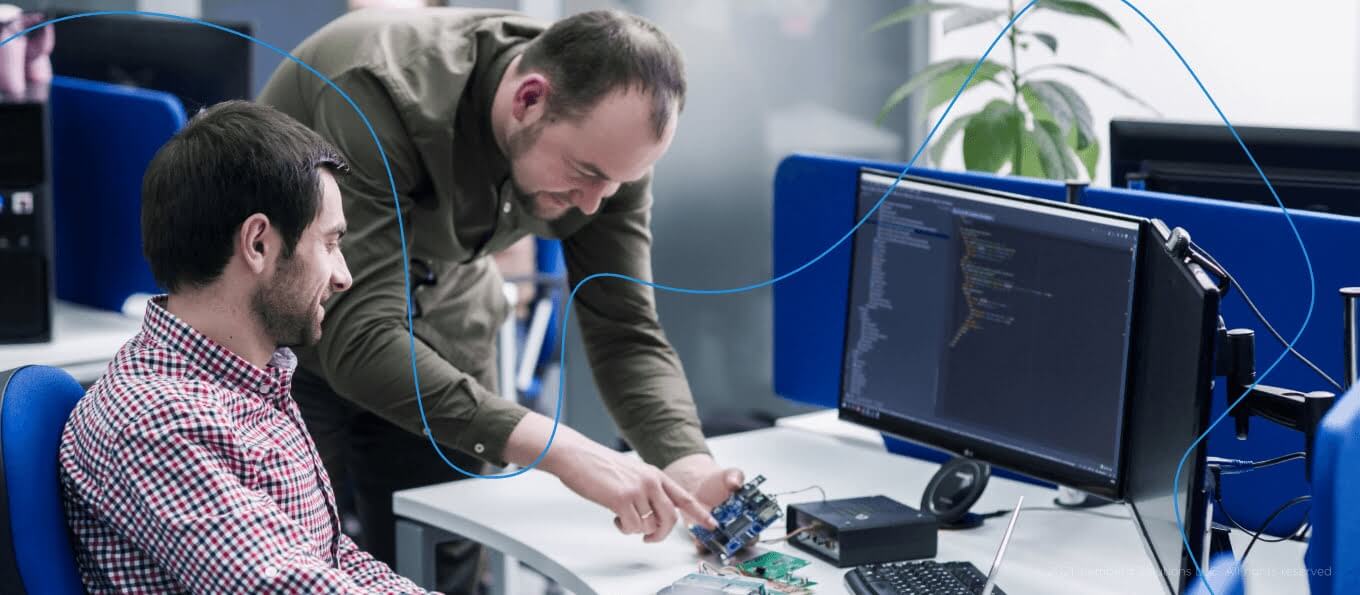 There are several reasons our clients name when commenting on why they chose Lemberg as an external partner for outsourcing to Ukraine. 
Firstly, we are always deeply involved in and passionate about the products and projects we work on. We speak out when we think the project is not going right or there is a way to manage it more efficiently. Here is what Mario Janschitz, Chief Product Officer at Monda, has to say about this: 
Lemberg is not only one of the most capable agencies I have ever worked with, but their level of passion for the project is also only topped by their expertise. This expertise owes a big part in the overall success.
Secondly, we always take the trouble to double-check if the quality of our work is up to the highest standards. Here is what Natalia Kontsour-Selivanov, CEO at DocInsider GmbH, thinks about our work: 
We are so glad we decided to work with the Lemberg team, who developed the first version of our MedBot and provided clean and well-documented code. We appreciate their reliability and professional competence. We are looking forward to releasing the next versions of our product, including machine learning algorithm implementation.
Last but not least, as an AI and IoT development company, we understand the importance of thinking outside the box and sharing ideas. 
Choosing an outsourcing partner might seem like a complicated process, which it usually is, but if you study all the steps and do your research in a timely manner, you will find it easier to pick the best external team.
Having spent 14 years in the IoT development business, our team knows all the ins and outs of what goes into a successful outsourcing partnership. If you want to learn more about your outsourcing options or are looking for a reliable partner to help you with an upcoming project, don't hesitate to get in touch with us.