Accurate project software cost estimation or hardware cost estimation is oftentimes what makes or breaks a project. We have come up with the ultimate project cost estimation guide that will tell you everything about the importance of accurate project estimates and ways you can get them. 
Access to accurate software cost estimation or hardware cost estimation is paramount if you want to plan your product roadmap and financials well. The more information you have on how long the project will take to complete and what the price tag on it is going to be, the fewer uncertainties and risks will be looming over your head.
In a recent report, the PMI stated that inaccurate project cost estimates and inaccurate task time estimates are among the top reasons for project failure, 28% and 26% respectively. One thing is clear: solid project estimation is not a nice-to-have, it is a crucial component that contributes to the overall project and even company success. 
In this article, you will learn all the essentials on what project estimation is, what flavors it comes in, and what you can do to make sure the estimate you get is realistic enough to set your venture for success.
Project estimation in development: who, what, when, and why?
Project estimation is an integral part of any project planning stage. You need it whether you are a startup developing the first version of your product, a scaleup working on upgrading your current services, or an established company interested in developing something new, something that will help you beat the competition and disrupt the market.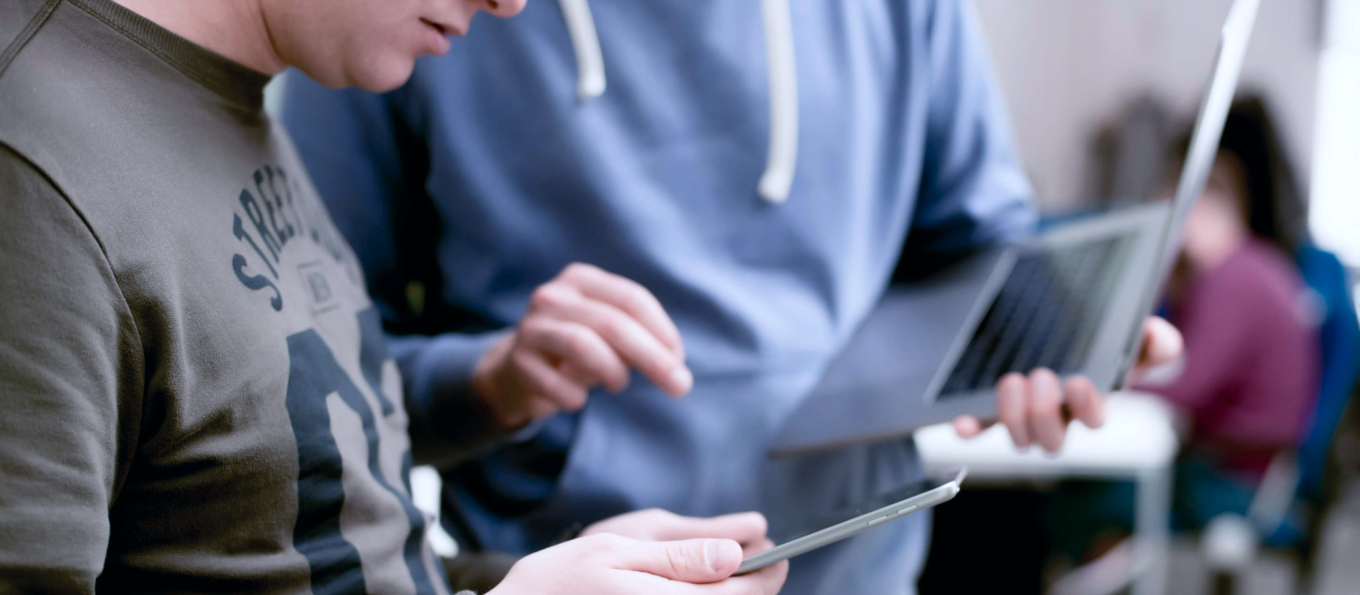 One way or another, project estimation in development is a blessing in disguise. And it is not only about the fairly accurate software development cost estimation or hardware development cost estimation you can expect to get out of it, but also about reduced uncertainties, creative solutions, and a start to the future actionable game plan you receive at the end of the process. Most importantly, the estimation process is a good way to validate your potential development company and see how good they are at understanding your needs and not just specs, how experienced they are in your domain, and how mindful they are about suggesting relevant solutions.
Consider this: what are the first questions you, as a business owner, would be concerned about when launching a project? Chances are high that they would go something like "What should we build in the initial version?," "How much is this going to cost the company?" and "How much time will it take to bring the project to the finish line?" The good news is that project estimation will answer those questions and give you a general understanding of what it will take to get the project to success. You basically get to walk through the standard PM triangle: Scope, Cost, and Timeline.
Project estimation process step-by-step
Here are the general steps that usually go into the estimation process at Lemberg Solutions:
You reach out to us and share a project brief or ideally an RFQ/RFP to help us quickly grasp the product idea and its key requirements. It is also a good starting point to initiate engagement.
Our sales manager contacts you to get any missing information and then processes your inputs with the engineering team to get into the first round of feedback and negotiations with you.
If your project is relatively simple and clearly defined, you should expect to get a quote after the first feedback round, but if it is complex, we might need to go through several discussion rounds. At the end of the process, you get a ROM estimate from us.
Then goes the Discovery Phase, where we dive deeper into your business needs and figure out your technical requirements. This phase typically takes 4 weeks of initial preparation, intense brainstorming sessions, and solution discussions. In the end, you get a narrow range of estimated hours and a timeline demonstrating when the first version of the product will be delivered, which you can use in your roadmap and finance planning.  
When the process gets close to the finish line, you can engage into a UI/UX Design Phase (about 1 month of work) to discuss and build out final designs for user interfaces. This will create a solid ground to give you a fixed cost estimate and get commitments with specific deadlines.
Estimation types: ROM, ballpark, detailed 
There are several types of development project estimates and the one you need is usually determined by the definition of your project and the amount of information you can provide to the development team. Let's take a look at the most common types of estimates. 
ROM — Rough Order of Magnitude
If you don't have much information about the details of the product you need, and your business idea is the main driver in the process, ROM is just for you. With some high-level requirements and references to existing projects, the development team should be able to give you sufficient information to make a decision on whether it makes sense for you to move forward with the project. You'll get to learn an approximate number of development hours that will be needed to cover the project, what technologies will be involved in the process, what time frame is realistic to complete the project, and what kind of resources and finances you will need to build your product.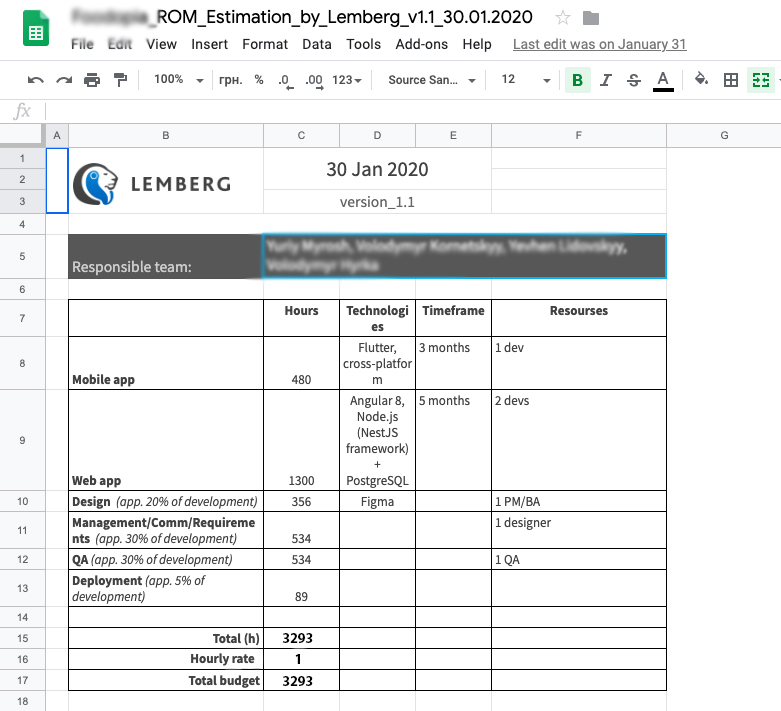 If you only have high-level requirements but want your project estimation to turn out fairly detailed, companies like ours might offer you the option to go through a Discovery phase, which is a series of workshops and brainstorming sessions with the following Deliverables and Outcomes:  
business needs and key KPIs
user persona, user stories 
functional and non-functional requirements
technical solution and architecture 
low fidelity wireframes
detailed estimate and timeline
Ballpark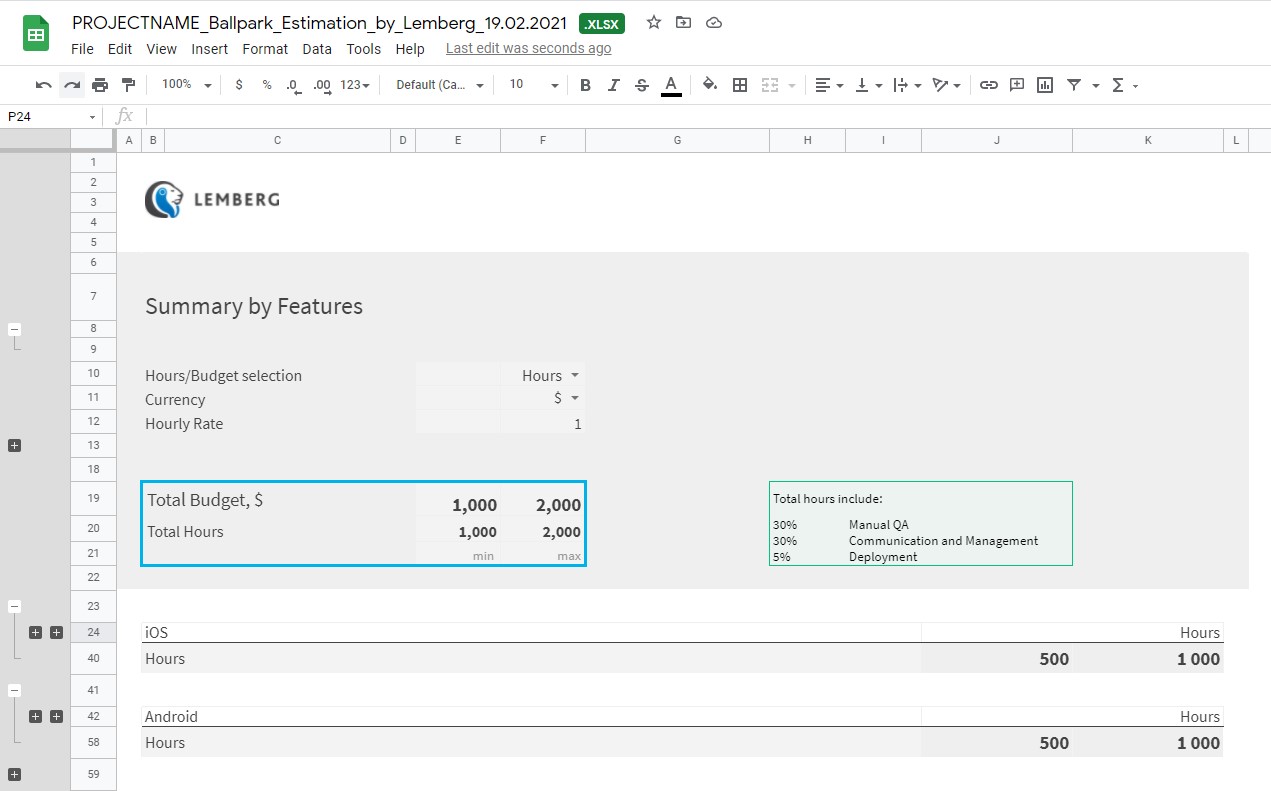 The ballpark estimate works best for companies that have a business idea, basic user flows, high-level requirements, and low fidelity wireframes. Perhaps, you are a startup or you have already tried implementing your ideas, but something went wrong so you are looking for a team of tech experts to help you out. If such a scenario sounds familiar, the development team will give you a ballpark verdict with an approximate software development cost estimation or hardware development cost estimation, along with a range of hours for each component of the project to be developed. At the end of the estimation process, you will have more certainty to decide whether you want to move forward with the project.
Detailed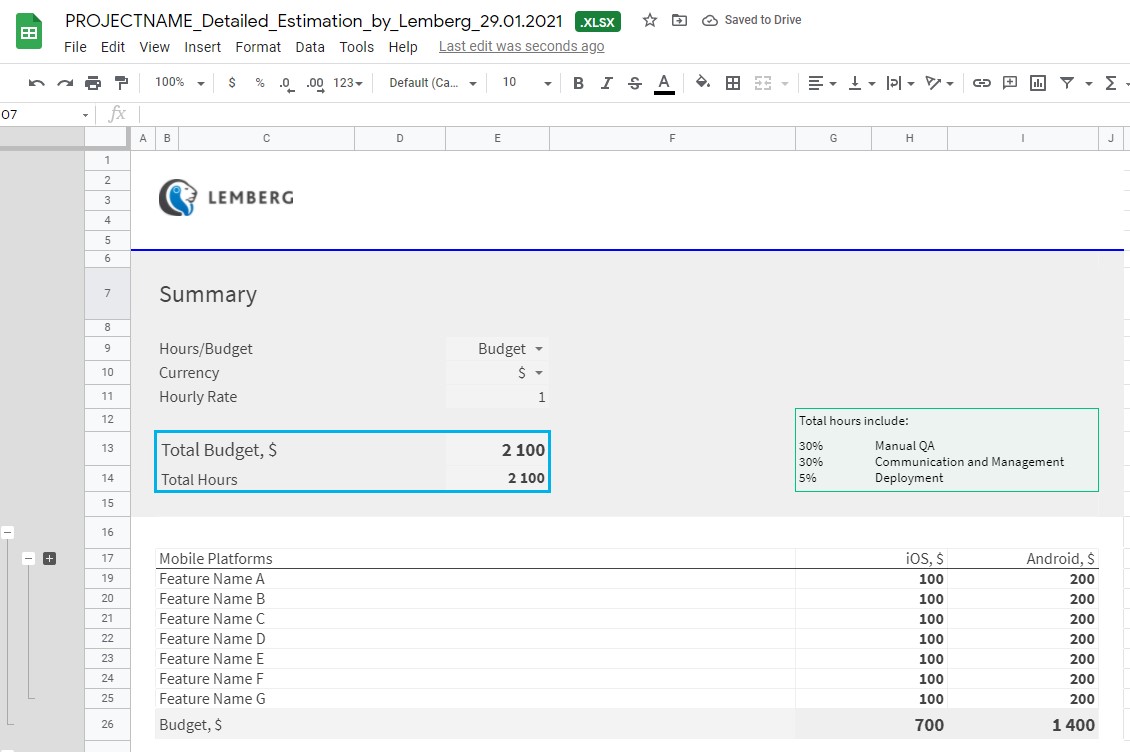 The name of this type of estimate speaks for itself: it's highly detailed. It is a popular option if you are already working with a vendor and decide to take on a new milestone. However, to get such an estimate, you need to have established business logic, user flow diagrams, defined features list, wireframes, mockups, or a clickable UI/UX prototype. With all that information at hand, the development team should be able to provide you with software cost estimation or hardware cost estimation, along with the timelines, activities and materials that would be used when developing the project. And the cherry on top — you'll get a precise number of hours that will go into developing each component or feature of the project. 
What makes a good project estimate
For your project estimate to be accurate and relevant, it has to:
Fit your project needs and give clarity
The type of estimation you get has to make a good match with your particular state of the project: is it just a business idea or a well-defined project that only requires more hands working on it? A good project estimation process should answer your current questions, give some clarity on how feasible the plan is, and what kind of investments you're looking at. 
Be developed by the team that will implement it 
Ideally, you should have the project estimated by the team that will, later on, develop it. That way, there will be fewer uncertainties, you will spend less time on communication and "filling people in" on what you want to develop with your project. But here's another good perk: if the team that estimates your project doesn't agree to implement it, you know you're looking at a red flag. Perhaps there's something wrong with the estimation and you need to be extra vigilant with the quality of your ballpark numbers. 
Account for potential overhead costs
Whether you're dealing with software development cost estimation or hardware development cost estimation, it's not just the development hours that the project manager should add to the price tag. It's crucial that they also account for overheads and give you a realistic estimate from day one. After all, development projects are never just about development, they are also about team communication, brainstorming sessions, testing rounds, etc. 
To make sure your estimate is accurate, try answering these questions: is QA testing included in the overhead costs (it usually takes around 30%)? Are communication hours mentioned (they can also add approximately 30%)? Is deployment on the list (about 5%)? Having your overhead costs described in detail early on will save you from looking at eye-watering invoices when the project gets finished. 
Feature creative and efficient solutions
The goal of a solid estimation process is not only to give you a rough idea of how much and how long, but also to do some optimization and look for creative ways to deliver the project within a reasonable time and budget.
Project estimation essentials
Effective project estimation is a two-way street: the more input you can provide to the IT vendor, the more accurate the final software cost estimation or hardware cost estimation will be. So what information or details should you prepare to help your future development team make a solid estimate? Here's a rough sketch of a best-case scenario, but you can get a good estimation even if you are missing some of the points on the list:
Business idea
Project goals and objectives
Target industry and audience
Features/epics, user/job stories
User flow diagrams
Wireframes, mockups, interactive prototypes
How we do project estimation at Lemberg 
With over 14 years of experience in IT, we know the best practices of how to estimate development projects from the inside out. Slavic Voitovych, our Head of IoT Business Development, knows exactly why companies want to have Lemberg Solutions estimate their projects: 
What Lemberg's clients love most about our project estimation style is that we go deep into the project scope, break it down into separate user-oriented features (functional requirements), and take a close look at project architecture and infrastructure (non-functional requirements), which leads to highly detailed and accurate estimates.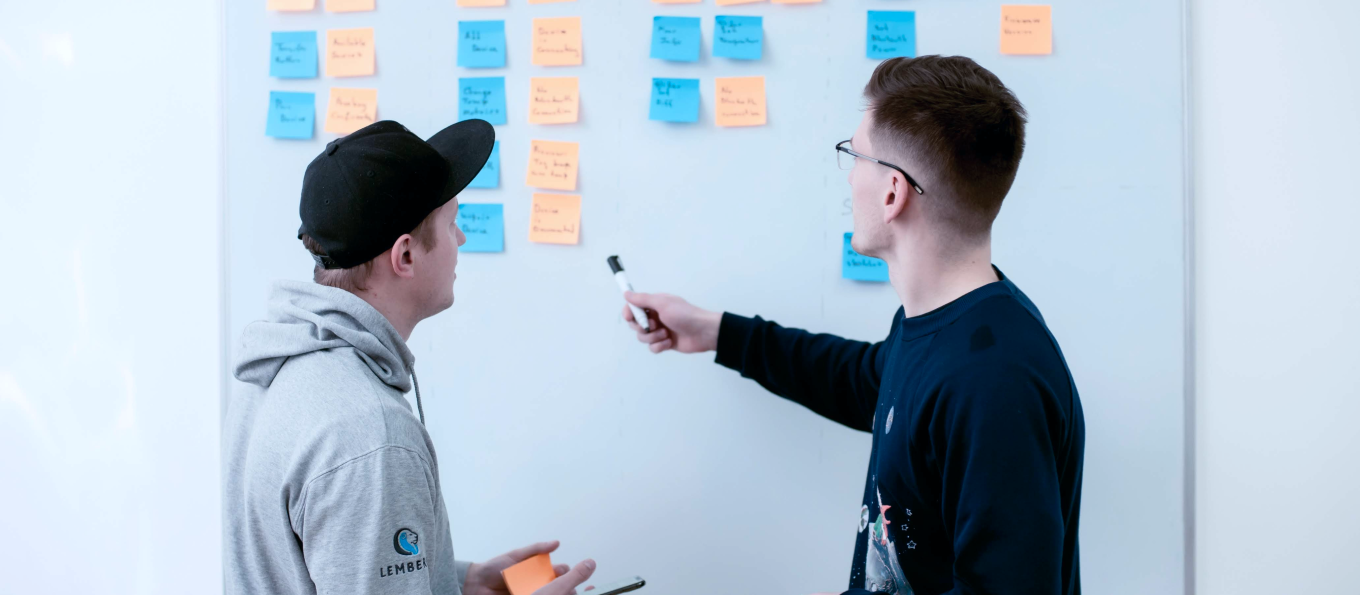 Our team follows all the strategic estimation phases, but there are also a few reasons why we're better than other IT vendors. Here are some special things you can expect from us:
1. Get a realistic "from-to" range, not a wild guess
In software development cost estimation and hardware development cost estimation, there are many factors that can either decrease the final price of the project or increase it. One of the great things about our estimation practices is that we can tell you what kind of game plan will have what impact on your financial outcomes, what you need to do to reduce the cost of your project, or what perks you will get by increasing your budget. 
2. Get your projects scoped out with relevant tech stack
We can give you an exhaustive answer on why a specific feature takes X hours to be developed, we know how to reduce your project costs, how many hours you can save by using themes and templates, what existing solutions can be used to cut development time, as well as what technology and frameworks fit your project best of all. 
3. Get a cross-functional team with relevant past experience
It's not just a project manager and an engineer who will be working on your project estimation with us. As a rule, you get your own account manager, project manager, business analyst (optional), tech lead (if your project is complex), engineer or engineering team, and even an expert in a specific technology in case your project asks for it. This carefully assembled team will comb through your project details and deliver an accurate estimate.
Stefan Weiss, CEO at Straffr, talked about Lemberg's approach to project estimation in a recent review:
Working with Lemberg Solutions was one of the best experiences we had…[The team] developed an Android app for us. First, they analyzed the functionalities of our iOS version of the app and provided feedback to clarify the scope of building the Android version. Then, they came up with an estimated budget, which helped us move forward with our specific goals for the app. Once we were clear on the budget, they started building the app. 
Project cost estimation is oftentimes a slippery slope only top experts can manage. There are lots of factors that can derail a project and make your initial estimation irrelevant, especially if you fail to account for those factors when calculating the project. This is why having a team of seasoned tech professionals estimate your project is a must. If you are interested in collaborating with experts who have seen it all in the world of IT development, feel free to visit our contact page or reach out to Slavic Voitovych.