Nowadays, the healthcare industry is going digital, from huge pharmaceutical manufacturers to small medical facilities. This process is inevitable for all branches of this field, so the earlier you start adopting technologies, the more competitive you will be. 
It would be best to remember that healthcare technologies may be challenging to implement. That's why you must partner with a top healthcare technology company to assist you with complex tasks.
In this article, we want to dedicate your attention to the process of choosing a healthcare development partner. Read the compilation of the top 10 medical software development companies to pick yours.
What is healthcare software, and what type of buyer are you?
Healthcare software includes products that help medical institutions manage and improve internal processes, digitize diagnosing and treatment, and handle healthcare information more effectively. It may be a telehealth app for remote treatment, an EHR system, or a sophisticated IoT cardiac health tracking device.
Basically, there are many types of software solutions that medical entities may need. However, its selection ultimately depends on the ongoing needs of your healthcare facility. For instance, you may want to develop an additional module to the existing internal system or design full-scale software from scratch. 
When do you need healthcare software development?
Any medical software you require, like EHR, patient portal, IoT-connected devices, etc., can be integrated with the modules and functions specific to your healthcare facility. That is a great bonus you get from custom software development. 
Overall, the healthcare software development benefits are the following:
Reduced paperwork. Software adoption improves PHI management and saves medical staff time to focus on more vital daily tasks.
Enhanced PHI privacy. Electronic health records for patients eliminate the risk of confusing private patient information about diagnosis and treatment; also, EHR can be connected with IoT medical devices and store patient data in real time.
Faster operations and management. Enhanced management of internal processes like appointment schedules, communication between medical staff, and quick access to patient data.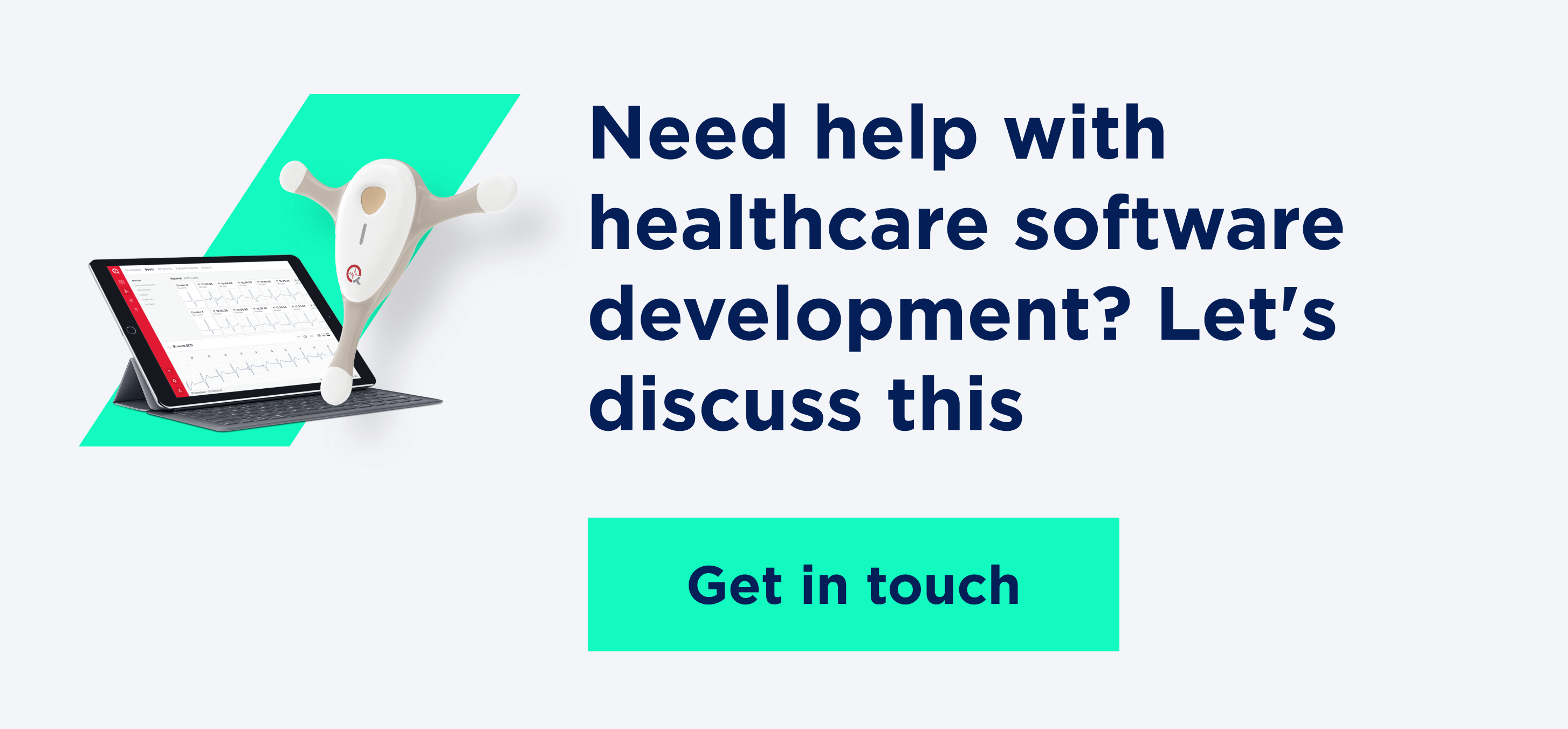 List of top 10 healthcare software companies 2023
When looking for a medical software development services provider, you access a vast tech market with thousands of software houses. To ease your choice, we prepared a compilation of top healthcare information technology companies with remarkable results in delivering medical solutions.
1. Lemberg Solutions
Core services: healthcare software and hardware development, data science and AI, cloud & DevOps
Founded in: 2007
Number of employees: 200+
Data security: ISO 27001, ISO 9001, ISO 13485, HIPAA, DiGa
Lemberg Solutions has been a trusted healthcare development partner since 2007, with three offices in Ukraine and one office in Germany. The company has provided seamless digital solutions for 300+ satisfied clients. With a team of 200+ experienced engineers, Lemberg Solutions is actively growing expertise in healthcare software development. 
The team builds and delivers highly functional and industry-compliant solutions for private and governmental institutions. Among the successfully delivered healthcare solutions are electronic nurse device, IoT telemedicine platform, hand hygiene monitor solution, and others.
Lemberg Solutions, a healthcare software development company headquartered in Eastern Europe, primarily focuses on three main directions:
Digital experiences
IoT products
AI-powered solutions. 
The team keeps extending and improving services by getting industry standards and compliance certifications, including ISO 27001, ISO26262, and ISO 13485, that ensure a high-quality and secure product development process. 
2. Saritasa
Core services: medical web development, AR/ VR, IoT products
Founded in: 2005
Number of employees: 130+
Data security: HIPAA
Saritasa is an American-based software development company with broad experience in many domains, including healthcare. Saritasa has successfully delivered full-cycle custom healthcare software development since 2005. They build medical business websites, management systems for internal medical processes, VR solutions for healthcare facilities, and other medical solutions.
Saritasa provides comprehensive technologies and services:
web and mobile development
AR/VR solutions
IoT-based products.
Compared to Eastern European hourly rates, American healthcare development companies are more expensive — an average of $100-$149, which can result in a significant budget increase if the project is complex and durable.
3. Kanda Software
Core services: medical digital solutions
Founded in: 1992
Number of employees: 250+
Data security: HITRUST, HIPAA, FDA, CLIA
Kanda Software is a software house that delivers custom software solutions focusing on the healthcare industry. For the past 31 years, the Kanda team gained broad experience working with small and large medical institutions, helping them adopt digital solutions that provide advanced capabilities for healthcare.
It's an industry-compliant software partner, particularly in HITRUST, HIPAA, FDA, CLIA, and NIST. Despite being a large software company of 250+ employees, Kanda Software offers the average development rates, varying between $50 and $99. 
4. Chetu
Core services: telemedicine platforms, e-prescribing software, health information exchange, and pharmacy management systems
Founded in: 2000
Number of employees: 2500+
Data security: HIPAA, HL7
Since 2000, Chetu has grown to a large team of 2500+ engineers. That is why their services and tech stack cover various verticals with 20000+ projects successfully completed.
One of their main directions is custom software for the healthcare industry, particularly telemedicine platforms, e-prescribing software, health information exchange, and pharmacy management systems.
Chetu is based in the United States, with offices in Asia and Europe. This software vendor does not provide information regarding hourly rates. So, if you want to get an approximate estimation of your project, you should contact their sales team. 
5. Light-it
Core services: healthcare digital solutions
Founded in: 2016
Number of employees: 90+
Data security: HIPAA, HL7, FDA
Light-it is headquartered in Latin America but works with clients worldwide. The company mainly focuses on digital health software development. The Light-it team succeeded in gaining extensive expertise in the area and compliance with HIPAA, HL7 standards, interoperability rules, and FDA law. 
Founded in 2016, the software company is relatively young. Nevertheless, the Light-it team keeps growing the number of clients delivering quality-driven healthcare software.
6. Apzumi
Core services: Healthcare software development, fitness app, wellbeing solutions
Founded in: 2013
Number of employees: 50+
Data security: HIPAA
Apzumi is an Eastern European software development company based in Poland with entities in the USA and Germany. The team of 50+ specialists shows significant results and achievements in building digital health solutions from scratch.
Besides medical software, Apzumi works in Industry 4.0, providing web, mobile, and product development for manufacturing, automotive, and other domains. A young company founded in 2013, Apzumi develops industry-compliant solutions for private and governmental institutions. Hourly rates of Apzumi developers are similar to other Eastern European countries and range from $50 to $99.
7. Blackburn Labs
Core services: medical digital solutions
Founded in: 2015
Number of employees: 10+
Data security: HIPAA
Blackburn Labs is a young American software development company with three main development directions — healthcare, real estate, and education. They build various types of custom software solutions for medical entities to help them manage HIPAA compliance and boost the efficiency of inner patient management and administrative processes. 
Blackburn Labs is a core team of 10 specialists growing new projects. Located in the USA, where software services are much more expensive than in Europe, their hourly rates bite, starting from $100. 
8. Technology Rivers
Core services: cloud solutions, web and mobile medical app development, wearable app development
Founded in: 2015
Number of employees: 30+
Data security: HIPAA
Technology Rivers is a US-based software product development company that has gained vast experience in digital health solutions over the past 8 years. This software provider concentrates on building cloud-powered web and mobile solutions compliant with the healthcare industry standards.
Also, Technology Rivers specializes in integrating medical devices with medical management systems via Bluetooth. The development services of this company would be a good choice for small projects as the team of Technology Rivers has less than 50 employees. The hourly rates range from $50 to $99.
9. Emergent Software
Core services: healthcare software development, digital transformation
Founded in: 2015
Number of employees: 50+
Data security: HIPAA
Emergent Software is another American software development provider whose services cover various verticals and technologies. They position themselves as the trusted development partner for companies of different spheres, sizes, and needs, for instance, healthcare, commerce, education, etc.
Emergent Software is a boutique software house that delivers medical software projects. Today, the staff counts about 60 employees, but they still set relatively high hourly rates — $150-$199.
10. Ingenious
Core services: web and mobile healthcare development
Founded in: 2016
Number of employees: 120+
Data security: HIPAA, HL7, DICOM
Ingenious entirely focuses on the healthcare industry. They deliver medical software products according to all required healthcare standards like HIPAA, HL7, and DICOM. The company aims to improve medical services with innovative software solutions, like treating, testing, and diagnosing. 
Ingenious works only for the American market, being aware of its specifics most. As for the US-based software company, they have low development rates, which will cost you from $50 to $99 per hour. 
11. Brocoders
Core services: fitness app development
Founded in: 2014
Number of employees: 60+
Data security: HIPAA
Since 2014, Brocoders, an Estonian IT company, has gained extensive expertise in healthcare app development, particularly consumer fitness applications. Being a team of over 60 specialists, they ensure full-cycle healthcare app development, from consulting and validation of your fitness app idea to its designing, engineering, and launching. 
12. *instinctools 
Core services: healthcare CRM, hospital management system, health insurance app
Founded in: 2000
Number of employees: 280+
Data security: HIPAA, PHI
Founded in 2000 in Germany, *instinctools has developed substantial technical experience and a range of engineering services, including healthcare software development, cloud computing, business intelligence, and data-driven transformation.
As for medical solutions, the *instinctools team follows HIPAA and PHI regulations to deliver secure and high-quality medical systems like CRM, hospital management, health insurance, and others. 
| Company | Founded | Locations | Number of employees | Expertise |
| --- | --- | --- | --- | --- |
| Lemberg Solutions | 2007 | Germany, Ukraine | 200+ | healthcare software and hardware development, data science and AI, cloud & DevOps |
| Saritasa | 2005 | USA | 130+ | medical web development, AR/ VR, IoT products |
| Kanda Software | 1992 | USA | 250+  | React migration, consulting, maintenance |
| Chetu | 2000 | USA, Asia, Europe | 2000+ | telemedicine platforms, e-prescribing software, pharmacy management systems |
| Light-it | 2016 | Latin America | 90+ | healthcare digital solutions |
| Apzumi | 2013 | Poland, Germany, USA | 50+ | healthcare software development, fitness app, wellbeing solutions |
| Blackburn Labs | 2015 | USA | 10+ | medical digital solutions |
| Technology Rivers | 2015 | USA | 30+ | cloud solutions, web, and mobile medical app development, wearable app development |
| Emergent Software | 2015 | USA | 50+ |  healthcare software development, digital transformation |
| Ingenious | 2016 | Germany | 120+ | web and mobile healthcare development |
| Brocoders | 2014 | Estonia | 60+ |  fitness app development |
| *instinctools  | 2000 | Germany | 280+ | healthcare CRM, hospital management system, health insurance app |
Factors to consider before choosing a healthcare software development company
The healthcare industry requires specific approaches and data security measures in building software solutions. It relates to any medical software. Further, we would like to name the leading indicators to consider when searching for the best healthcare software companies. 
Healthcare standards
Medical facilities deal with plenty of sensitive information that must be protected. That is why your future healthcare software vendor must be proficient and certified in the following compliances: 
ISO 13485 — a set of requirements regarding designing and developing solutions for medical devices that provide high-quality system management, data security, and compliance with regulatory requirements.
ISO 14971 — this requirement is not obligatory but plays a significant role in risk management regarding medical software and devices.
HIPAA — a set of rules that defines patients' rights to access their PHI (patient health information) and helps healthcare providers manage access to secure private medical data.
HL7 — international standards that manage and secure medical data exchange between software systems and healthcare institutions.

Industry expertise
The duration of the software development company in the market matters, but it is not the most critical thing to consider. Only the relevant experience and number of completed healthcare projects are worth your careful attention. 
That's why you should explore the websites of your potential software providers to see their past projects and testimonials. Commonly, website portfolios include all relevant information regarding the types of software, technologies, development process, engaged team, etc.
In addition, you can find the links to delivered solutions to test their functionality or get more details about their success on the market. 
Also, you should check the companies' accounts on rating-based resources like Clutch, where only genuine reviews are approved and published.
Project estimation
The project estimation depends on complexity, duration, tech stack, number of engineers, and the available budget from the client side. However, top healthcare software companies provide different estimation approaches and techniques, which result in certain interim and total costs. 
Depending on the scope of information you can send your potential software partner, you can get a rough or detailed estimate. We recommend sending as many details as possible to learn accurate numbers from multiple top healthcare IT companies and make an informed decision.
How to choose a healthcare software development company?
You will probably find many companies that will fit your needs and expectations. So, how not to go wrong? We hope the following indicators will help you decide which company for your project:
The software company builds industry-compliant software;
The engineers are proficient in the technologies required for your product completion;
The development team can be quickly scaled or narrowed as the project requirements change;
The engineers' location suits your time zone, no matter if it is in-house or outsourcing dev team;
The project estimation corresponds to your capabilities and expectations, including the possible project specifications and budget amendments;
The communication flow is precisely set and corresponds to the needs of your company/healthcare facility.
If your potential healthcare software partner corresponds to the above features, then you are on the right track to picking a decent software house. 
Top 10 questions to ask when interviewing a healthcare software vendor
The public information regarding your potential healthcare development partner will not tell you everything you should know before signing the contract. We recommend you refrain from discussing your project with hundreds of software companies.
You should narrow the list of companies to 10 top medical software companies to simplify further communication and final decision. 
Therefore, we want to share the top 10 questions you should ask the future healthcare software provider to ensure you are on the same page. 
1. What software development methodology do you follow?
There is no perfect formula for the software development approach for all software projects. Here are popular development methodologies used by software development providers: 
Agile software development — this approach entails splitting the entire project into iterations, each of which is planned, discussed, approved, implemented, and tested by users. This methodology allows engineering teams to track the progress and keep the development flexible, meaning it is available to scope changes;
Waterfall software development — this method divides the process into consistent phases, where the next phase starts only after the completion of the previous one, meaning no project changes are possible;
Feature-driven methodology — this development approach is a perfect match for large-scale project and team managed by a project manager; it helps developers to migrate from phase-based development to project iteration, however, this methodology does not provide any project documentation, building features based on current business and industry needs.
So before engaging with one of the top IT healthcare companies, you must ensure their development approaches suit you. Agile is preferable for projects where customers require constant communication and feedback from the dev team regarding the project, having the opportunity to change the project requirements.
2. How do you set up communication?
Communication is key when picking a remote healthcare development company. Half of the project's success depends on how smoothly you arrange and hold communication through the development life cycle. 
The communication approach also depends on the software development methodology. For example, Agile Scrum methodology entails planning and discussing every following action regarding the project — internally with the outsourcing dev team and externally with the client and their in-house developers.
Both parties should discuss a convenient communication plan — channels to use, frequency of meetings, deliverables, and so on. 
3. Do you have the capacity to scale the engineering team?
You may have the necessity to scale the engineering team during the development. The reasons include the extension of project scope, the need for additional help, the need for engineers with specific tech knowledge, etc. You should ensure your development partner can provide all the required resources under different conditions to avoid project delay or failure.
It is better to choose engineering companies like Lemberg Solutions, where the team has more than 200 specialists.
4. Do you provide support service after product delivery?
Product delivery is not the end of the development process. Any healthcare software requires constant maintenance and regular system upgrades to provide the declared features. There are two approaches to software maintenance you can adopt:
Proceed with cooperation with your healthcare software provider
Hire internal developers to support the product 
Both variants have their pros and cons. However, based on our experience, it is more efficient, lower priced, and quicker to keep working with the same developers who created the product than onboard new engineers.
5. How much time do you need to set up a team?
The moment you contact the software vendor for the first time to, the day when the team starts your project can take a significant amount of time. Clear deadlines will help narrow your list, as not all potential software providers are ready to set up a team quickly. But the timeline also depends on your ongoing requirements. Some teams may lack particular developers and need to hire specifically for your project. Or you may have to wait until they finish another project, and so on.
6. What types of cooperation contracts do you offer?
Basically, there are three main types of contracts with software providers:
Dedicated team — this is a defined dev team specifically for your project that commonly offers lower hourly rates than out-staff developers. It's a perfect match for durable, complex projects with a flexible budget.
Time & Materials — the total project cost cannot be predicted, especially if the scope of work changes during the development process; it fits small projects with no clearly specified requirements where you pay for actually used materials for your project and the time during which your project was completed, no more no less. 
Fixed price — an option for small projects where the time and required resources can be accurately estimated within a given budget; no scope changes are possible. This contract type is risky even for small projects, as there is a probability that the project will occur daily due to the lack of budget.
7. Can you sign an NDA?
Building medical software, developers get access to sensitive business information that must be kept private under any conditions. It means it can be shared only with authorized engineers engaged in product development after the client's approval. 
Thus, project documentation isn't shared with other software provider company employees and is used for website publications like case studies, blog articles, etc. 
You and the engineering team discuss the NDA contract, where both parties must approve and sign all conditions and security measures. Such agreements usually have fines for any engaged team member who breaks the NDA rules.
8. What does the development process look like?
You should know what to expect from the cooperation — development steps, hours or weeks each step requires, specialists engaged at each stage, and so on. 
For instance, we follow the standard Agile product development process at Lemberg Solutions, which you can see below.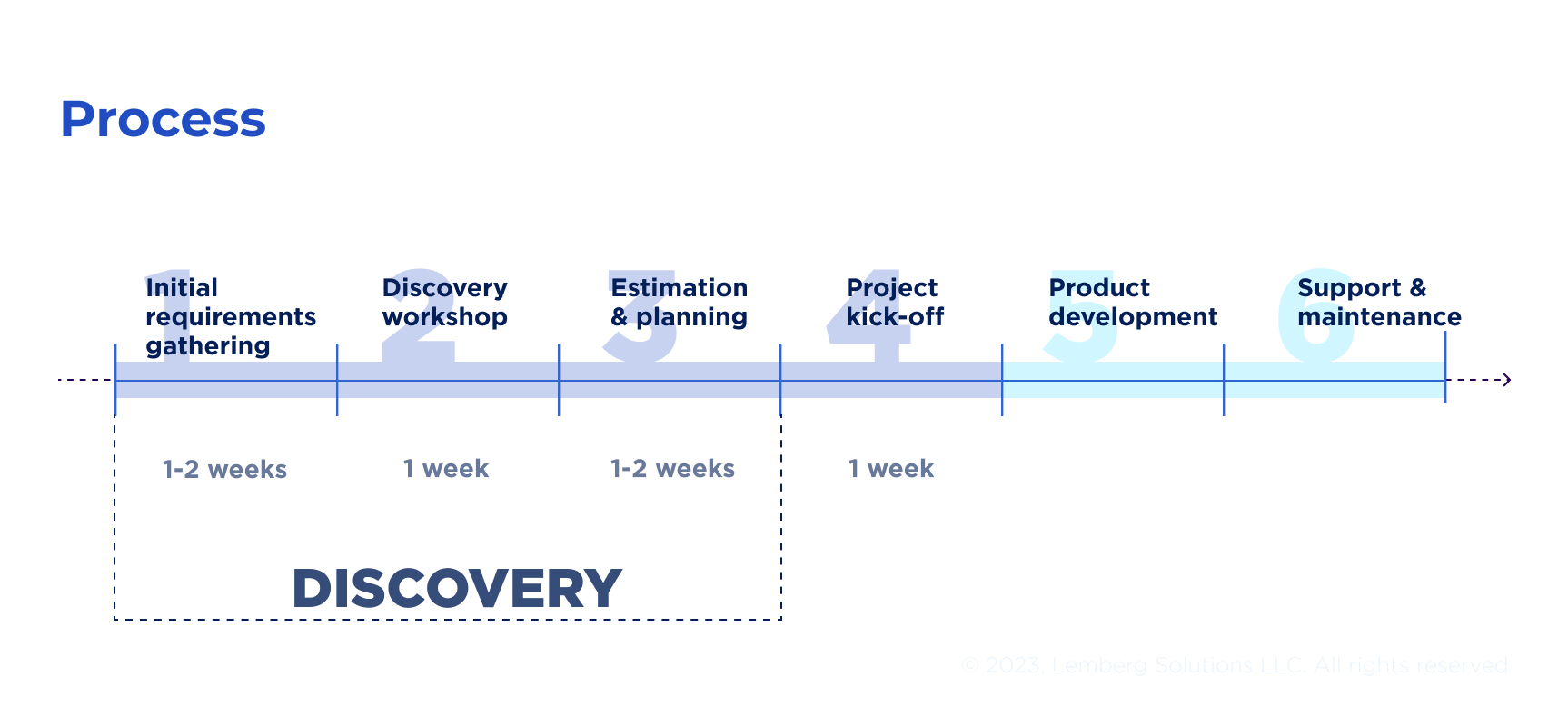 9. What healthcare industry certifications do you have?
Software companies certified in the healthcare industry, particularly in GDPR, ISO27001, MDR, and others, will show more proficiency in the industry's peculiarities. They will deliver the software product corresponding to your initial expectations and requirements. 
10. How do you manage projects?
A project manager is accountable for smooth communication between engineers and clients to discuss project updates. Also, project managers keep the project scope, timeline, and budget on track. Hiring experienced and certified project managers who will find solutions for any issues during development is essential for large projects. 
Conclusion
Selecting a credible development partner is pivotal once you've decided to build a custom healthcare solution. This decision influences the way your project will develop and the final product you will receive. 
Your choice should not be restrained by the top 10 healthcare companies above or other lists of the best medical software companies. Still, this information gives you an overall understanding of what factors to consider when looking for top companies in healthcare technology.
Have any questions regarding developing medical software for your needs? Contact our experts to discuss your ideas.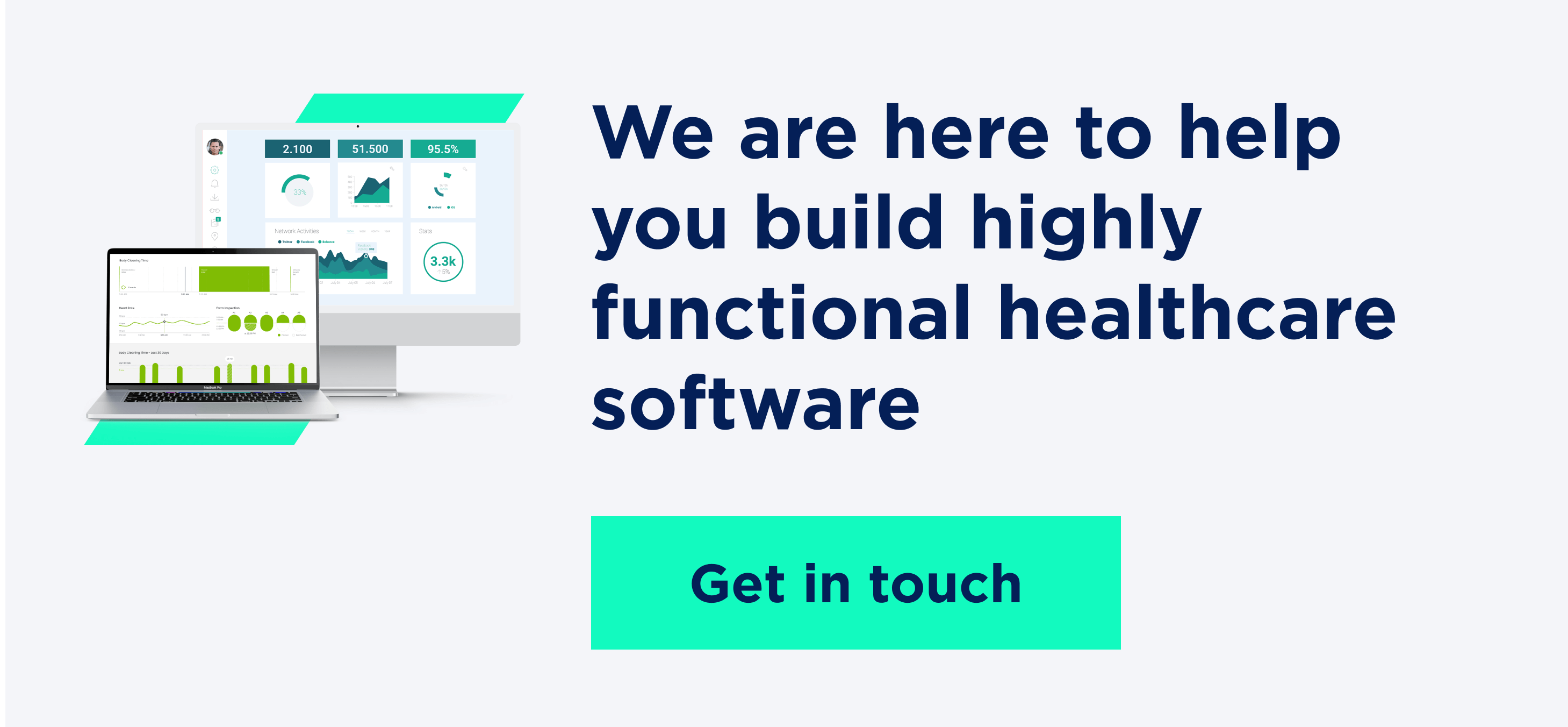 FAQ
How to choose the best healthcare IT companies?
You should do two main steps — research the tech market to find the companies with top healthcare app developers and then explore the available information about these companies. Tech stack and industry expertise are must-have indicators to take into consideration.
What are the healthcare software standards?
Healthcare software development requires particular certification from software developers, such as ISO 26262, HIPAA compliance, ISO 13485, proficiency in interoperability rules, etc. These certifications ensure the smooth integration of new solutions to your inner processes according to all industry requirements, ensuring secure medical data exchange, limited data access, secure IoT connectivity with medical devices, etc.