AAOS app development 
We develop Android Automotive apps of different types and complexity based on the Android for Cars App Library, notably Android Automotive Library and optimize to different OEMs. We follow their best engineering practices and guidelines to comply with a set of driver distraction standards and consider the variety of screen sizes and input capabilities. 
Emulator-based testing
Our engineers test Android Automotive apps on the most prioritized emulators, like Google Automotive, Harman, Cariad, TomTom, Renault AAOS, and Faurecia Aptoide, to ensure each function consistently works on specific vehicle head units. 
AAOS UI/UX design
AAOS UI/UX is the pivotal development phase to make an AAOS application intuitive and accessible for end users. We create the driver-optimized app design according to head unit requirements. Automotive UI always means many recommendations and restrictions that must be considered and implemented depending on the app type. 
In-car app porting to Android Automotive 
Lemberg Solutions developers can assist with the migration of the legacy in-car infotainment software to the Android Automotive operating system to make the user experience more innovative and simple. 
AAOS solutions we develop
Point of interest app
POI applications provide users with real-time information about the nearest stores, cafes, markets, pharmacies, and other attractions with relevant working schedules and ratings. 
IoT AAOS app
IoT apps allow users to connect and control remote devices from their cars. Users can control connected devices like opening the gates or garage door, switching home lights, or adjusting the thermostat temperature. 
Media app 
This type of Android Automotive-based application can have various functions like music, podcast, and video players, weather updates, and other features managed manually or via voice control.
Messaging app
This solution sends drivers and passengers notifications from various sources, for instance, smartphones connected to an AAOS app via Bluetooth.
Navigation app
Navigation apps use GPS and mapping data to lead drivers to specific destinations. We build such apps with an intuitive interface and integrated voice control feature to provide safe journeys. 



Let's build something great together!
Reach out to Slavic to talk about your business needs and learn more about AAOS app development at Lemberg Solutions.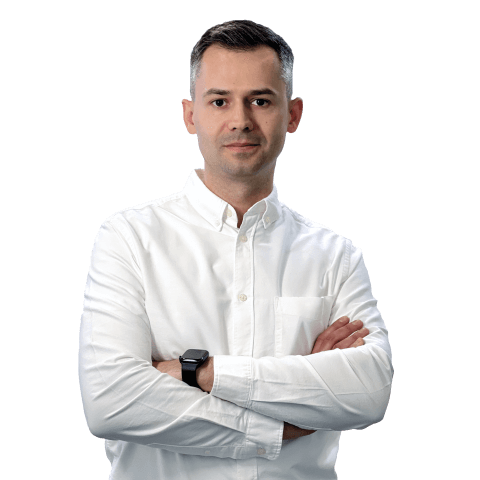 Slavic Voitovych
Head of IoT Business Development
Slavic assists our customers with successfully implementing their IoT initiatives, maximizing the value of their investments in technology.  He has guided multiple IoT projects in automotive, healthcare, consumer electronics, and energy domains.