Are you looking for a universal technology to enter the smart home market? The smart home automation standard Matter simplifies product development and increases the number of end users that can use your solution. With Matter, any smart home manufacturer can create a product that will perfectly fit into the end users' smart home ecosystem.
Dive in and discover why Matter is such a breakthrough and how it benefits home automation developers and customers in this blog post.
What is Matter?
The smart home market is growing at a rapid pace, with more and more households embracing connected devices to automate their homes. However, IoT devices usually run on different communication protocols, which considerably impedes interoperability within the smart home system.
The Matter smart home protocol was created to solve this challenge by providing a universal open-source solution for smart home devices to communicate with each other, regardless of the  manufacturer. The protocol makes it easier for users to set up their smart home system by connecting Matter-compatible devices to their network rather than engaging in a complicated setup process.
Matter enables interoperability, ensuring that different types of devices can work together seamlessly controlled from a single app. Moreover, Matter has high data security since it uses end-to-end encryption to secure communications between devices. Such unification allows to reduce time-to-market for numerous manufacturers and expands device options for end users' smart home systems.
Created by Connectivity Standards Alliance (CSA), specifically by a consortium of Google, Amazon, and Apple that pitched in the first, Matter was designed to simplify product development for home automation companies and add a more positive user experience. They launched the product in November 2022 and haven't stopped improving it since.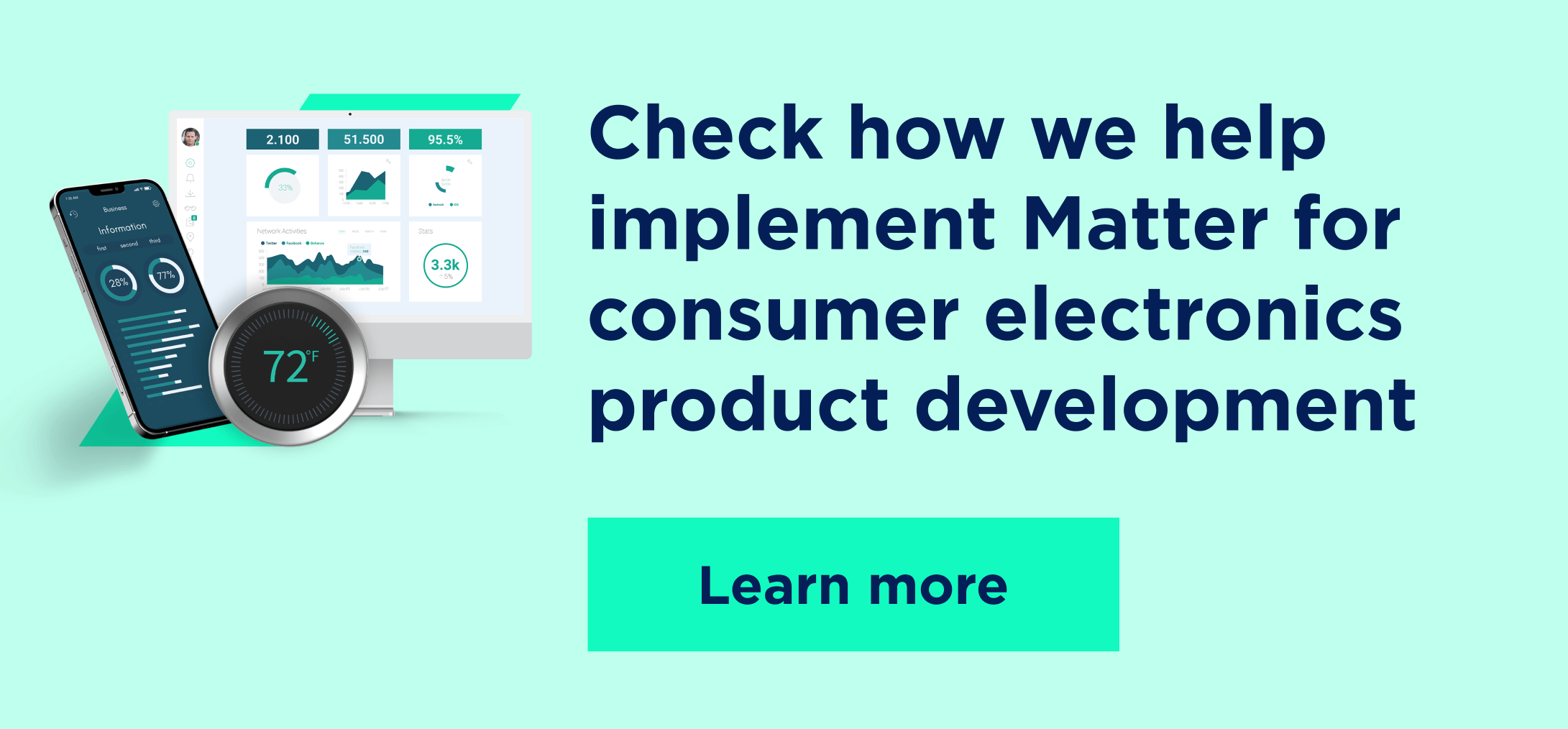 How does Matter work?
The Matter standard is an application layer for devices using wireless communication protocols. The standard is built on IPv6 and uses UDP and TCP for data transferring. Since IP is the most common network layer customers use in their homes, Matter has become the best solution for the smart home industry. The standard runs on zero trust architecture, namely advanced encryption standard (AES) 128 to protect user data from cyber-attacks, ensuring secure OTA updates for all devices in the mesh network. Matter works over Wi-Fi, Thread communication protocol, and ethernet.

Matter vs. other communication protocols
To give you a clear picture of why the smart home industry needs Matter, we will cover the peculiarities of the most popular communication protocols device manufacturers use. Let's review their main advantages and disadvantages to see why Matter may be an optimum solution for your home automation business.
Zigbee protocol
Created by the Zigbee Alliance (now known as CSA), which focused on developing standards for IoT products, the Zigbee communication protocol was based on IEEE 802.15.4 standard and established communication between devices at the 2.4GHz frequency range. Zigbee's data transmission rate at 250 kbps allows it to maintain low energy consumption, which is crucial for battery-powered devices. The distance at which Zigbee operates varies from 10 to 100 meters. However, the protocol's high-frequency range impedes it from reaching long-distance devices placed in different rooms at a user's home. The protocol runs on the AES128 security standard that ensures reliable data encryption. Before Zigbee's update to 3.0, Zigbee devices were not interoperable. Today, users can benefit from their Zigbee device network to the fullest thanks to Zigbee 3.0, which unites all Zigbee products and makes them interoperable.
Z-Wave
Operating at the 800-900MHz frequency range, Z-Wave ensures low latency when it comes to data transmission indoors. Z-Wave devices establish a strong connection, creating a steadily-working mesh network. The Z-Wave protocol transmits data at the 100 kbps rate with a maximum distance of 100 meters. Due to the low data transmission rate, the protocol offers significant energy efficiency. Similarly to Zigbee, Z-Wave follows the AES128 encryption standard. On top of that, Z-Wave has an additional security layer protecting user products from DDOS attacks.
Bluetooth Low Energy (BLE)
Bluetooth Low Energy was designed to improve the operation of IoT devices that require ultra-low power consumption since it operates at the 2.4 GHz range. BLE enables products to run for years, saving their battery capacity. BLE-empowered devices resume working in sleep mode after each data transfer session. This makes BLE the right choice for users who need a device that will operate for an extended period without the need to intervene in its work. As a part of low-power consumption, users need to note that BLE can only handle small amounts of data.
Thread
Thread communication protocol is an open-source, low-power, IPv6-based solution. Using IPv6, it allows users to connect numerous devices to their smart home system due to the IP protocol's address scalability. At the same time, IPv6 ensures automatic address assignment, meaning that users don't need to configure device communication manually. Thread's security settings only provide connection access to authorized devices. Thread's high-range coverage allows users to create small and huge mesh networks. In addition to low power consumption, Thread protocol enables communication with devices that support IPv6. Even though Thread doesn't operate via Wi-Fi, Thread border routers allow users to connect their devices to the Wi-Fi network.
Interoperability issues or what makes Matter different?
What if a user wants to set up a smart home system consisting of Zigbee and Z-Wave devices? For instance, they purchase a Zigbee smart smoke detector and a Z-Wave smart door lock, planning to connect and configure them to work together. Unfortunately, these protocols are not interoperable. The only way for them to communicate with each other is via a gateway. Such incompatibility is caused by different frequency ranges at which they operate.
Matter is a unification point for a smart home system that allows devices using different communication protocols to become interoperable. However, there is an exception for Z-Wave devices. While Zigbee has introduced Zigbee IP — an updated version of Zigbee protocol that can run on IP, Z-Wave doesn't provide such an option. This means that Zigbee IP devices can communicate with devices operating within an IP-based network since Matter is built upon IPv6. Although CSA has shared its plans to provide Matter support for Z-Wave devices in the future, there is no clear and simple way to do so. Most probably, users who want to integrate Z-Wave devices into their home automation system will use specific gateway to connect those to devices running on IP communication protocols.
What are the benefits of Matter?
The Matter smart home standard is a powerful communication protocol that can smooth things over in many ways. Here is how smart home software developers and hardware providers can benefit from Matter:
Ease of use. A  user is more likely to enjoy their smart home system if it operates with Matter. The standard unites the devices around a user's home, resulting in fewer issues with device performance. Moreover, a user won't need numerous apps to manage their home automation system. Matter allows using one app to control a user's IoT devices in just a few clicks. 
Multi-admin feature. The new smart home standard also focuses on making home automation systems convenient for families. Regardless of the family size, each member can access Matter-certified devices via the apps installed on their smartphones. This means that Matter products can be controlled from more than one app. Moreover, every user can configure which devices they need to keep connected. 
Rich product selection. Thanks to Matter users don't have to choose products with specific communication protocols to fit their smart home system. Matter enables them to opt for devices they like without worrying whether a product will be compatible with other devices in their system. They can confidently purchase an Amazon smart speaker, Google thermostat, and Apple light bulbs — the system will run smoothly. 
Cost-effective product development. Since Matter is an open-source standard, smart home product developers won't need to pay any royalties to use it. 
Faster innovation. Matter empowers the smart home market with new possibilities for development. By creating Matter-enabled products, tech companies increase the number of customers who can purchase their products for their smart home systems. This way, Matter supports small businesses that can be on par with smart home tech giants like Amazon and Apple.
As you can see, Matter is a revolutionary technology that improves user experience and boosts smart home industry growth. Tech enthusiasts designing home automation solutions can finally spread their wings and use their potential to the fullest.

What devices and platforms work with Matter?
As Matter initiators, Amazon, Google, and Apple are the three main companies supporting the standard. We will also cover the Matter products supported by Samsung, which also hopped on board the smart home revolution.
Amazon Alexa Matter support
While usually, Amazon smart home products require a separate hub to communicate, Matter allows them to connect without a hub. Matter-certified devices manufactured by Amazon include the Matter application layer that ensures users can control their smart home system seamlessly.
Users connect their devices to the Amazon Echo smart speaker, which serves as a Matter controller, and manage their home automation system with the Alexa app. Currently, Amazon Alexa supports Matter over Wi-Fi, including Echo, Echo Show, Echo Studio, Echo Plus, Echo Dot, and Echo Flex.
Google Nest and Google Home Matter support
Google Home allows users to integrate any Matter-certified device into their smart home systems. Users can control their system via a Google device that serves as a Matter hub. Besides, Google allows users to manage their devices even away from home. 
Google has upgraded certain products to ensure they can serve as Matter hubs. These include Nest Wifi Pro, Google Home, Google Home Mini,  Nest Audio, Nest Mini, Nest Hub (first and second generation), and Nest Hub Max.
Apple Home Matter support
Users can control Matter-certified Apple devices via the Home app. Presently, the products Apple supports with Matter include switches, air conditioners, blinds and shades, lights, locks, thermostats, and different types of sensors. In addition, Apple has released a developer mode for Matter supported by iOS and iPad iOS 16.
Samsung SmartThings Matter support
Samsung will use OTA updates to enable Matter support for SmartThings hubs v2 and v3 in 2023. These hubs will act as Matter controllers and Thread border routers. Users will be able to connect smart Samsung fridges, TVs, and monitors running on Matter.
CSA plans to incorporate Matter into smart washing machines and vacuum cleaners as well as cameras, smoke detectors, and air quality devices later this year. Smart home device manufacturers will have a larger playground to choose which products they can provide to their customers.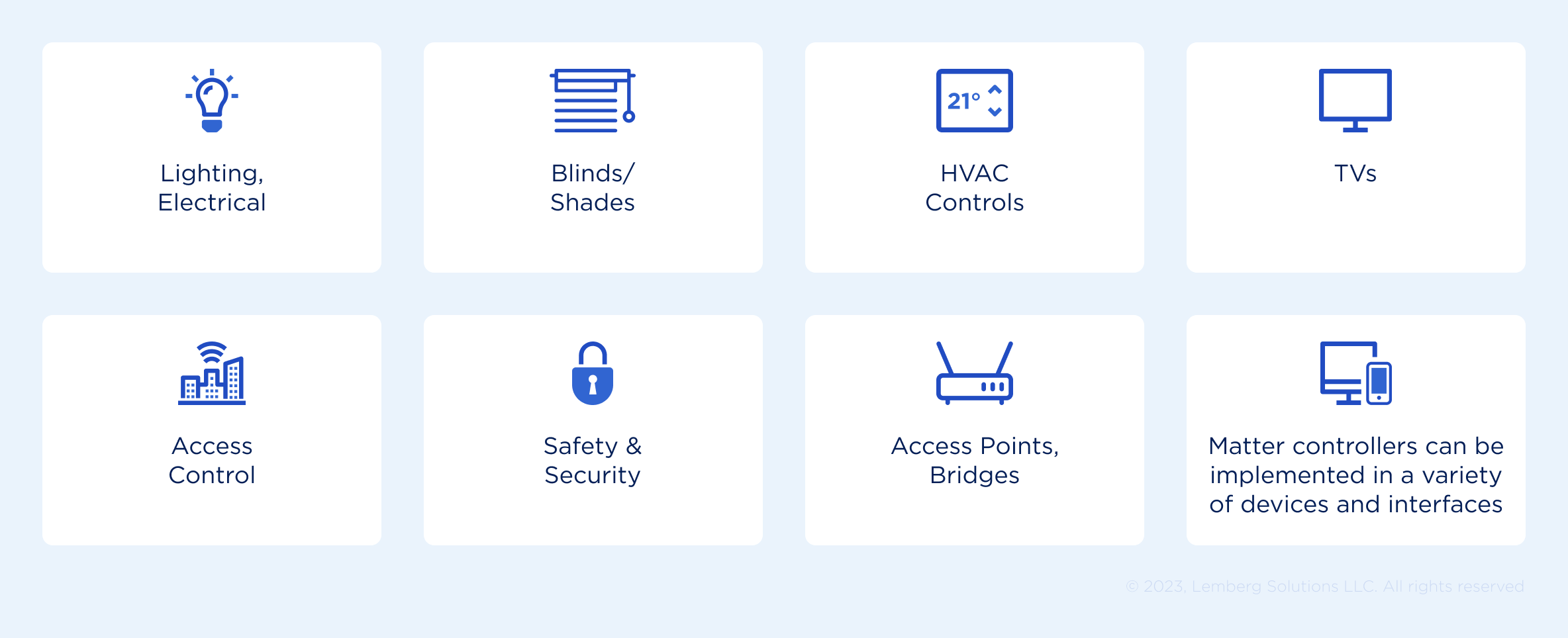 Will end users need a Matter bridge and Matter controller to set up their smart home system?
Since Matter is a fresh technology in the smart home market, there are some peculiarities of integrating it into a smart home system, using either a Matter bridge or a Matter controller. Here's the difference between the two solutions.
Matter bridge
A bridge acts as a link between Matter and non-Matter devices to enable their communication. Users can connect their existing smart home ecosystems via a Matter bridge to continue enjoying their smart products that are not compatible with Matter.
If a user's devices already operate via a bridge and are not natively compatible with products running on IP, they will need to keep using the bridge. For instance, if a user connects their Zigbee and Z-Wave devices through a SmartThings hub, they will need to wait until Samsung updates the hub to make it Matter-certified and enable the use of current devices with new Matter-enabled products.
Apple has already updated its products to support bridging to Matter, while Google, Amazon, and Samsung are still working on enabling Matter bridges for their devices. However, if a user's Wi-Fi router supports Matter and Thread, they do not require a separate Matter bridge. Currently, Google routers can work with Matter and Thread.
Matter controller
While a Matter bridge is necessary to connect devices running on non-Matter protocols, a Matter controller allows users to control a smart home system consisting of Matter devices. The controller can be integrated into smartphone or tablet software.
The controller allows users to add new Matter devices into the ecosystem, configure their use, and connect them to the Internet. While a Matter controller in a smartphone ensures that users' Matter devices run smoothly when they are at home, users need a solution that manages their home automation system when they are away. For this reason, tech companies will incorporate Matter into smart home hubs and smart speakers, which act as Matter controllers. The latest updates for iOS and Android are Matter-certified, meaning that users can control their Matter-enabled devices if they install the updates.
Note about Thread devices
Since the smart home standard Matter works over Thread, ethernet, and Wi-Fi, users don't need specific configurations to enable Matter with Thread devices. However, smart homeowners will need a Thread border router to make sure that their Thread devices can communicate. A Thread border router doesn't mean that users will need additional hardware at home. Any Thread device can act as a border router since it is a specific feature integrated into a product's software. Soon, tech giants will likely incorporate Thread into every device they manufacture since it is necessary for Matter standard support.
A Matter controller can act as a Thread border router, meaning users won't need to worry whether their devices are compatible with Matter and Thread. If their device supports Matter, it will also support Thread, and vice versa.
What does the Matter smart home standard mean for smart home product developers?
The smart home market has significant potential for growth, but competing with tech giants like Amazon is challenging. This leaves fewer opportunities for other home automation manufacturers to enter the industry. Besides, major tech companies integrate different communication protocols into their solutions, creating obstacles for new market players. Users become limited in their choice of devices, having to opt for those compatible with each other. Users also need to put more effort into analyzing which products they can include in their smart home system.
Fortunately, the CSA takes an effort to join as many communication protocols as possible with the Matter home automation standard on top. As a result, any manufacturer can now develop smart home devices and software compatible with tech giants' products. Matter solves two problems: it expands user choice and allows new brands to break into the market. End users want their devices to have the best functionality without burdening themselves with product compatibility and interoperability with the whole smart home ecosystem. Matter eliminates this challenge, enabling any smart home manufacturer to offer their solutions.

How can we help with smart home software development based on Matter?
Our embedded engineers have a broad knowledge of smart home communication protocols and their performance peculiarities. While Matter enables you to create a home automation device you've always wanted, we can help you with its implementation from the discovery phase to support and maintenance.
The Lemberg Solutions team knows how to make your product compliant with Matter IoT standards, ensuring you will pass a subsequent certification. We will take on component selection and product design that follows specifications described by the CSA. Our engineers can search for the components whose protocols and architecture already support Matter, simplifying your market entry.
In a nutshell
The Matter standard is the most sophisticated solution for the smart home industry, at least for the near future. Its ability to unify all communication protocols under one roof facilitates home automation product development for device manufacturers and provides more choices for end users' smart home systems. The standard's open-source nature allows manufacturers to save product development costs and time.
Matter IoT will enrich the market with new solutions, so seize this opportunity to enter the rapidly growing field. If you need any help during your development journey, get in touch with us.
FAQs
The Matter protocol is a unifying standard for smart home communication protocols, including Wi-Fi, Bluetooth, ZigBee, Thread, and Z-Wave. Matter enables their cooperation and ensures that smart home devices work as a single system. 
Will Matter replace ZigBee?
Matter will not replace any communication protocols since it serves to unify them. At least in the near future, all communication protocols will work for the smart home industry, with Matter in the application layer. 
What devices are Matter compliant?
All Matter-certified devices are compliant and compatible with the Matter standard. Currently, Amazon Alexa, Google Nest, Google Home, Apple Home, and Samsung SmartThings offer devices compliant with Matter.