To develop firmware and hardware solutions for the healthcare industry, businesses need to put more effort into product compliance with international standards. Medical devices require full commitment to specific safety measures introduced by governmental bodies. Among all the regulations existing worldwide, ISO 13485:2016 provides the fullest set of requirements a company needs to follow during all production stages. If you want to increase your competitive advantage, make sure that your medical product is based on ISO 13485:2016 standard.
In this article, we describe ISO 13485:2016 peculiarities and how it influences your product development. Read and learn more! We just recently got certified and want to share our expertise.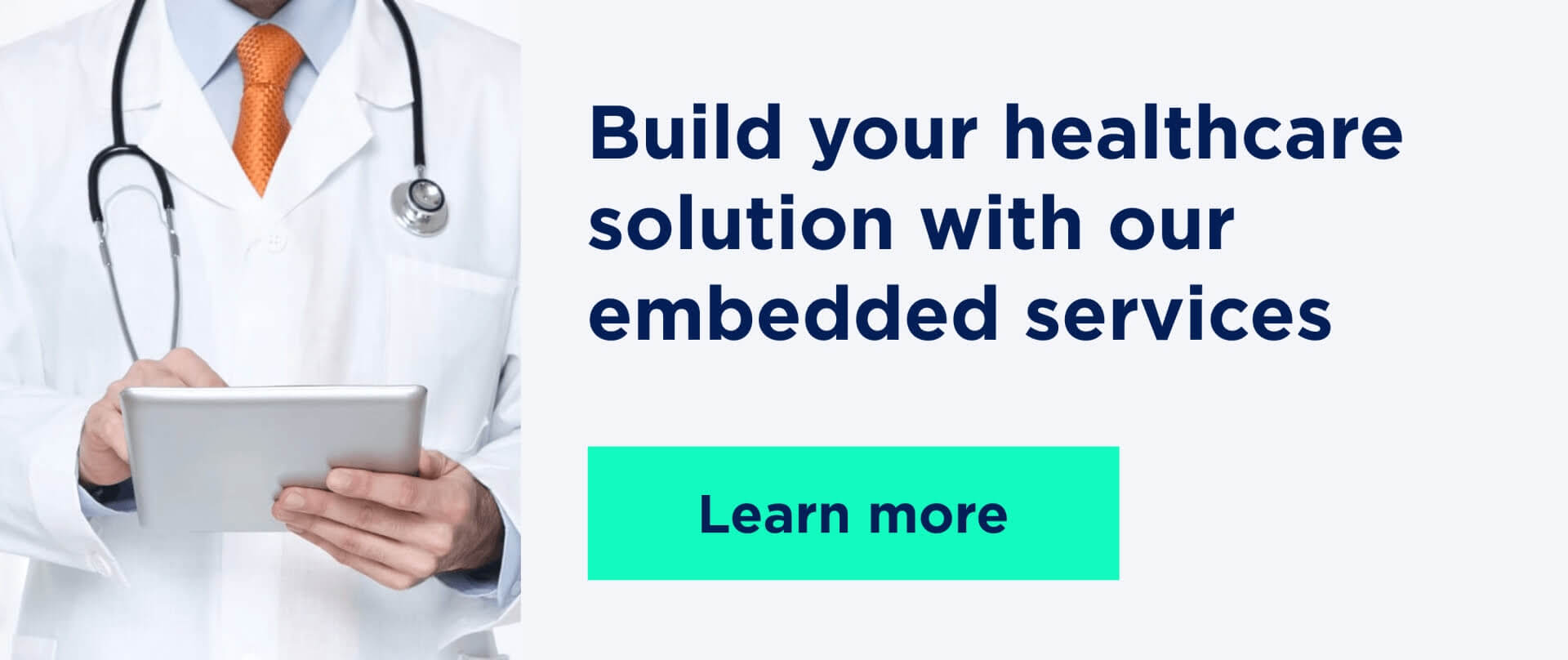 What is ISO 13485:2016 certification?
ISO 13485:2016 indicates requirements for a quality management system (QMS) for medical device manufacturers who must prove their competence in developing healthcare solutions that meet regulatory standards, ensuring product safety and quality.
ISO 13485:2016 ensures consistency in product design and development to meet user expectations while sticking to specified regulations. The certification is a guarantee that all stages of medical product realization adhere to existing standards.
To achieve ISO 13485:2016 compliance, organizations plan and regulate all processes related to product development to achieve the necessary level of safety. They also need to define and classify the products, meaning that they are obliged to be familiar with regulations applicable to their medical devices.
Who requires ISO 13485:2016 implementation?
You will require ISO 13485:2016 certification if you develop medical solutions and want to reduce time-to-market. By following the standard, you will enter the healthcare industry and put your product on the same level as other successful companies in the medical sphere. Some businesses require their tech partners to have ISO 13485:2016 certification to make sure that they comply with quality standards for medical solutions.
5 Benefits of getting your product ISO 13485:2016 compliant
Developing a medical solution without a solid knowledge of certification regulations may prevent you from entering the market. But besides the legal aspects, ISO 13485:2016 offers product developers a range of benefits listed below.
High credibility of your company

Prioritizing patient safety, the certification ensures the implementation of effective risk prevention strategies. Following ISO 13485:2016 product requirements, you minimize the possibility of reputational damage due to solution shortcomings.
 
Great competitive advantage

By meeting ISO requirements, companies striving to advance in the fast-growing healthcare industry can reach more users. Having a product development process based on ISO 13485:2016 equals matching high industry standards of quality and gaining a strong position in the market.
 
Increased customer satisfaction

In addition to enhanced safety and quality, ISO 13485:2016 focuses on customer satisfaction. From product design to software & hardware development, companies that follow ISO standard put the end-user goals first. Given that medical devices directly affect patients' well-being, a focus on customers becomes vital. Your customers must be certain that you deliver on the intended purpose. 
 
Protection against legal proceedings

Authorities are especially strict when it comes to healthcare regulations. The healthcare sphere is not about second chances, and government bodies need evidence of your complete dedication and conformity to specific standards. By incorporating ISO 13485:2016 requirements into your medical solution, you meet other regulations and fit within the medical products allowed on the market.
 
Boost your business as a medical solution manufacturer

By making a product compliant with ISO 13485:2016 specifications, you establish an enduring reputation as a company with positive healthcare manufacturing experience. You will be more likely to attract investors and run new medical solution development projects.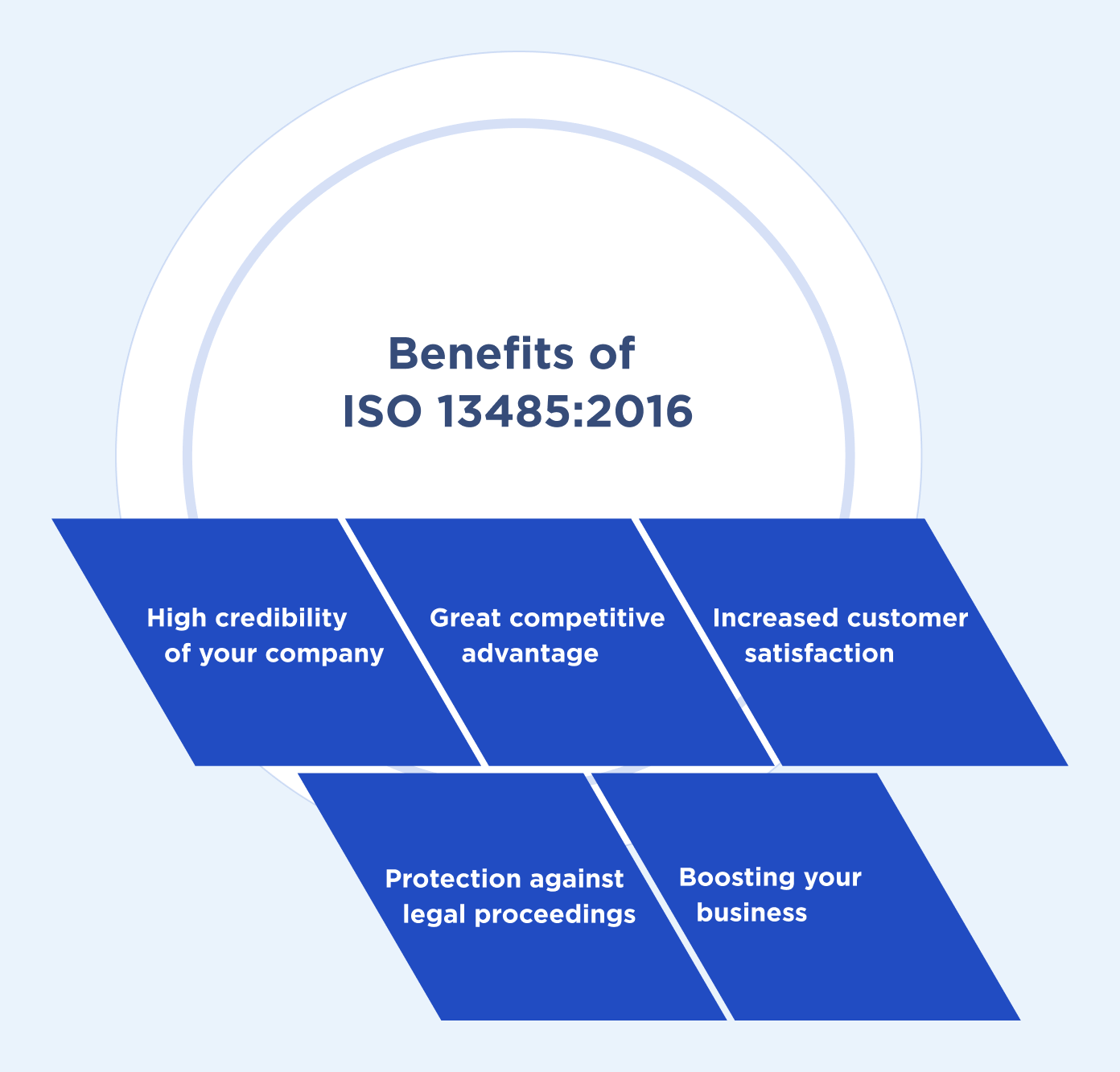 What does this mean for clients?
While developing software and hardware, your tech vendor needs to follow the requirements specified by the ISO standard. A certified vendor guarantees that your solution complies with all the rules, making it possible for you to pass medical certification. If a tech company is not familiar with medical device regulation (MDR) influencing ISO 13485:2016 standard, you will have to rework your solution, which is an expensive and time-consuming process.
Lemberg Solutions is a company that follows all the requirements indicated by ISO 13485:2016, which facilitates project flow and market entry. The certification ensures we meet regulatory requirements for medical devices and related healthcare services.
To secure your confidential information, we sign NDA agreements and follow DPA to agree on what data we can access and process. This company policy has already been covered by ISO 9001:2015 and ISO 27001:2013 certifications. On top of that, you will be constantly informed on what technical measures we use while developing your healthcare device.
ISO certification means we help you deploy your project within the required timeframe. Our practical knowledge of all the requirements enables a faster development process. The healthcare development team at Lemberg Solutions will regularly revise all the processes and implement needed changes on time.
Benefits of working with a certified tech vendor
Our compliance with ISO 13485:2016 standards proves our ability to provide a proper medical device technical file. The file includes description of the device and specification, labeling and usage instructions, design and manufacturing details, and safety & performance requirements. The file must show an exhaustive report demonstrating the full understanding of the device functionalities.
Moreover, our engineers comply with the rules applicable to digital health applications (DiGA). Such apps serve as digital assistants that are combined with a patient's main prescription. DiGA must follow BSI TR-03161 security requirements developed specifically for eHealth apps, including app purpose, 3rd party software, data security, platform-specific interactions, architecture, cryptographic implementation, assets' costs evaluation, resilience, source code, authentication, and network communication.
Lemberg Solutions' project development flow corresponds to ISO 13485:2016 specifications, ensuring you will get your medical product to the market. Get in touch with us to learn more about our certifications and develop a successful healthcare project with our help. 

FAQs
Is ISO 13485 mandatory for medical devices?
There is no official requirement for having ISO 13485:2016 certification by EU medical device regulation (MDR). However, ISO 13485:2016 harmonizes with EU MDR and is the only quality management system (QMS) standard for medical devices in the EU list of corresponding standards. That's why a majority of medical product development companies comply with ISO 13485:2016 requirements to meet the EU MDR regulations.
What is ISO 13485 certified?
"ISO 13485 certified" means a company complies with ISO 13485:2016 standard and meets its requirements, thus, receiving ISO 13485:2016 certification. ISO 13485:2016 helps to develop an effective quality management system with a focus on the safety and performance of medical devices.
How do I get ISO 13485 certified?
You can receive ISO 13485:2016 certification by complying with the requirements stated in ISO 13485:2016 standard. Note that ISO 13485:2016 certification only applies to a company or organization, so you cannot get a certification for yourself or your product. 
How long does it take to get ISO 13485 certified?
If you already have ISO 9001:2015 and ISO 27001:2013, it will take approximately four months to obtain ISO 13485:2016 certification. However, if ISO 13485:2016 certification is the first one you intend to receive, it will take about ten months since you need to wait in the registration queue, analyze your company's policies and change them, and wait for the completion of two audit stages.