Why choose us for Shopware Development Services?
End-to-end project development 
Lemberg Solutions is a Shopware development company providing a full range of development services. Our Shopware experts have diverse expertise in building ecomerce projects. Whether you're only starting your ecommerce business or already have an existing solution, we can help you reach your objectives with a sleek website.
Single point of contact  
You'll enjoy straightforward communication with Lemberg Solutions' team, as the division of responsibilities across our company is well-structured. We'll assign a dedicated contact person for your project to ensure smooth and convenient collaboration. 
15+ years of experience in ecommerce 
We have 15+ years of experience building ecommerce projects like e-learning platforms, bookstores, and home goods shops. Thus, we can deliver high-quality Shopware projects of any complexity within reasonable timeframes. 
ISO-compliant services 
ISO 9001:2015 and ISO 27001:2013 certifications ensure the quality and security of our software development services. We also gained a badge as the best company to work with from GoodFirms in 2022. 
Quick time-to-market 
We can kick off the development of your Shopware store right away and bring your platform to market quickly to make sure you stand out among competitors. There's no point in keeping your business idea in a backlog, enabling competitors to take the leading position in your niche. 
SLA & Support 
We use SLAs to help you reach business goals. SLAs will keep the workload within the agreed timeframes and optimize the communication and management processes.
 
Answers to Common Questions
What are the hiring models for Shopware development projects?
You can build your Shopware development project using one of our three hiring models: tech advisory, development from scratch, and team extension. 
If you already have a Shopware website for your ecommerce business and want expert advice concerning its further development, you can choose tech advisory. You'll get our advice on optimal solutions and tech stack you could use to reach your business goals.  
If you're only beginning to build your ecommerce business and don't have a website yet, you can opt for development from scratch. Our end-to-end development services cover each stage from discovery up to product release. We also run testing to secure your software against malfunctions at each development stage. 
Another hiring option is team extension. This collaboration scenario lets you add our dedicated Shopware developers to your team. The local tech talent pool keeps growing and has already hit a whopping 200K number, meaning you can hire software engineers with any specialization and experience based on your needs.
Why choose Shopware as an ecommerce development platform?
Shopware is a future-proof ecommerce platform with an extended number of functionalities to promote your online business growth. You can implement multiple payment options, currency support, tax calculation, and safe transactions. 
More reasons why you should choose Shopware: 
It's a customizable and extensible ecommerce platform 
API first and headless platform, which enables simplified integration and extends design opportunities 
A large global community with integration partners 
Shopware is suitable for any ecommerce business model
Shopware is an open-source platform, which means you can scale your business quickly and benefit from faster time to market
Shopware is an omnichannel platform, meaning you can target customers at versatile levels by introducing apps, pop-up stores, and voice assistance searches.
How much time and cost does building a Shopware ecommerce portal take?
Shopware development project delivery timeframes depend on the complexity of your requirements. If you're looking to develop a simple Shopware website with less than 50 SKUs, it might take up to two months. Development of a complex Shopware solution with multiple integrations and hundreds of SKUs may take over six months. 
The price of an ecommerce project depends on your requirements and the type of collaboration you choose. Hiring freelance Shopware developers is cheaper yet less reliable than collaborating with an established Shopware development agency. If you're looking to build a Shopware website for your ecommerce business and still hesitate about where to start, simply drop us a line, and our experts will get back to you shortly with all answers to your questions.
Let's build something great together!
Reach out to Mykhailo to discuss your business needs and learn more about our Shopware development services.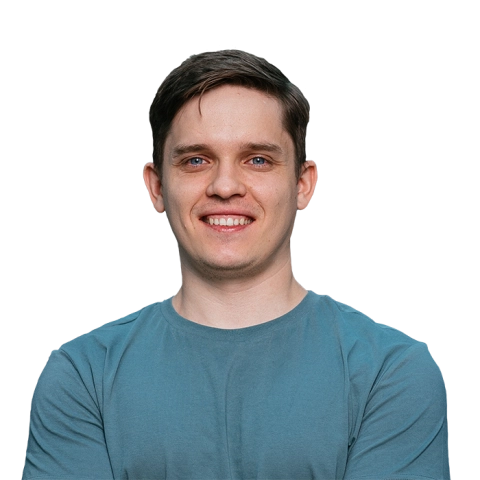 Mykhailo Gurei
Ecommerce Solutions Architect
Mykhailo oversees ecommerce solutions development at Lemberg Solutions.