Now that we are back from fabulous Las Vegas show of the year - #CES2018 - we can take a moment to reflect on what this event was all about. Of course it was about the most recent technology, but let's see what was actually hot. Our focus was mainly on automotive, robotics, smart home, pet trackers, and other impressive consumer electronics.
Voice Assistants: Google wants it all
Right from the beginning we realized that voice assistants will be the dominating subject. Google has never got as much exposure as it was getting here at CES Las Vegas and also earlier at MWC Barcelona event. The reason is that Google started feeling uncomfortable as many smart products fueled by Alexa started propelling Amazon's business. And here at CES the Hey Google ads were all over Vegas and inside CES, not only on Google's booth, but also on a big number of startup booths to showcase how Google Assistant can help you get more out of a particular hardware product. For example, a popular Tile beacon that can help you find your tagged belongings. You could ask Google Assistant to find your keys with a Tile on it, pretty much the same use case with  a lost backpack, ask Google Assistant and it will tell you the last coordinates of your lost backpack.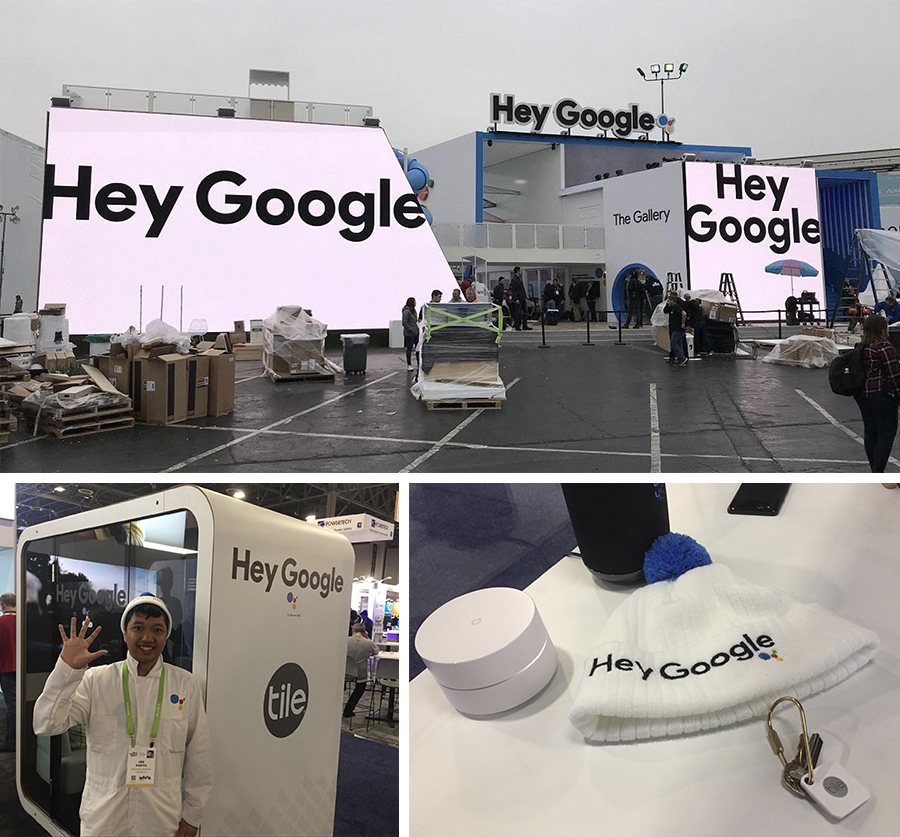 Google took even a bigger step forward and partnered up with hardware manufacturers like JBL, Lenovo, LG and Sony to build "smart displays" powered by Google Assistant in a war against Amazon. This company really wants to have their powerful AI bot in all of your gadgets.
Automotive and future mobility experiences
Of course the voice assistants battle is pretty hot in automotive business too. This time Daimler has announced something even more interesting - MBUX smart multimedia system and own in-car voice activated assistant. On the hardware side it's powered by Nvidia chips and your infotainment UX feels really smooth, just like an iPhone experience. Finally your infotainment system will be not just OK in terms of usability, you are gonna love it! And from now on you can also talk to your car by saying "Hey Mercedes". It will read natural commands like "I'm cold" and initiate your preferred climate control settings.

We couldn't stand but noticed that some startups are showing how you can develop your own voice assistant that can fit each and every car, even if it's an older make you are driving, not a brand new electric vehicle with all the bells and whistles. Meet Chris by German Autolabs - your digital co-driver with voice and gesture control technology, alongside artificial intelligence (AI). The combination of an interoperable, scalable software platform for cognitive assistance with a retrofit hardware device democratizes the latest connected car technology - making it accessible to everyone.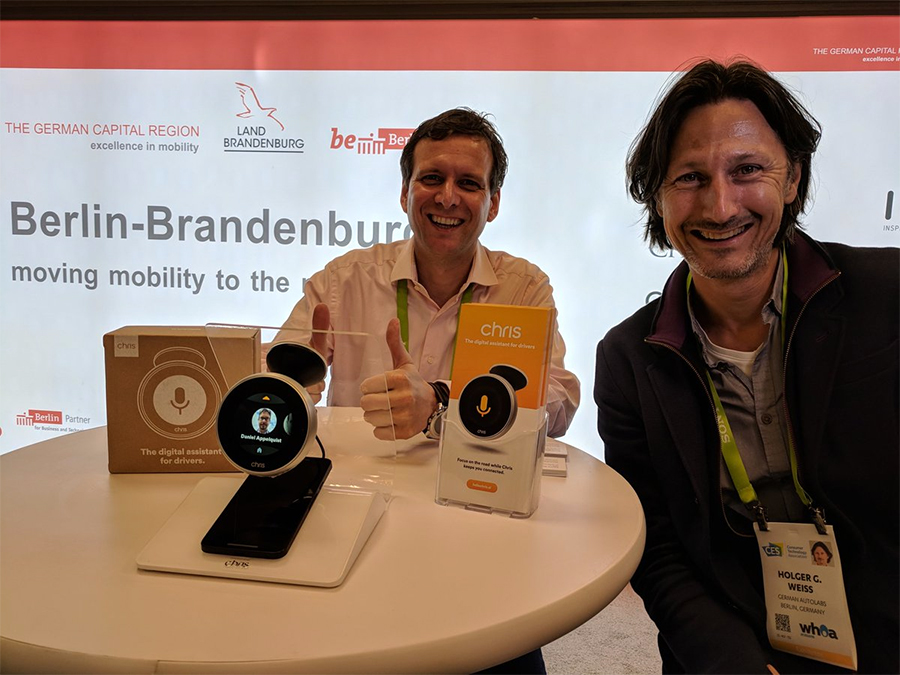 A lot of hype was created by the newly introduced Byton concept car - an all-electric SUV with a driver tablet on the steering wheel and abnormally big display on the dashboard, it's just super big! The front seats rotate 12 degrees to give those in the back a better view on the big screen. This is just a cinema on the wheels. The company calls its interior a Digital Lounge - well it really is what they say. They've also got Alexa inside, gesture recognition, facial recognition, Level 3 autonomous drive right from production, it's 5G-ready, and even reads your body data to give you useful healthcare insights.

We have checked out Nissan's electric IMx concept car. Its aggressive styling and visual appeal  would make you say Whoa! Definitely an attractive car with stunning interior and ability to engage Nissan's self-driving ProPILOT system. Nissan is also working to bring a smart assistant into the car, but they don't disclose which partners they will work with. But the idea is to have a smart assistant follow the driver even outside the car. This is a concept car but it represents Nissan's general direction towards "Intelligent Mobility".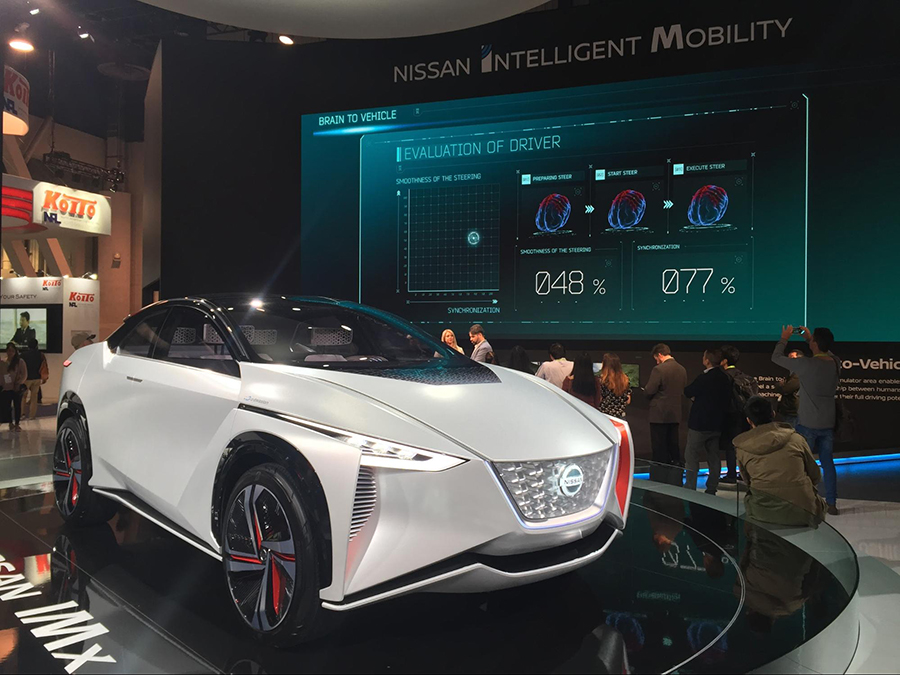 Toyota has introduced its e-Pallete - a self-driving minibus that can give you a ride or can be used for retail deliveries. The most peculiar thing was that e-Pallete is more of a platform than just a hardware product. Akio Toyoda, the company's president, said that cars will become extensions of our phones and computers, it's all about the platform not hardware or software. That's why companies which keep him up at night are not Ford, Nissan, or Daimler… it's Google, Apple and Facebook.

Another amazing company called Navya showcased its 100% autonomous, driverless and electric transport solutions for the first and last mile. They have deployed 60 vehicles worldwide and their typical car is just full of sensors - 6 cameras,  4 odometers, 10 LIDARs, 2 GNSS antennas, 4 radars, 1 IMU, V2X, 4G. There is no steering wheel, no pedals, nobody can drive it so it's completely self-driving. During a demo we have been reassured that it can drive even in heavy rain conditions. Haven't got a robo-taxi in your city yet? Be sure to get one soon.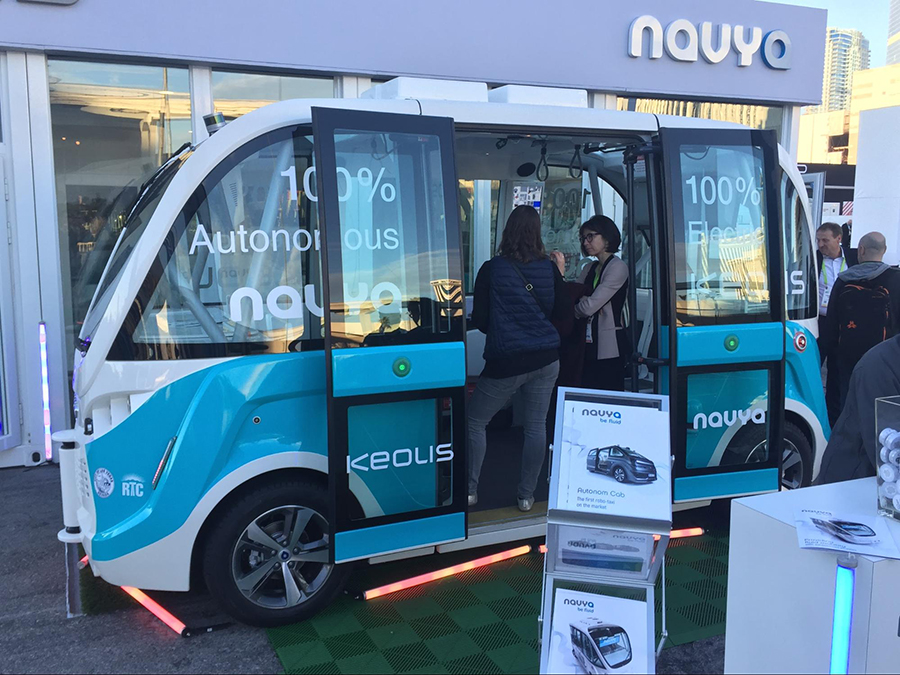 Motoroid from Yamaha looked like a futuristic motorcycle from a movie. It has very cool features like auto-balance, facial and gesture recognition based on artificial intelligence (AI). The wings on the back are a special way to support the rider's back at high speeds and also connect with the bike through haptic feedback.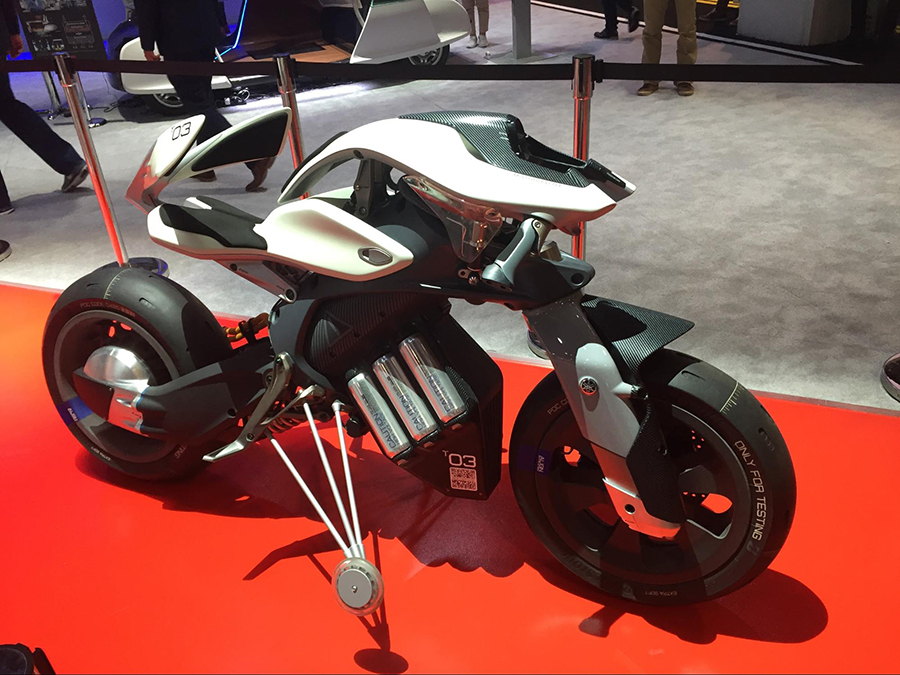 Robots for your home, pets and sleep
We were impressed with a cute family robot called Buddy by Blue Frogs Robotics. With all the features that Buddy has to offer it can very well become a valuable member of your household. Buddy can inform you of personal important events, wake you up in the morning, control your smart home via voice commands, send and respond to messages or calls, it will also watch over your home while you are away, and so much more.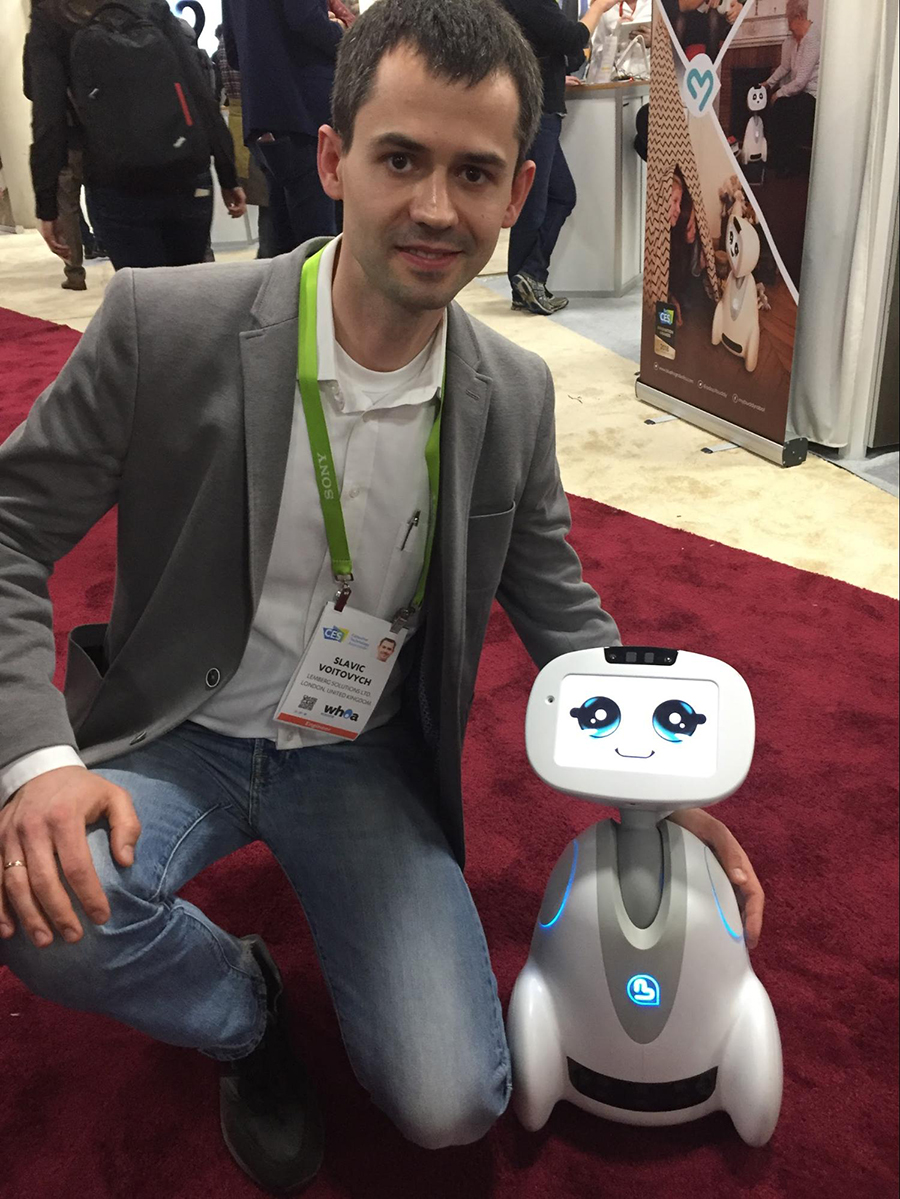 Pet tracking devices by Jagger & Lewis do not actually track just the activity of your animal, but they rather track your pet's emotions and behaviors. This is pretty unique and can help pet owners be closer emotionally to their beloved animals.
Laïka is an interactive companion for you & your dog. This robot can either work autonomously and engage with you pet and also reward it. Or you can control it via your smartphone remotely and don't let your dog feel lonely when you are not home. Great way to stay connected with your pet and keep your dog away from chewing the furniture in your house.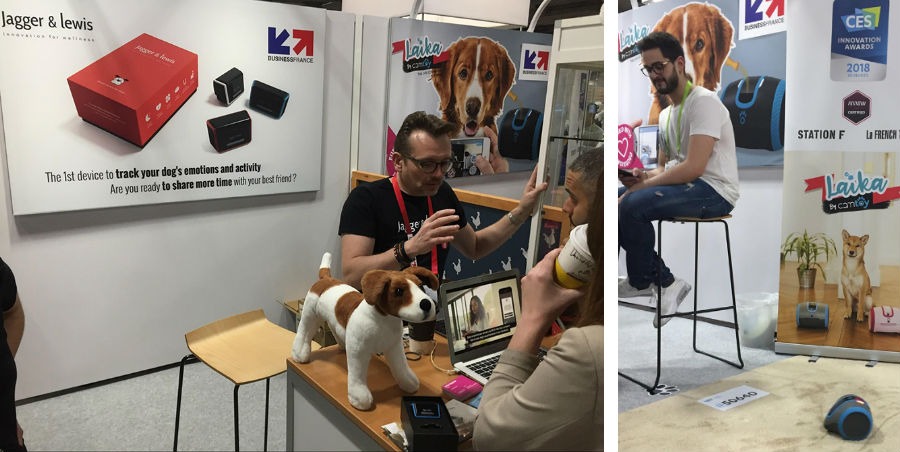 Somnox is building a sleep robot you have never experienced before. It's truly cute and leaves a special feeling about it once you try it yourself. We got a little addicted actually while testing it and just had a feeling we want this experience again. Once you hold it tight to your chest it starts moving its middle part almost like it's breathing and could also give you a nice sound of a heartbeat to calm you down just before you fall asleep. So it feels like holding a little animal to yourself that would give you a positive and relaxing emotion.
Nokia introduced its health product called Nokia Sleep. Basically it's a Wi-Fi connected mattress pad that tracks your sleep patterns, or even snoring, if you do that kind of thing. It integrates with IFTTT so you can do amazing things with it. For example, based on your sleeping pattern the system can dim your smart lights or completely shut them off before you fall asleep. Another use case is you could automatically lower the temperature in your house when you fall asleep to keep your body healthier at night.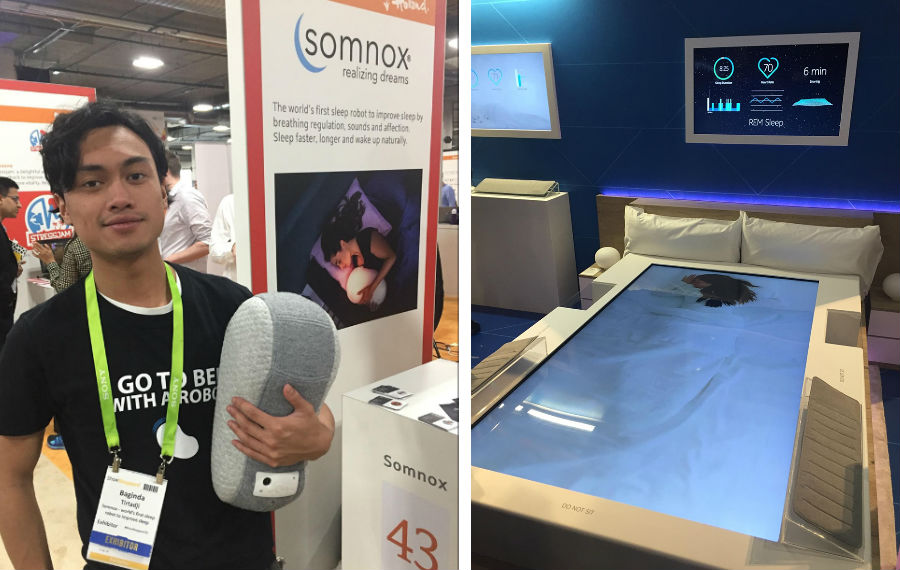 BioTech
Something that attracted our attention was an innovative Swiss product called BioWatch. This is a biometric sensor built into your wristwatch buckle that can scan the unique pattern of your wrist veins. This is how it will know that it's you. And from there you can do whatever you want: access doors, pay for your groceries, access your car, and much more. Nobody can get advantage of it because it works only on your wrist. We look forward to seeing this technology widely used in masses.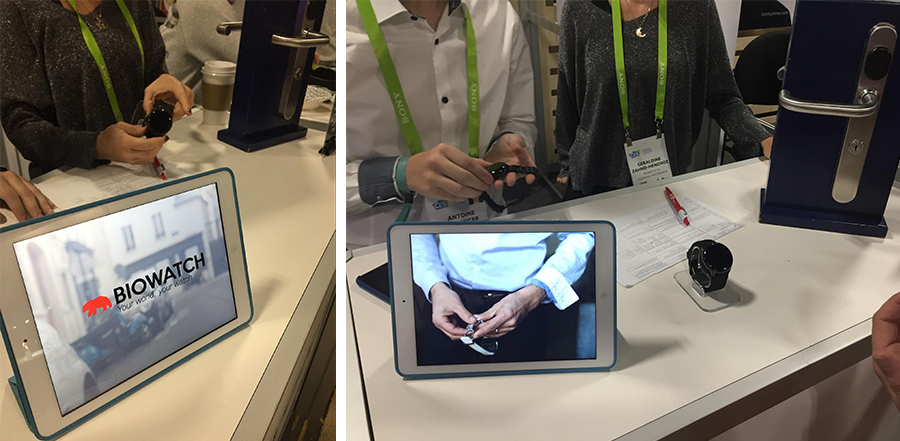 All in all CES2018 went pretty well. Undoubtedly artificial intelligence (AI) is the focal point because it powers today's and tomorrow's technology: smart homes, connected cars, all of the Internet of Things (IoT). We saw a lot of new and old "smart" gadgets here, but it remains clear that software will define how cool & smart your product may be, to make the user say and feel the Whoa! effect. And if you are like me and failed to take the overbooked autonomous-driving Lyft this year, there is always next year!
Feel free to share your feedback below. Drop us some notes about what impressed you at CES2018?