CEBIT is one the largest tech fairs which is held annually in Hanover, Germany. CEBIT has a long history that goes back to 1970 and until now when they also organize trade shows outside Germany in Asia, Australia, India, USA, etc. CEBIT conferences are designed to provide a 360° view on the digital industry's four core markets: IT, Telecommunications, Digital Media and Consumer Electronics. 
What was CEBIT like in 2018? When we spoke with exhibitors, a lot of them shared that CEBIT was downgrading in recent years as the show became less and less popular. This year Deutsche Messe (the organizer) realized they need to make it fun and attract more people. And they really did a lot to fill the event with fun, excitement and new experiences! Consider for yourself: SAP has installed a 60-meters Ferris wheel open to anyone to get a bird eye view and some festive emotions — a completely new exhibition concept; IBM used a huge lift and was taking visitors literally up in the clouds to explain the power of modern cloud technology; Intel installed a surfing area when you could basically hop on a surfing board and catch a real wave, if you prefer to stay dry — just try Intel's VR surfing experience; and the drone light show from Intel, sending 300 drones up into the sky with 4 million LED color combinations was really impressive. These are just a few examples. The whole open-air space, called d!campus, was literally infused with cool attractions, street food, live music on stage, DJ line-ups and more.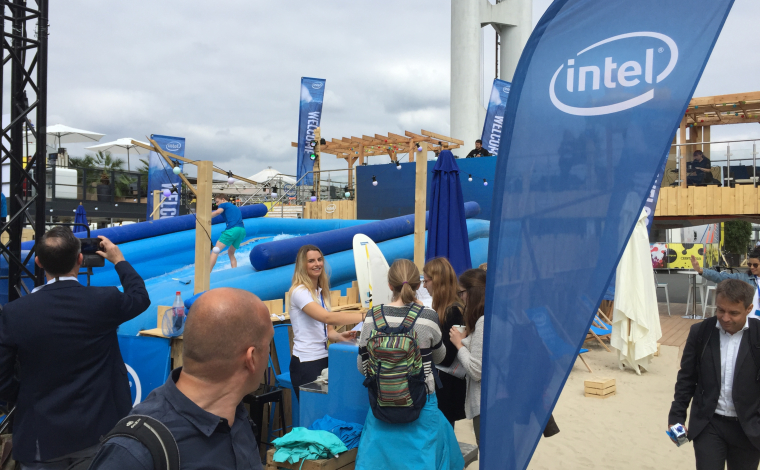 What was happening inside the halls? It was definitely more calm and not so festive as outside. But maybe even more exciting! For example, Volkswagen showed the fair visitors how the future of mobility might look like. First of all it's a world premiere of its "Sedric Active" robot car. Secondly it's the proof of concept of IOTA protocol — a future mobility protocol which will help ensure secure data transfer, like over-the-air (OTA) firmware updates for cars using Tangle — distributed ledger technology, more widely known as blockchain. Another demo was showing how Volkswagen AI team is applying deep learning to Ducati bike riders while riding on track to help them calibrate the bikes before the race begins. This same technology is planned to be used inside Volkswagen cars to track driver behaviour and use AI power to assist the driver in various situations. Quantum computing is also one of the things that Volkswagen has big hopes for and the future outlook that the company gave us is what they call "Quantum Machine Learning".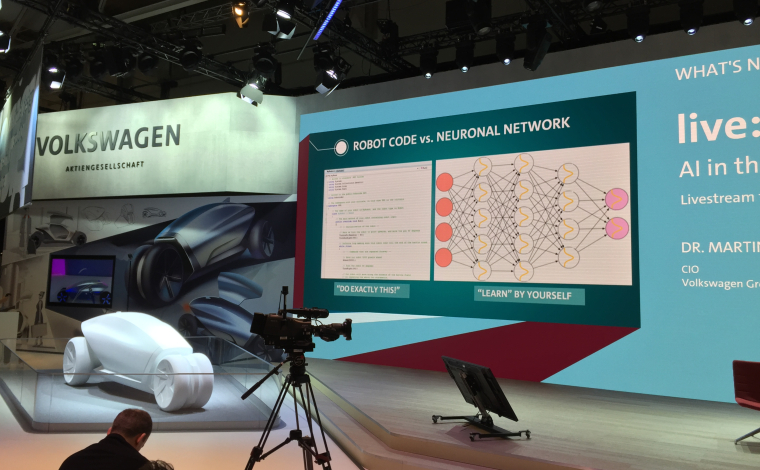 Internet of things is definitely one of the hot topics. We are all looking forward to experiencing the new 5G technology which is expected to be 20 times faster than existing 4G connection. This will make real-time data communication possible in the era of billions of connected devices. Vodafone stand was showcasing several practical examples of how 5G technology will be implemented in real life. Like connected Unu e-scooters which would have many useful software features like scooter sharing, digital key transfer, etc. Robots can learn from each other and still be connected even though they are hundreds of kilometers apart. Philips showcased a connected defibrillator that could tell you remotely if the battery was running low and you need to replace it for instance. It's definite that future Internet of things will also include predictive maintenance and various smart city projects which were discussed during this CEBIT show.
Future mobility innovations were also presented by Intel. Their Velocopter is the first drone taxi which has already got certification for manned flights. Deutsche Bahn unveiled the regional train of the future, it boasts some cool multimedia passenger services. Innovative electric mobility ideas were on display at the e.Go and IONITY stands, with an autonomous electric bus and an electric car of the future connected via a mobile app.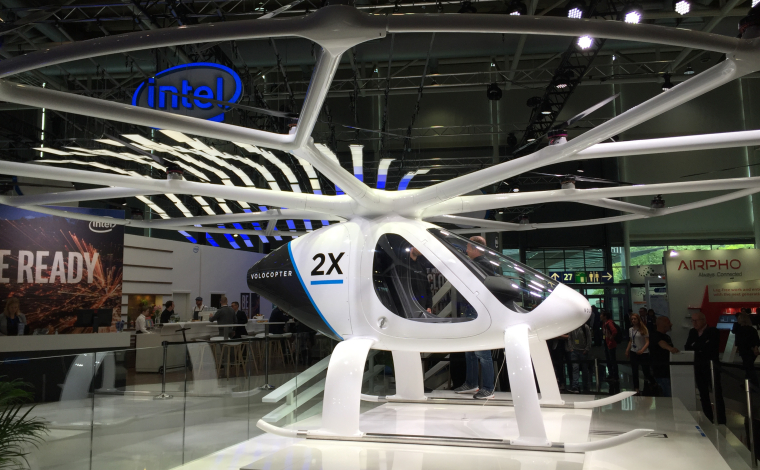 Robots are also part of near future and this fact becomes obvious at the CEBIT show too. Softbank is looking to deploy its Pepper robots into every industry and have their cute humanoids everywhere possible. A prominent talk by Marc Raibert, CEO Boston Dynamics, has attracted a lot of attention. Marc explained the incredible opportunities now available with a dog-robot his company is developing to run operations on tough terrain. 
Many companies keep looking into virtual assistants and chatbots and explore different use cases that can help improve and boost their businesses. It's not just about Alexa or Google Assistant, it's also many custom-made bots for specific B2B operations. For instance, Volkswagen's Procurement Bot is expected to automate sourcing transactions, price validation and even digital price negotiation. This becomes possible with the help of core technologies: Neural Language Processing (NLP), Robot Process Automation (RPA) and a neural network for continuous learning.
We are happy to be part of this years CEBIT and appreciate all the fun experiences associated with this event. It's a true festival for business people who are keen about technology and what it would look like in the near future.