The highly anticipated Embedded World 2023 conference has rounded off, and we are excited to share the buzzworthy topics discussed by tech-savvy companies at the exhibition.
Don't miss out on the current trends and dive in to learn more about technology gaining momentum in the present day.
About Embedded World 2023
On March 14 - 16, our Head of IoT Business Development Slavic Voitovych and Head of Marketing Liliia Demchenko demoed Lemberg Solutions embedded systems, met up with other tech enthusiasts, and gained new insights about the future of embedded development at Embedded World 2023. 
The conference revolved around adding business and customer value to embedded systems development. Everybody was excited to showcase their embedded solutions and share their expertise. However, the community leaned towards certain topics the most, viewing these tech trends as the most impactful in the future. Read further to learn more!
5 Embedded World 2023 Trends to Consider Following
In this article, our experts gathered the most promising and hot trends of 2023 that define the course of technological development for businesses and tech companies. We will discuss embedded development services, including AI development, cross-platform solutions for GUI, security for embedded systems, open-source software, and a smart home industry breakthrough.
1. AI development: predictive maintenance, embedded vision
Troubleshooting machinery malfunction takes a lot of valuable time and may result in financial losses. That's why more enterprises invest in machine learning (ML) to prevent downtime and save the costs spent on fixing the system. Such a demand makes data science engineers contribute most of their efforts to predictive maintenance solutions. ML models reshape the industrial processes and make product manufacturing more stable, efficient, and predictable.
At Embedded World 2023, the attention to real-time ML error detection was huge. Tech enthusiasts discussed how predictive analytics integrated into the IoT real-time monitoring system prevents cost and time losses at industrial facilities. Lemberg Solutions didn't stand aside from this trend and prepared our predictive maintenance prototype we delivered for one of our clients — an AI-based ultrasonic device for rolling bearing condition monitoring. This technology, based on the ultrasonic solution, identifies whether a rolling bearing works properly or needs replacement. This way, industrial site workers can substitute the rolling bearing that will wear out soon and prevent downtime.
The EW conference also covered state-of-the-art embedded vision systems and their wide use for many industries, including retail, automotive, healthcare, and smart home. However, our embedded team decided to expand embedded vision applications and developed an embedded vision prototype for livestock weight monitoring. We demonstrated our innovation for the agritech industry at the exhibition, where our booth visitors could try it out.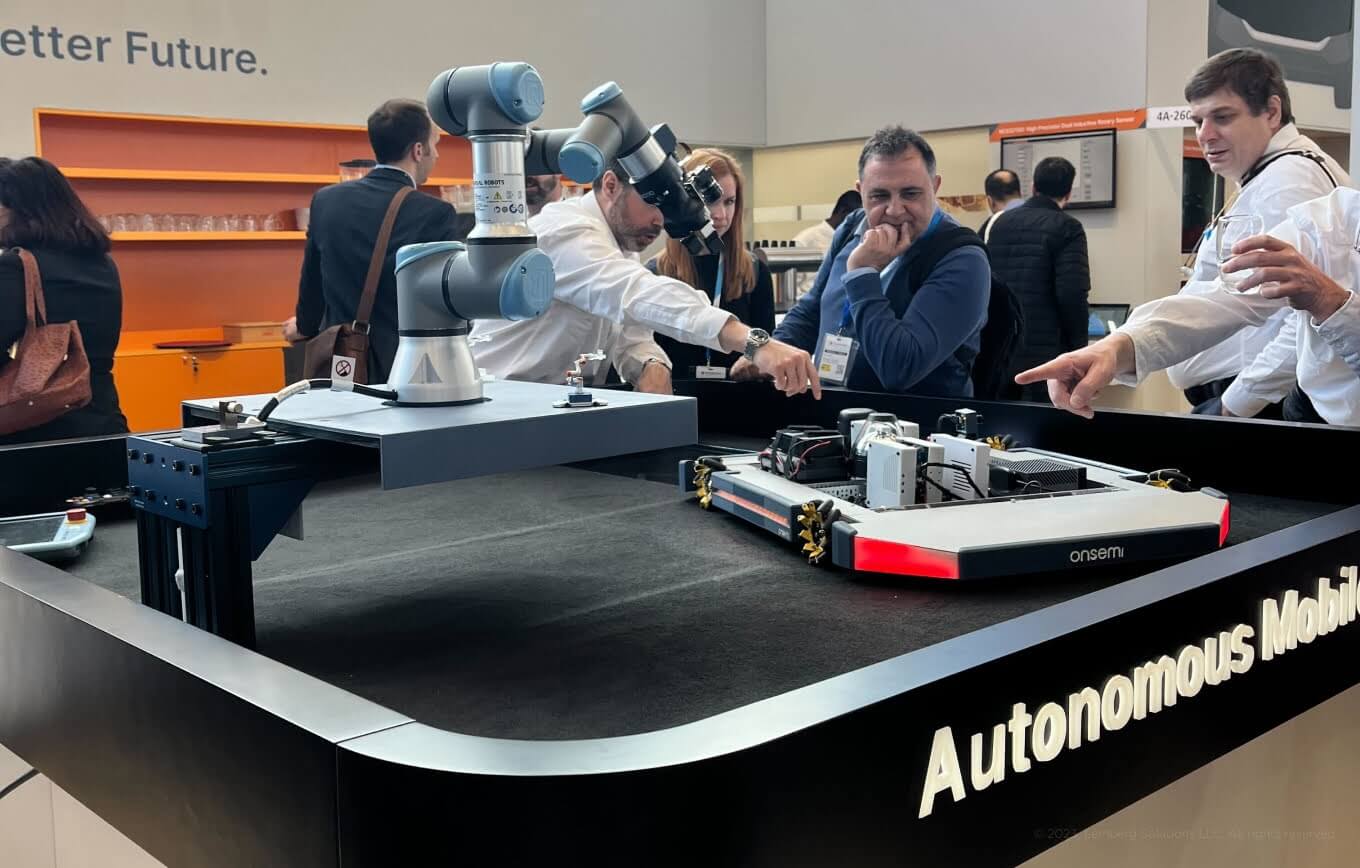 2. GUI development with cross-platform software
To make an embedded system much more intuitive, embedded engineers need well-designed graphical user interfaces (GUIs). The complexity of devices grows, and while adding more functions, product developers need to provide clear-cut dashboards to ensure positive user experience.
Besides, the tech community turns to more cost and time-effective cross-platform solutions. Why develop separate GUIs for each platform if you can make one for all — Linux, Windows, and FreeRTOS? At Embedded World 2023, exhibitors demonstrated their proficiency in cross-platform GUI development and showcased high-profile embedded systems with easy-to-use dashboard designs.
At Lemberg Solutions, our developers use Flutter and Qt technologies for cross-platform solutions. With Flutter, we create clean custom UIs that simplify the use of our clients' embedded products. Qt libraries enable faster development of embedded UIs and shorten the time to market for our clients. For instance, we helped a bioconvergence company that manufactures 3D printers with Qt and Flutter development.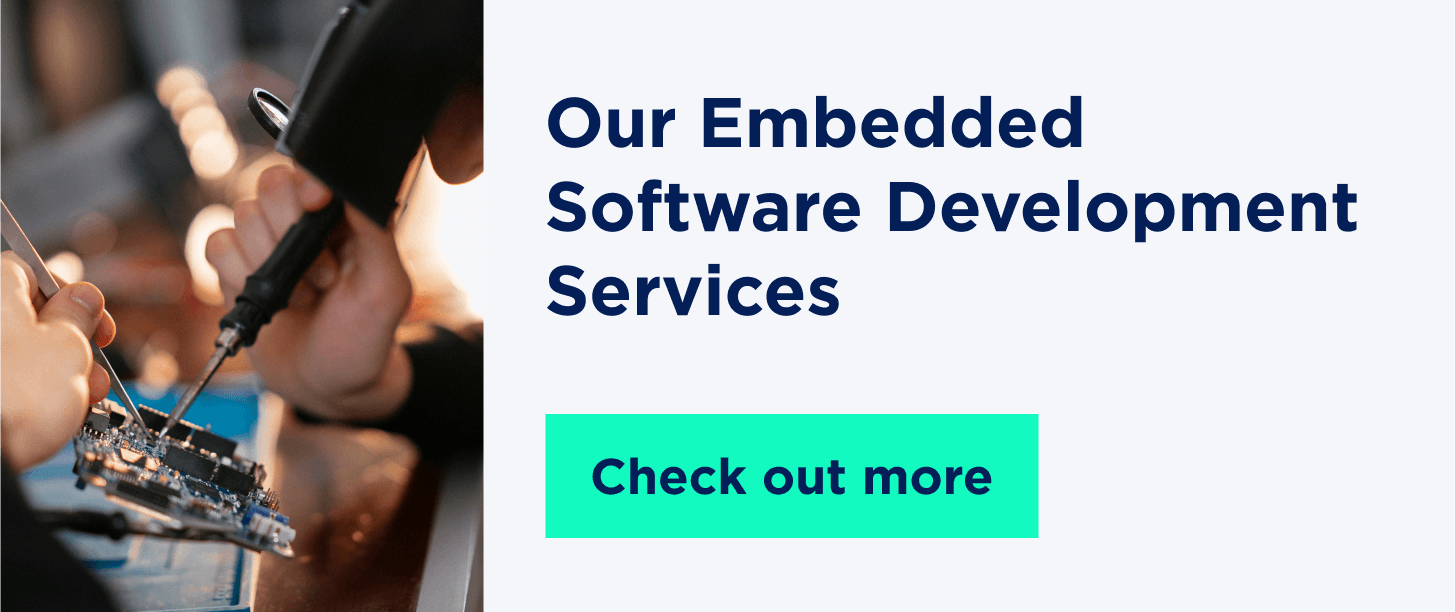 3. Secure embedded development
The number of IoT development devices continues to grow, and it becomes increasingly important to take strict security measures. Otherwise, these devices become vulnerable to a wide range of software attacks.
The new trend is that hardware manufacturers achieve product security by integrating the root of trust and RISC-V ISA. Let's take a look at these and find out why they became sought-after by embedded engineers and manufacturers.
A root of trust (RoT) is a built-in security layer in modern microcontrollers and CPUs that protects IoT devices from remote software attacks. The RoT enables cryptography, trusted boot, and secure storage. These security precautions are essential for IoT system developers and cloud service providers. The RoT allows you to maintain data confidentiality by securing it on the hardware level and using software isolation to avoid software hacking.
Another way to secure your device, RISC-V instruction set architecture (ISA), has been climbing the charts and gaining popularity among embedded developers. RISC-V is an open-source architecture suitable for MCUs and it can be used across all domains and industries. Its flexibility and development process acceleration attract engineers from multiple fields. A large bonus is that RISC-V is compatible with AI-powered devices and works in low-power modes, providing security to your products.
In terms of IoT development, root of trust and RISC-V are paramount when it comes to over- the-air (OTA) updates. Security measures built in an MCU ensure secure OTA updates. Our company cares about the security of our clients' products, from component selection to our quality management system. To prove our dedication to data and development process safety, we received ISO 9001:2015 and ISO 27001:2013 Certifications.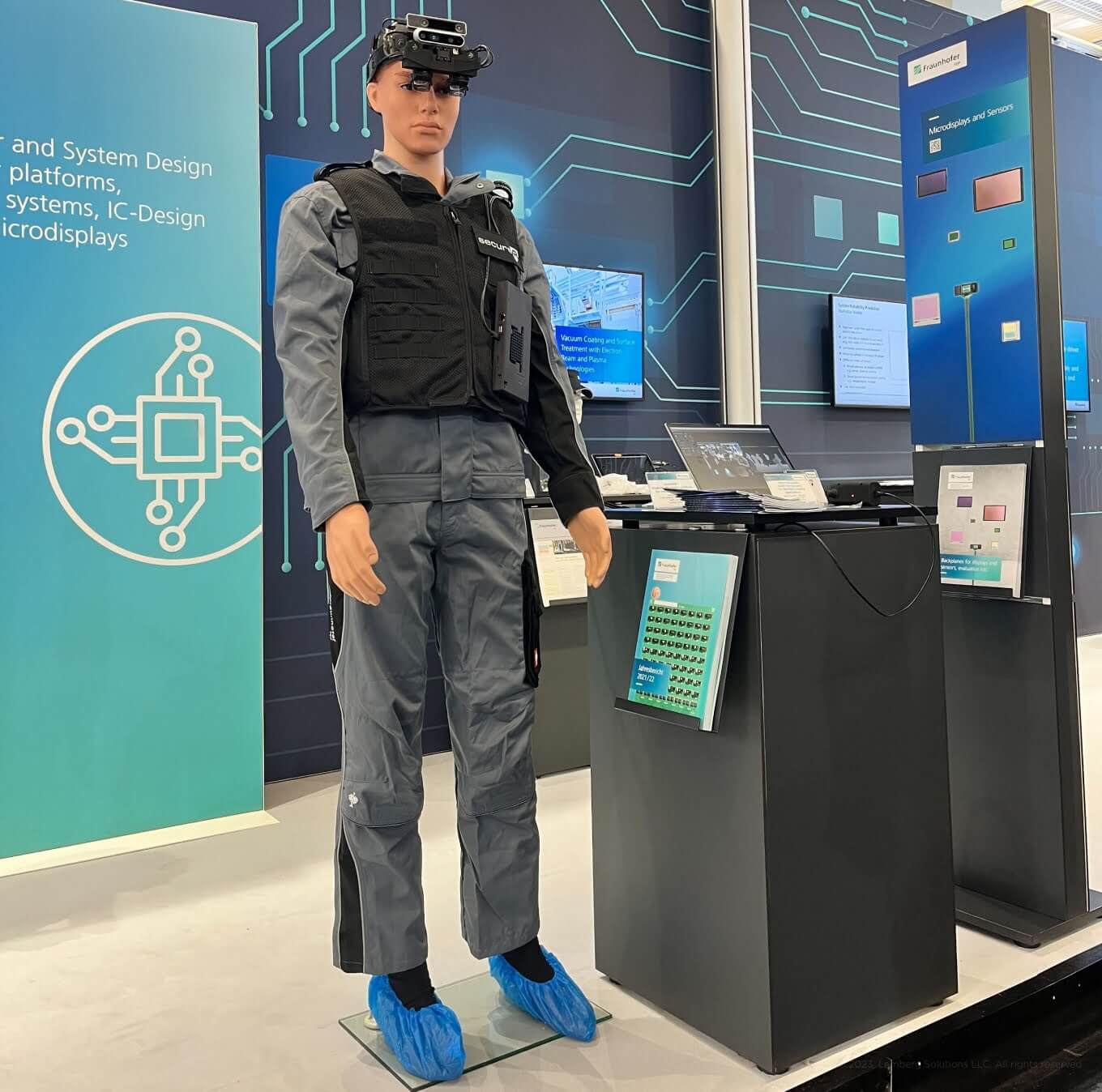 4. Open-source software
Open-source software leads to an increasing number of innovative products thanks to the collaboration of different contributors. This hot topic didn't seem to subside, and tech enthusiasts at Embedded World 2023 were excited to show their embedded systems built with open-source solutions.
Speaking about the open-source preferences of our embedded engineers, we will highlight Yocto Project and Zephyr Project RTOS initiated by Linux Foundation. These projects simplify the software development process and ensure that embedded Linux development is much more flexible. Our team creates state-of-the-art solutions on the basis of the Yocto and Zephyr technologies that are precisely designed for custom product development. We meet our clients' embedded software requirements and can develop low-power solutions with open-source tools. Check out more of our embedded Linux services.

5. Smart home solutions
Smart home industry innovations are the last Embedded World 2023 trend on our list. More and more companies invest in home automation development to create more comfortable and technologically advanced solutions for smart home admirers.
Matter truly had a day in the sun during the conference since innumerable tech companies presented their demos with Matter standard integration. The standard enables smart home devices interoperability and unites different communication protocols under one roof. In the nearest future, users won't need to worry about the compatibility of their devices in home automation systems. They will be able to purchase any device from different manufacturers and integrate it into the network mesh, which will run like clockwork.
As IoT development professionals, we provide various technical decisions for our clients from smart home industry. Check out our workflow and how we handle our clients' challenges, like smart hydroponic system for growing microgreens at home, smart Wi-Fi thermostats, and noise-monitoring sensors.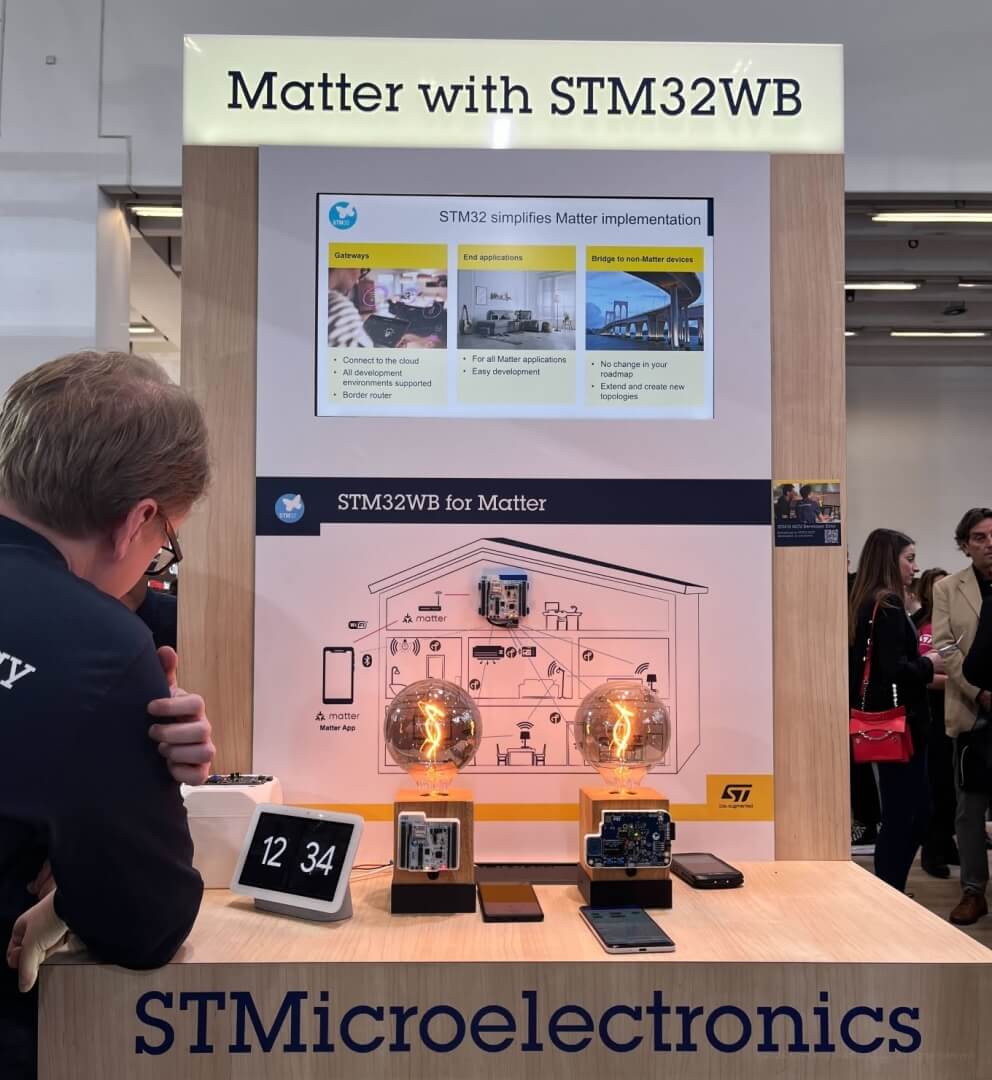 Wrapup
This year's Embedded World exhibition revolved around predictive maintenance, embedded vision, GUI development with cross-platform software, secure embedded development, and smart home industry. Tech companies work on making embedded products more secure and autonomous — the root of trust and RISC-V architecture promised to become overarching standards for embedded development.
The Lemberg Solutions team also contributes to the latest embedded software development trends by creating state-of-the-art products for our clients using the best technologies and practices. Gain a first-mover advantage with the Lemberg Solutions embedded development expertise and build your innovative product with us! Let's get in touch.