Drupal has long established itself as a reliable & cost-effective web development platform for online content and user communities. It powers millions of web sites, including those of many of the world's Fortune 500 companies` like McDonald's, General Electric, Johnson & Johnson, Time Warner Inc., Yahoo!, General Motors, P&G & many others. The Drupal Community now exceeds 1 million, and growing.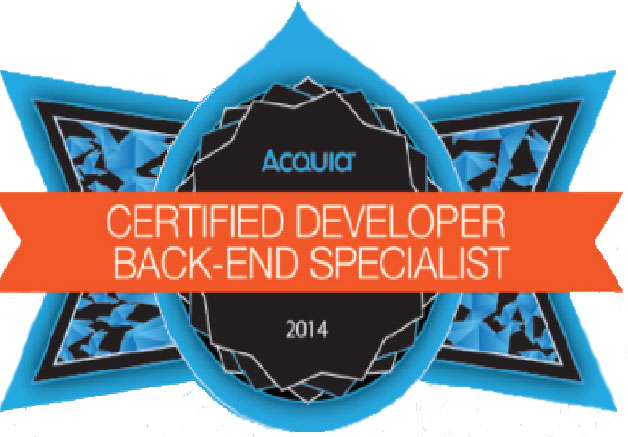 Drupal not only works, but rocks.
With the growing need in Drupal solutions, a question of finding a reliable Drupal development company for the project, as well as hiring qualifiedweb developers, or getting hired as a Drupal developer became hot. As a result, Drupal certification programme from Acquia Learning Services was announced in March, 2014. 
Quality is above all
The Drupal Certification exam is a 60-question exam and it takes 90 minutes to complete. The exam can be taken either online or in person at test centres, as well as at special Drupal events like DrupalCon, the way it was done by our developers at the DrupalCon Amsterdam. 
The exam questions are created in view of the most common patterns in errors & mistakes that developers face in their daily Drupal experience. The answers as well have a form of multiple choice/multiple answer questions and in the way that they are assessing Drupal problem-solving skills.
See:  Presentation slides "Acquia Certification Experience" originally presented at  Drupal Cafe Lviv
The Certification is, first of all, a response of the Drupal Community to the questions of ensuring professional standards across Drupal itself. It also helps developers to check their own expertise and works as a motivational tool towards improving it. Of course, knowledge certificates in software development field are a trendy topic for discussion and one that has supporters as well as opponents. One shouldn`t take any certificates as a comprehensive quality assurance of any project development, including a Drupal project, as there are other aspects that affect it. As it was said by Dries Buytaert:
 "... it is only one piece of the puzzle. However, It will provide organizations added confidence when hiring Drupal talent." 
In other words, most of us would feel safer visiting a dentist that has successfully passed examination and got his certificate hanging on the wall, don't we? From our own experience as a Drupal Community member and a proud employer of Drupal Certified developers, the same applies for Drupal.
Wish you the best of success and recommend keeping an eye on the Acquia Certification for Drupal developers, whether you're a development house or an individual Drupalista. For more information about the Certification visit Acquia Certification Program FAQ.