The tech talent shortage has been slowing down the growth of European tech for years now. Germany alone lacked 82,000 tech workers in 2019. According to a study by Bitkom, Germany's leading digital association, four in five companies lack employees with the technical qualifications they need.
So looking at other countries to hire technical talent is no longer a matter of debate, really. The only question is how to do it right. The choice of location often lands on Ukraine as a country with a booming IT industry, a pool of almost 200,000 tech workers, and great expertise at a moderate cost.
We asked Olga Lysak, Lemberg's Business Development representative in Germany, to address some of the most frequent concerns she gets from company owners considering nearshore software development in Ukraine. Here's what she shared.
How can I be sure my data will be protected?
Ukraine has been undergoing a number of changes aimed at making EU membership possible.
On September 1, 2017, the EU–Ukraine Association Agreement came into force. The Agreement sets up political and economic association between the parties and outlines legislative reforms necessary for its successful execution. 
One such reform tackles personal data protection. However, the adoption of any GDPR-like laws in Ukraine will likely take a while because they might require changes to the Ukrainian Constitution.
To be able to work with international clients, Ukrainian IT outsourcing companies have started establishing their own data protection policies to comply with European laws.
At Lemberg, the typical set of agreements we sign with our clients includes:
a Non-Disclosure Agreement (NDA),
a Master Agreement, which outlines the most significant aspects of cooperation, such as IP protection, delivery acceptance procedure, liability, non-solicitation, and other terms,
We're also currently undergoing the ISO 27001 (Information Security Management System) certification process, and have already established a number of procedures that comply with the GDPR. These include:
ensuring data confidentiality, availability, and integrity,
risk management,
data protection by design and by default,
breach notification,
record keeping,
regular employee security training.
Will the language barrier impede communication?
Although the 2020 EF English Proficiency Index ranks Ukraine as a country with a moderate level of English and places it on the 44th position out of 100 countries, the situation is quite different when it comes to the Ukrainian tech sector. Most nearshore and offshore service providers in Ukraine offer English classes to their employees.
As a result, according to DOU's annual survey, nearly 85% of people employed in the Ukrainian IT industry speak English at an intermediate level or higher. Team leads and project managers typically have advanced English since their job functions include daily communication with clients.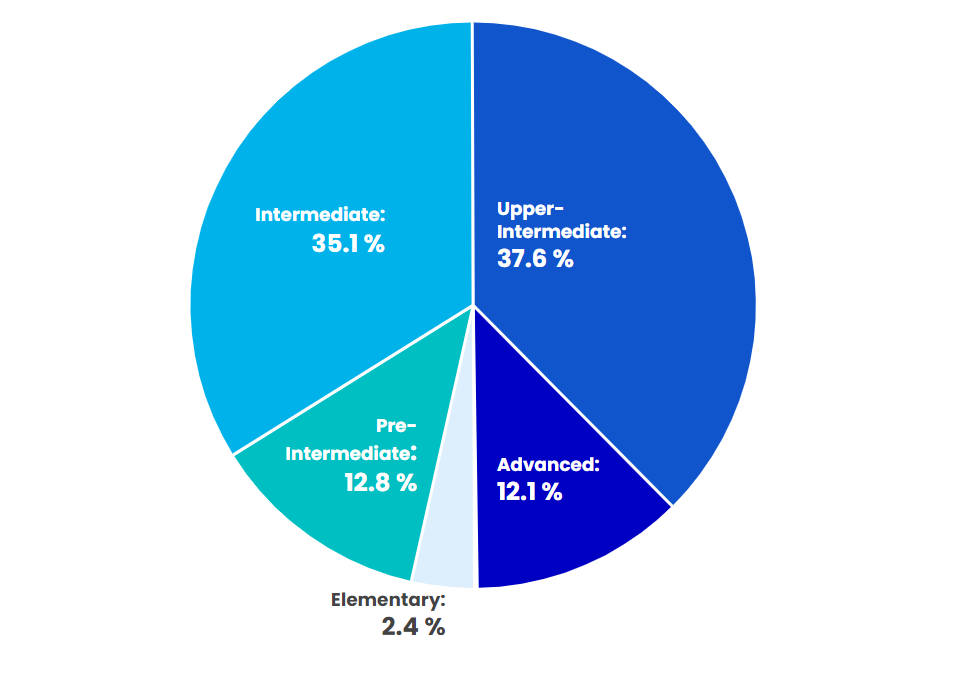 What high English proficiency means for clients is that they and/or the members of their in-house tech teams can talk to nearshore developers directly, thus eliminating the need for any intermediaries, reducing the risk of misunderstandings, and increasing the speed and quality of communication.
If you happen to be looking for German-speaking specialists for your nearshore software development team, you'll be pleased to know that it's not uncommon for Ukrainian technical specialists to speak German in addition to English.
Vendors with considerable client bases in Germany sometimes go an extra step and open local representative offices (just like Lemberg has done) so that clients can talk business in their native language.
Contact
Olga Lysak
, our Business Development representative in Germany
As long as you establish how often you'll be communicating with the team (and which team members specifically) and what tools you'll need for that from the very start of your cooperation with a Ukrainian software company, you shouldn't experience any trouble with communication.
How will I track the progress of my nearshore software development team?
Pretty much every Ukrainian developer has by now had experience or is at the very least familiar with Scrum, Kanban, Waterfall, XP, and other popular project management methodologies.
If you, like most of our clients, prefer Scrum, you'll have plenty of opportunities to keep tabs on your nearshore development team's progress during daily check-ins, planning meetings, sprint reviews, and retrospectives.
Not to worry if you prefer a different methodology though — nearshore IT vendors in Ukraine are typically flexible in this regard and will adjust to the management approach and communication strategy the client feels most comfortable with.
With dozens of communication, project tracking, and file sharing tools available today, it almost feels like you'd have to work harder to not know what's going on with your project than the other way round.
How do I make sure I'm dealing with a reliable nearshoring partner?
There are a few obvious steps to making sure you're considering a reliable nearshore service provider, like asking your network for recommendations, checking the provider's reviews on websites like Clutch and Goodfirms, and choosing vendors that have experience in your industry.
However, if you rely on these things alone, you'll end up with a pretty lengthy list of providers. Here are the specific questions you should ask a potential nearshoring partner to narrow down your options:
Based on how confident the answers of the company representative you're talking to are and how much detail they provide, you should be able to form a pretty well-rounded idea about whether you should work with them.
Consider traveling to meet the partner and their employees face-to-face before making the final decision. Nothing beats personal contact when it comes to establishing long-term partnerships. You'll also get a chance to see where your development team will work.
This is where the nearshore vs. offshore software development debate shows a clear advantage of the former. It only takes one to two hours to travel to Ukraine from any Western European country. Negligible time difference also enables smooth day-to-day communication between your in-house and remote teams.
Bringing it all together
You should feel perfectly safe about the service provider you're considering if:
They can provide unambiguous contract templates that guarantee the safety of your data and clearly outline the most significant aspects of your cooperation.

They have reliable data protection procedures that will ensure the security of your software and the physical security of the premises where your nearshore development team will be working as well as everything within them.

They're quick to respond and easy to communicate with.

They're an attractive employer for local talent, with high retention and low attrition rates.

They have established risk management processes.

Their management style and approach to software development are in line with your preferences.
Build your nearshore software development team with Lemberg
Businesses big and small from all across Europe have picked us as their technical partners.
If you'd like to learn more about how we ensure data security and organize the work of our developers, contact Olga Lysak, our Business Representative in Germany, now.