London Book Fair impressions by Oleh Naumko, Lemberg Solutions MD.
London Book Fair is one of the biggest international events in publishing industry. This year, it was held at Earl's Court exhibition center 15-17 April 2013. Apart from traditional paper book section that took over 80% of the huge two halls at Earl's Court, the Digital Zone reflected growing trends in books becoming digital. Many companies represented there are eager to undertake the task of converting existing volume of paper-based information into digital format. Not only that, but also conversion between different formats: Flash to HTML5, ePub3 to/from PDF to/from XML, as the competition between manufacturers of eBooks created different, often incompatible approaches. During presentations and seminars within two Digital Theatres, professionals passionately debated topics such as eLearning, eBook typography, responsive design, managing digital assets, HTML5 for interactivity and portability, ePub3 vs PDF advantages, automation of digitisation, representation of scientific content, formulas and charts.
While traditional publishing regards a book as sequential reading experience starting from table of content, through chapters, e-publishing often takes a novel, visionary approach and offers the reader more advanced ways of interacting with content. The simplest example would be getting rid of index, and letting the reader search instead.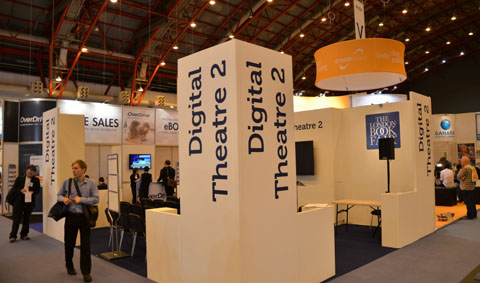 The growing trend of mobile publishing was also represented, and the multitude of mobile app solutions reflected the diversity of mobile devices and platforms. Mobile apps are going to play a growing role in content distribution and monetisation. While HTML5 provides a standards-based, future-proof platform for delivery of digital content, native mobile apps may be preferred where higher interactivity is expected. The big advantage of the app is its ability to push new information to the user when it becomes available. Quick and easy access to native apps that are permanently installed on a device is also a positive factor.
For our team, e-publishing apps are one of the targeted directions, and we're keeping our eye on the newest trends in publishing industry.